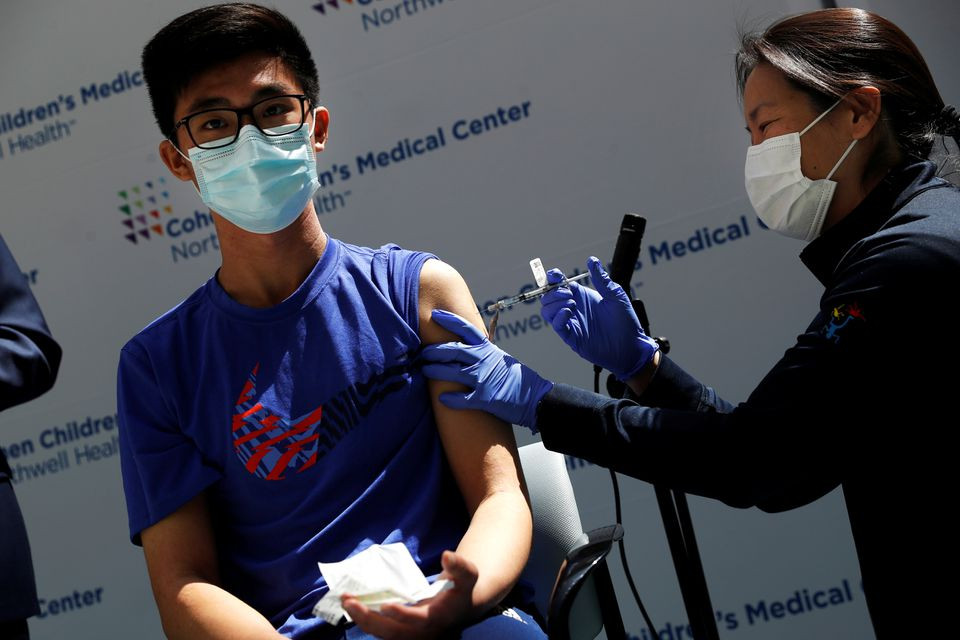 ---
Most unvaccinated Americans say they won't take Covid jabs
Just 3% say they definitely will get shots, another 16% say they probably will, according to poll
---
Most Americans who haven't been vaccinated against Covid-19 said that they are unlikely to get the shots and doubt vaccines would work against the aggressive Delta variant despite evidence they do, according to a new poll quoted by Associated Press in a report.
Among American adults who have not yet received a vaccine, 35% said that they probably will not, and 45% said they definitely will not, according to a poll from The Associated Press-NORC Centre for Public Affairs Research. "Just 3% said they definitely will get the shots, though another 16% said they probably will."
The report stated that 64% of unvaccinated Americans have little to no confidence the Covid shots are effective against variants — including the Delta variant that officials said is responsible for 83% of new cases in the United States — despite evidence that they offer strong protection.
Read more: Sindh moves to block SIMs of unvaccinated citizens
In contrast, the report added, 86% of those who have already been vaccinated have at least some confidence that the vaccines will work.
That means "that there will be more preventable cases, more preventable hospitalisations and more preventable deaths," said Dr Amesh Adalja, an infectious disease specialist at Johns Hopkins University.
"We always knew some proportion of the population would be difficult to persuade no matter what the data showed, (and) a lot of people are beyond persuasion," Adalja said.
He echoed US health authorities, who on July 16, pleaded with Covid vaccine holdouts to roll up their sleeves and get their shots, as cases, hospitalisations and deaths surged.
"There is a clear message that is coming through: this is becoming a pandemic of the unvaccinated," Centres for Disease Control and Prevention director Rochelle Walensky told reporters.
The agency reported more than 33,000 new cases on last Thursday, bringing the seven-day average up to 26,306, a 70 per cent rise on the week before.
Also read: Delta Covid variant now dominant strain worldwide: US officials
The seven-day average of hospital admissions is about 2,790 per day, an increase of 36 per cent. And after weeks of declines, the seven-day average of deaths was 211, an increase of 26 per cent.
The spikes are focused in communities with low vaccination rates, and "unvaccinated Americans account for virtually all recent Covid-19 hospitalisations and deaths" said Jeff Zients, White House coronavirus response coordinator.
The new wave is driven by the Delta variant, which now accounts for more than 80 per cent of new cases, according to the covSpectrum tracker.
A recent study in the journal Virological shows Delta grows more rapidly inside the body compared to past strains, and people who are infected shed much more of it in the air, greatly increasing the likelihood it will be transmitted.
Vaccines, including those made by Pfizer, Moderna, and Johnson & Johnson, remain highly effective against the variant, but the United States' immunisation campaign has drastically slowed in recent weeks.
President Joe Biden set July 4 as a target for 70 per cent of adults to have received one or more doses, but as of July 15 the figure was still only 67.9 per cent. At the present rate the goal won't be achieved until the end of the month.
Parts of the country that voted for former Republican president Donald Trump in the 2020 election have significantly lower vaccination rates than those which voted for Democrat Biden, and are now at the centre of the surges.
Hotspots include Missouri, Arkansas, and Louisiana.
But health officials are hopeful that, since 80 per cent of the most vulnerable age group of over-65s are fully vaccinated, the rise in hospitalisations and deaths won't be as dramatic as the spike in cases.
This would follow the pattern seen in Israel and Britain, highly vaccinated countries struck by Delta waves.
With additional input from AFP