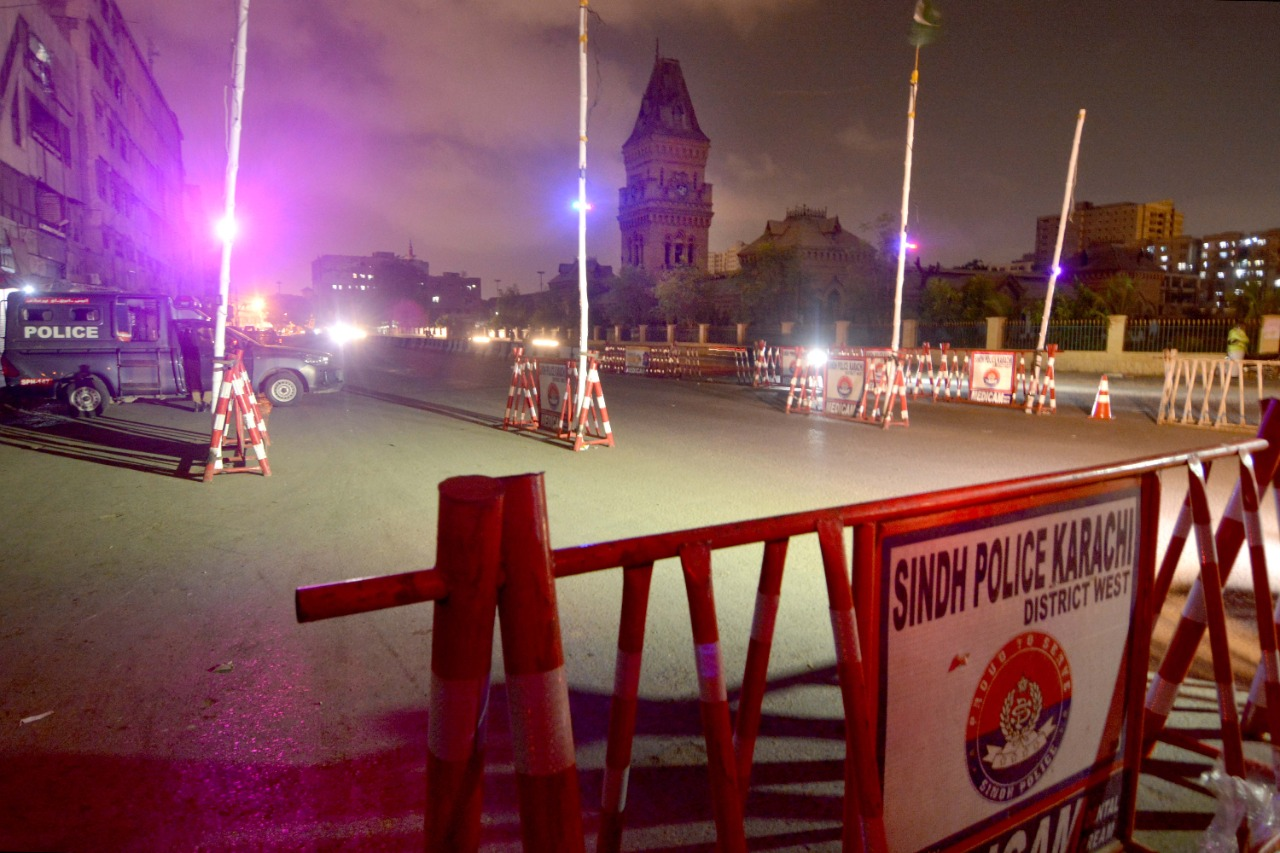 ---
Sindh tightens Covid curbs again
Indoor and outdoor dining closed; market timings restricted from Monday
---
KARACHI:
As coronavirus infections surge across the country, the Sindh government has decided to impose further restrictions beginning July 26 (Monday).
The measures, including the closure of indoor and outdoor dining at restaurants and restricted market timings, were decided on during a meeting of the provincial coronavirus task force on Friday.
Moreover, the provincial government plans to ask the Pakistan Telecommunication Authority (PTA) to block the mobile phone sims of all unvaccinated individuals after a week's notice.
Restrictions imposed From Monday onwards shopping malls, markets and other commercial centres will be permitted to remain open from 6am to 6pm, Fridays and Saturdays will be observed as safe days, all educational institutions will remain shut but exams are to be held as scheduled, both indoor and outdoor dining at restaurants will be banned and only takeaways will be permitted, all marriage halls will be closed, public gatherings banned, shrines will remain closed as will recreational places, and all public and private offices will be permitted to remain open with 50 percent occupancy.
Essential services like pharmacies, grocery stores and bakeries will be exempted from the restricted timings and permitted to remain open.
Vaccinations
During the meeting, Sindh Chief Minister Syed Murad Ali Shah said that the provincial government would approach the PTA through the National Command and Operating Centre (NCOC) to urge all mobile phone users to get vaccinated within a week.
He will ask the PTA to send a service message to all users to get inoculated within a week and their mobile phone sims would be blocked should they fail to do so, he said.
Besides, the salaries of all non-vaccinated government employees would be withheld.
The meeting was apprised that 85 percent of 1,002 patients admitted in hospitals were not vaccinated.
The remaining 15 percent who had received the jabs were experiencing mild symptoms. While another sample of hospitalised patients showed 76 percent had received their first shot and 24 per cent were fully vaccinated.
The severity of the infection was higher in the former than the latter, the study found.
The meeting was further apprised that out of the 6,720,997 doses of the coronavirus vaccines received by the province, 5,312,921 have been utilised. The Sindh health department was directed to speed up inoculations through centers and mobile units. Infections spike According to the health department's data, the positivity ratio in Karachi was recorded at 21.54 on Thursday.
For the entire province it was at 10.3 per cent but the infection was rapidly spreading in the metropolis. The meeting observed that the positivity ratio in the metropolis jumped by over seven per cent in less than a week in Karachi.
According to Sindh Health Secretary Kazim Jatoi, a sample of 457 coronavirus patients was analysed and the findings revealed that 35 percent of patients contracted the infection in gatherings, 23 percent at wedding functions and 17 percent during international travel.
This month alone saw over 300 coronavirus fatalities. The meeting decided to increase curbs and to review the situation next week.
Provincial ministers Saeed Ghani and Jam Ikramullah Dharejo, Adviser to Sindh CM Murtaza Wahab, Parliamentary Secretary on Health Qasim Siraj Soomro, Sindh IGP Mushtaq Maher, Dr Bari, Dr Sara Khan of World Health Organisation, Dr Qaiser Sajjad, Dr Saeed Qureshi, representatives of the Corps V, Sindh Rangers and other officials attended the meeting.