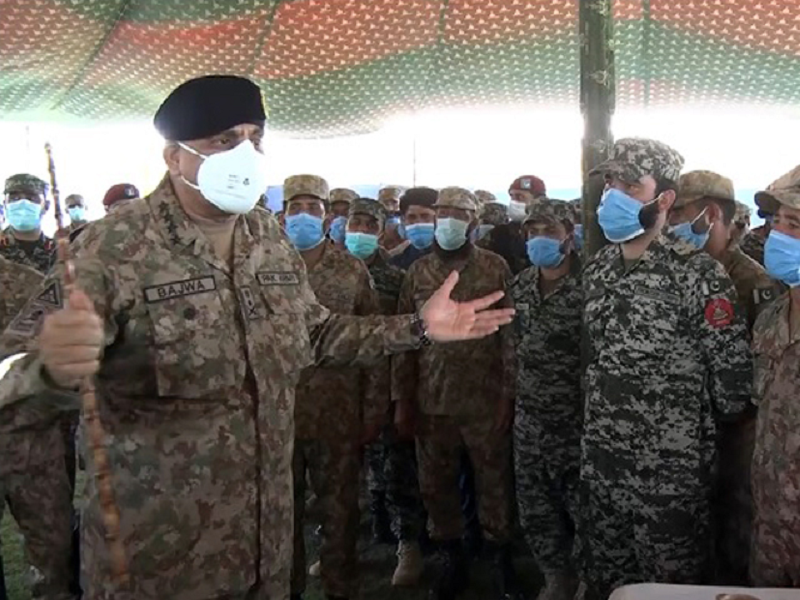 ---
ISLAMABAD:
Chief of Army Staff (COAS) General Qamar Javed Bajwa spent first day of Eidul Azha on Wednesday with army troops stationed near Pak-Afghan international border in Kurram district of Khyber-Pakhtunkhwa, military said.
The Inter-Services Public Relations (ISPR) in a statement said that the COAS lauded the army formation for expeditious fencing in area of responsibility along Pak-Afghan border and reiterated military's firm resolve to ensure security along borders in the face of evolving challenges.
"We are ever ready to defend Pakistan against all the threats and at all costs," military's media wing, the ISPR, quoted Gen Qamar as saying.
While interacting with troops and sharing Eid greetings, the army chief appreciated their high morale and unflinching resolve to defend the motherland.
He expressed complete satisfaction over operational preparedness of the formation and effective measures in place for border security.
Gen Qamar also praised the military formation for rendering continuous assistance to civil administration in execution of ongoing projects for socio-economic uplift of the area including development of communication infrastructure, schools, hospitals and other efforts for rehabilitation of the local population, read the ISPR statement.
Earlier on arrival, the COAS was received by Commander Peshawar Corps Lt General Nauman Mahmood.
'Enemy's relentless attempts to harm Pak-Afghan ties'
Earlier in the day, Foreign Minister Shah Mahmood Qureshi said enemies were making relentless attempts to harm Kabul-Islamabad ties while urging the Afghan government to review its decision of withdrawing its ambassador.
Speaking to the media after offering Eidul Azha prayer in Multan, Qureshi said Afghanistan was passing through difficult times and recalling its envoy from Pakistan at this critical juncture was not an appropriate decision.
The decision by Kabul to recall its ambassador in Islamabad and other diplomats came in reaction to the reported abduction of the daughter of the envoy last week.
Also read: Selsela tight-lipped at evidence
Selsela Alikhil, the daughter of Najibullah Alikhil, Afghanistan's ambassador to Pakistan, was allegedly kidnapped and held for several hours by unidentified assailants who left her with injuries and rope marks.
Commenting on alleged abduction of Afghan ambassador's daughter, the minister said a comprehensive investigation was in progress and 700-hour long footage was being reviewed and 250 persons were interrogated.
Nothing would be kept hidden in the investigation but the cooperation of Afghan ambassador and his daughter was vital to dig out the truth, he remarked.
He said Prime Minister Imran Khan had a meeting with the Afghan President Ashraf Ghani at Tashkent and another meeting was also in pipeline which was postponed due to Ghani's 'busy schedule'.
FM Qureshi said the world was acknowledging Pakistan's efforts for sustainable peace in Afghanistan but India was playing the role of a spoiler which may destabilise the region's peace.
COMMENTS
Comments are moderated and generally will be posted if they are on-topic and not abusive.
For more information, please see our Comments FAQ