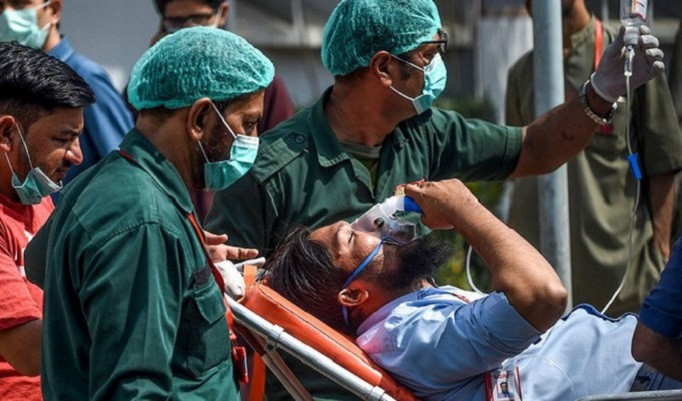 ---
Fear of multi-virus breakout surrounds Eid
Coronavirus, dengue and CCHF projected to paralyse healthcare system in three-pronged attack
---
KARACHI:
With the Muslim festival of sacrifice around the corner and preparations underway, heath experts fear a viral storm to be brewing on the horizon.
In this case, the three horsemen of apocalypse are the zoonotic diseases of dengue, Crimean–Congo hemorrhagic fever (CCHF) and the inescapable coronavirus.
To add to the crisis however, the National Institutes of Health (NIH) has also issued an alert for infectious diseases in the country, announcing that there is a clear possibility of malaria, measles and typhoid outbreaks, in addition to the existing triple-threat.
The zoonotic viruses, which share a variety of common symptoms including headache, nausea, vomiting, fever and muscle pain, are speculated to put a damper on the spirits of Eidul Azha and the rest of the year, if caution is thrown to the wind.
Dengue
According to Sindh Dengue Control and Prevention Programme head Dr Iqbal Memon, the province has recorded over 911 confirmed cases and three reported deaths from dengue, so far into 2021.
Last year, the numbers had climbed to 4,318 cases, while the year before that, it was much higher at 16,925 reported cases and 46 deaths.
Where the statistics seem to suggest a fall in case numbers, doctors warn that the compounded impact of other diseases along with conditions created by Eid, is likely to augment the dengue crisis in the Islamic Republic, which is already battling a fourth coronavirus wave.
Explaining the disease's density in the megacity, Dr Memon said that the majority of Karachi's dengue patients seem to be located in the city's centeral district, which recorded over 215 cases in half a year.
Second is district East with 203 patients, other than 154 patients in district South, 156 in district West, 75 in Korangi and 23 in district Malir.
Read Covid surge overwhelms major hospitals in Karachi
Similarly for Khyber Pakhtunkhwa, the last couple of months had also been an augury of a healthcare crisis waiting to happen. In May, the northwestern province had declared 18 of its districts most susceptible to the breakout, after dengue larva was found to be active in the local waters.
Congo virus
On the other hand, the advent of Eidul Azha, has also sound the alarms for the seasonal congo virus or Crimean–Congo hemorrhagic fever outbreak, which is caused by blood-sucking ticks dwelling on livestock skin.
There are three main modes of transmission for the spread of the Congo virus. The first is through blood or other body fluids of humans and animals infected with the virus.
The second is the use of a needle that has been infected by an infected person or animal, while third, is bite from the disease causing ticks itself.
World Health Organisation (WHO) records reveal that Pakistan is ranked fourth after Turkey, Iran, and Russia for CCHF cases in the Eastern Mediterranean Region and sees a majority of its cases between June and September of every year.
With a mortality rate of 10 to 40 per cent and a high frequency of animal to human transmission, a flare-up of the disease under current circumstances however, could potentially capsize in the entire healthcare system
According to data released by the Sindh health department on Congo virus, the province has already received its first patient of the season, while the zoonotic disease is likely to take an epidemic form as livestock starts occupying urban centres in advance of Eid.
Per earlier records, Pakistan saw a total of 356 confirmed cases of CCHF between May 2014 to May 2020, where its prevalence remained widespread in all provinces. In that, Balochistan experienced 38 per cent prevalence, Punjab 23 per cent, Sindh 14 per cent and Khyber Pakhtunkhwa 14 per cent.
Prevention guidelines
Expecting cases to upsurge in 2021, the Pakistan Biological Safety Association and the Lahore University of Veterinary and Animal Sciences has issued certain guidelines to help curb the disease's transmission.
The protocols state that children and elderly should avoid going to cattle markets, while patients with diabetes, hypertension, hepatitis and heart disease should also stay clear of livestock animals and crowds.
In addition to that, use of gloves, face masks and hand sanitisers is also necessary for everyone visiting places with livestock. Whereas, light coloured and full-sleeve clothing and use of methane spray to cleanse fabric, is advised when visiting cattle bazaars.
"If the tick sticks to the body or clothing, it is to be pulled out using a tweezer with steady pressure. The bite area should then be cleaned with rubbing alcohol or soap," the guideline concluded.