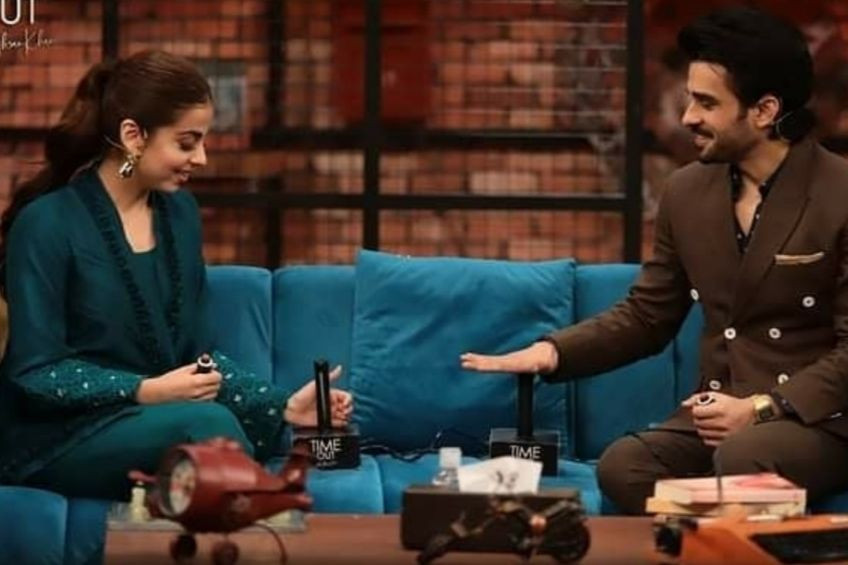 ---
Industry newbies actors Fahad Shaikh and Yashma Gill recently appeared on an episode of Time Out with Ahsan Khan, dishing out details about their early journey so far. Shaikh, most famously known for his role in the hit TV show Jalan, explained how he's been in the game for a while. He shared, "It took about five years to understand acting. It's only recently that I've become visible with a few of my dramas, otherwise, you tend to just disappear."
Elaborating on how his performance in Jalan had a lot riding on it, he said, "Jalan was an opportunity that I had, and I was told by someone that this may be the only chance I get so I better give them a hit. By the grace of God, I've had a lot of work coming my way after that so I believe I did a good job."
Gill, who stars alongside Shaikh in Azmaish, got into showbiz at a rather young age. Reflecting on her time as a VJ, she revealed, "I actually wasn't too interested in music. I was free during my summer holidays at the time. I was very young. I am 27 now and I was 16 at the time. A friend of mine was a VJ and I'd go to pick and drop her. One day, the director spotted me and told my friend to ask me if I'd be interested in working for them on a new show. I figured I was free for three months so I might as well do it."
"I only did that for three months and then took a break of almost seven-eight to finish my education. So I wasn't working consistently," added the Pyaar Ke Sadqay actor.
Gill admitted that the men in her family weren't too keen on her getting into the entertainment business. "It was very difficult in the beginning. My mother was still relatively supportive but my father was against me getting into this field. But then I think with time when he saw that I was working and nothing wrong was happening, he eased up a bit."
Gill explained that her decision to take on negative roles made things harder, but her family eventually warmed up to it. "Papa never watched my work at first, but now my family is more open to it. I've portrayed negative characters as well, and that used to bother my father quite a bit but now everything is fine."
On his entry into the world of acting, Shaikh explained that he had wanted to get into the business before marrying into a showbiz family. "I used to host a show called Gyara Number in Lahore. I left that after marriage. I have a clothing business that is still going strong. After I did all that, I decided I wanted to get into TV dramas. My wife was never interested in me getting into this field, but I wanted to give it a shot," revealed the actor.
Speaking about his wife and the role she has played in his career so far, he shared, "She is incredibly mature and has supported me throughout. I told her once that I wanted to go to Karachi, and she's been on board since."
On the topic of marriage, Gill explained that while she is in no rush to tie the knot, she does feel the pressure mounting from her family's side. However, the actor remains adamant about not marrying someone simply for the sake of getting married. She explained, "Companionship is something everyone desires. But I think you should get married to someone you can actually live a happy and satisfying life with, so you should be careful and not rush into it."
The Alif actor, who is not one to shy away from social issues and is particularly vocal about the mistreatment of animals, reflected on the role of social media in this day and age. Explaining how it gives people a platform, she said, "People have more means to express their opinions and showcase their talent now. A lot of people are against social media but I personally believe it's a blessing. There were so many things that wouldn't reach us before social media, but now it's easier to get people's attention. No one can just do something wrong and simply get away with it. All it takes is one video or one message. People aren't scared anymore."
COMMENTS
Comments are moderated and generally will be posted if they are on-topic and not abusive.
For more information, please see our Comments FAQ