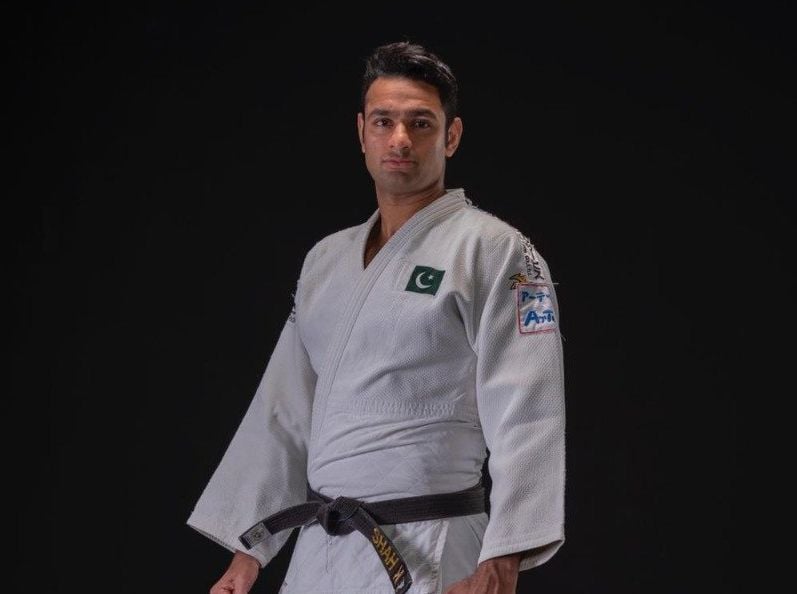 ---
KARACHI:
Pakistani judoka Shah Hussain Shah is a true representative of what judo as a discipline means. "Judo is a life path. It means the gentle way. So my life journey with it so far has been about practicing it, and the aim is to win that Olympics medal too. That is the intention and also the motivation," the 28-year-old calmly explains what the journey from picking up the sport 24 years ago means, till this point, as he will be representing Pakistan at the Tokyo Olympics.
Shah Hussain Shah is the son of Pakistan's celebrated boxer Shah Hussain who has been the only boxer to ever win an Olympic medal. The senior Shah made history for the country at the 1988 Seoul Games with a bronze medal, while Shah Hussain Shah became the first Pakistani in 2016 Rio Olympics to represent the country in the judo event at the world's biggest stage for sports.
The Pakistan Olympic Association announced last month that Shah Hussain Shah has secured the place in Tokyo Olympics through Continental Quota in -100kg event.
As of June, despite missing at least three qualifying competition, including world championships, Shah is among the top 50 judokas in the world, and he believes that the journey to the Olympics has been a tough one, not just for himself, but for all the athletes.
He had missed the events due to travel restrictions that he had to face due to his Pakistani passport. He missed events in Hungary, Russia and Uzbekistan due to the pandemic too by the end of last year.
"The Olympics are happening in a very difficult time," Shah told The Express Tribune. "Japan has seen this kind of situation before too, when there was World War 2. But the pandemic has pushed us all to change our ways, our lifestyle. I couldn't train as openly, for example the Japanese national judo squad would train alone, and I can't use their resources, so I had to find a way for myself. I couldn't travel either because of Covid-19, so these seven to eight months have been challenging," said the Commonwealth Games silver-medallist.
He said that the time that he got for himself due to the restrictions, he used it for self-reflection that helped him more than he knew.
"Quarantine really pushed me to reflect on my strengths and weaknesses. What I can do more of. So I saw this as something to work in my favour, despite the challenges," said Shah.
When asked how he would describe his journey as a judoka till July 2021, at the verge of making his second appearance at the Olympics, he said, he can define it in one word and that would be, "bardaasht (tolerance/endurance)".
"It is about enduring or tolerating because it requires a routine and that is an aspect of athlete's life that maybe others can't understand. One can train with high intensity for a day, but sustaining it can be difficult. For me, I have followed a routine for 24 years, the discipline, the strength to just stick to it has been the battle," said Shah.
He explained that he prepares for each championship in context of his goal to the Olympics, but mental strength cannot be taught or acquired quickly, it is through experience one learns. "Every sport is different and every athlete may have a different take on it, for me each event is a path to another," said Shah.
He added that he had been training specifically for Olympics for the past six months, while earlier he had to see trouble with visa issues. But missing the events did not deter him from preparations and he trained with Japanese trainers and coaches. He even had to train alone during the pandemic as his coach could not see him for months, while he has had changes in coaches over the last three years.
"The mind-set is to train hard and I train five to six hours a day that includes running, physiotherapy and judo sessions," said Shah.
He believes that he will have to be depending on his skills for a better performance compared to the outing in Rio, and his tough completion will be from Georgia's Rio Olympics silver medallist and Portugal's judoka, who won the championship in 2021.
"I am hoping for reaching my peak at the time of the competition really," he said, as the event is chalked for July 29.
No heroes in the sky
Shah has been brought up in the light of his father, a boxing legend, but now as a young man, he believes his path is unique and he has learned to look for the inspiration from within when asked who his heroes have been.
"My first hero is obviously my father, but then I realised his life has been different than mine. The circumstances were different for him and his challenges were different from mine. So I can't replicate his journey, no one can replicate anyone's journey. My aim is to follow my own path and to find inspiration from within," said Shah.
He added that his focus has always been judo as a discipline and then winning an Olympic medal, and making history or even fame have never been his ideals.
"I never thought of making history," said Shah when asked how he concentrates on training or competitions knowing what stands on the line. "I have always wanted to win the Olympics medal. I looked at other championships as a way to get there, but I never thought of fame. To me judo is a life path,it is about discipline, respect and a profession too, but in a gentle way."
Judo: short history
Judo was first included in Olympics at the 1964 Tokyo Games. The sport couldn't make it to the next Games, in 1968, but from then onwards, the sport has made an appearance in all Olympics.
Japan has the most medals in judo with 84 total, which include 39 gold, 19 silver and 26 bronze medals. France and South Korea are distant second and third on the list with with 49 and 43 medals respectively.
Pakistan has never won any kind of medal in the judo at Summer Olympics.
COMMENTS
Comments are moderated and generally will be posted if they are on-topic and not abusive.
For more information, please see our Comments FAQ