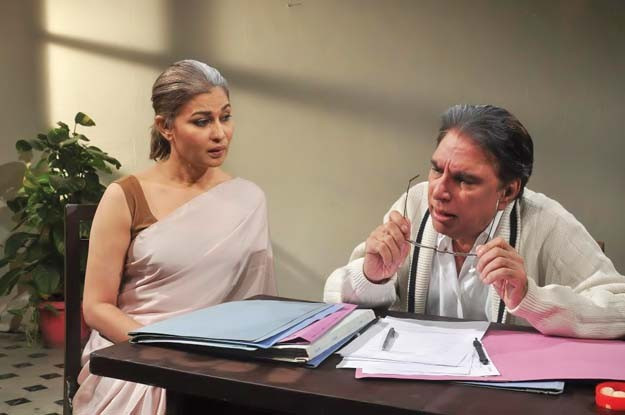 ---
Veteran actor Nayla Jaffri succumbed to ovarian cancer on Saturday evening after battling the disease for six years, president Arts Council Ahmed Shah confirmed to The Express Tribune.
But before being diagnosed with the illness in 2016, Jaffri was a regular face on television, known for her stellar performances in drama serials like Aa Mujh ko Satana, Desi Girls and Thodi Si Khushiyan. She was a mother figure on and off-air, with her grace and strength making her popular among veterans and youngsters of the entertainment industry.
Jaffri's dialogue delivery reflected her calm and collected demeanor but her soft-spoken and composed-self could never be mistaken for weakness. She played various characters among which, many were more of the same, courtesy of typecasting and not sub-par acting. This is evident by the brilliance with which she portrayed them.
She spent more than twenty years in the entertainment business after commencing her career as a voice entertainer for TV series Drama Hee Drama in 1998. Making her onscreen debut with An Insane Laugh Aka Mehak in 2004, she went on to play Ayesha in I'm Locked and in 2009, she nabbed the miniseries Noorpur Ki Rani, which opened many doors for her.
She then featured in Zeenat Bint-e-Sakina Hazir Ho (2010), Don't Jealous (2010), Lamha Lamha Zindagi (2011), Sanjha (2011), Aks (2012), Woh (2013), Ek Kasak Reh Gayi (2013), Mausam (2014), Woh Dobara (2014), Khata (2014), Nazdikiyaan (2014), Anaya Tumhari Hui (2015), Tere Dar Per (2015), Jaltay Gulab (2015), Tera Mera Rishta (2015), Baray Dhoke Hain Iss Raah Mein (2016), Ghalti (2016) and Khushboo Ka Safar (2016).
Aside from seizing numerous television gigs, Jaffri also shared the stage with veteran actor Rahat Kazmi under the direction of Zia Moheyyedin back in 2012. Performing in two plays, Jaffri and Kazmi provided two hours of wholesome entertainment. In one of the plays, Jaffri portrayed a beautiful 55-year-old woman who has accepted that life is too short and needs to be celebrated. She seemed to be ageing in reverse at the time.
But despite her exemplary work on and for TV and theatre, Jaffri doesn't have a Wikipedia memoir. She does, however, have a huge fan following, much of which is mourning her demise since yesterday. The months before her passing also showcased her astounding threshold for pain, as she chose to fight for her fellow actors while battling cancer.
After a video of Jaffri from a hospital bed went viral in April, social media was abuzz with the hashtag #payartistsroyalties. Her adamancy to bring change despite having little to benefit from it inspired many actors and gave them the courage to demand royalties for the reruns of their work.
Her request propelled PTI Senator Faisal Javed Khan to shed light on the same and take action. Khan revealed that he is in the process of building a framework with the stakeholders, to come up with a bill that will ensure artists are paid their due royalties. In response to his announcement, Jaffri had told The Express Tribune, "The bill must ensure that actors from all walks of life are paid royalties for every time their work is rerun. And it must not only be the responsibility of the state-run channel to do so. I don't know whether this bill will help solve everyone's problems but I know I've hit a very sensitive nerve, and the more forums raise their voice, the quicker the issue can be resolved."
Now, because of the magnitude of her work, resilience and her contributions to television, Jaffri is being missed and mourned across Pakistan by public figures and fans.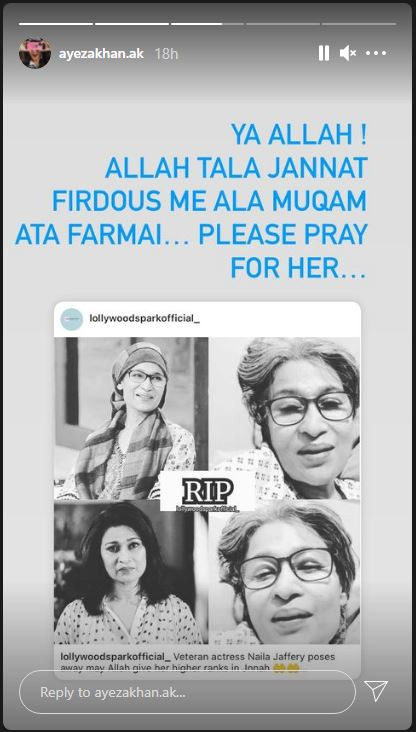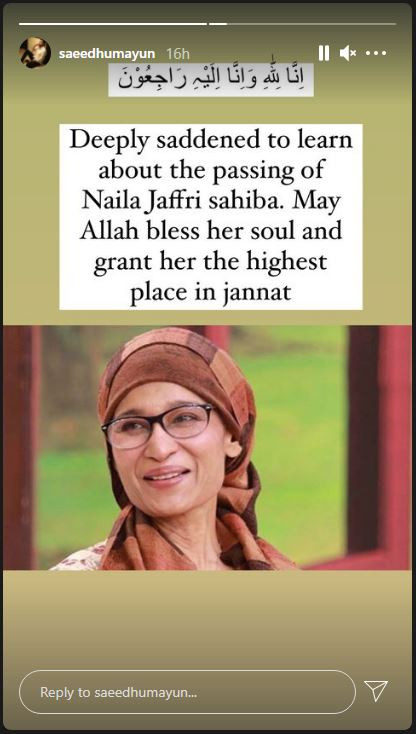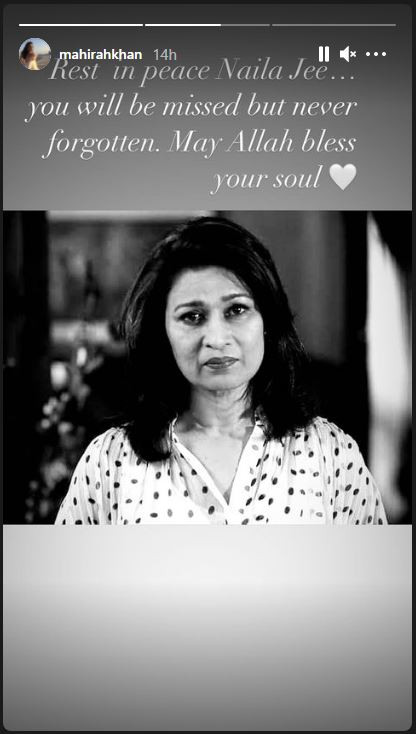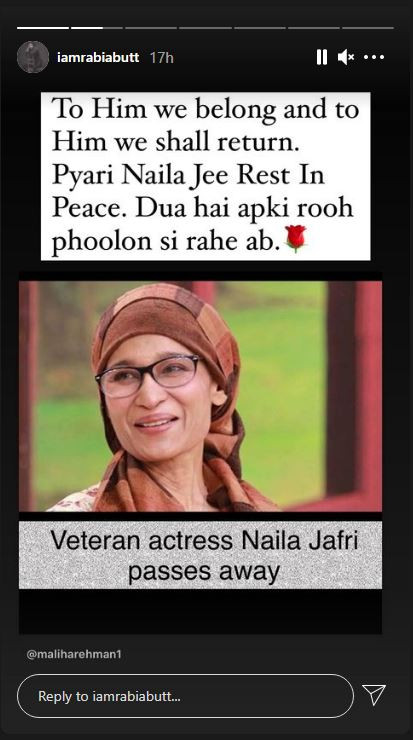 Inna lillahi wa inna ilayhi raji'un.
Rest in peace, Naila Jaffri ji.

— Osman Khalid Butt (@aClockworkObi) July 17, 2021
Another heartbreaking loss…#NailaJafri, you fought with spirited courage. We would always remember not just your work but also how you became our voice for royalty. Even in your last days, you did not forget to help others. pic.twitter.com/S05oY0Y6BV

— Adnan Siddiqui (@adnanactor) July 17, 2021
Extremely saddened to hear the news of the passing of #nailajaffery apa. She was a force to be reckoned with, strong and positive in the face of a terrible illness.
May Allah rest her soul in peace. pic.twitter.com/skj5UA4u8a

— Mansha Pasha (@manshapasha) July 17, 2021
Extremely sad news of #NailaJaffery apa passing away. May Allah grant her eternal abode in Jannah. Ameen. You will be missed.

— Ali Rehman Khan (@alirehmankhan) July 17, 2021
Had never met #NailaJaffery, but had watched her dramas. Great actress. But once was told a story about her - it stuck with me. Someone who knew her was distraught by her actions; she would give too much to charity constantly - so much that sometimes she had little for herself. pic.twitter.com/mr832ymCye

— Fasi Zaka (@fasi_zaka) July 17, 2021
Have something to add to the story? Share it in the comments below.
COMMENTS
Comments are moderated and generally will be posted if they are on-topic and not abusive.
For more information, please see our Comments FAQ