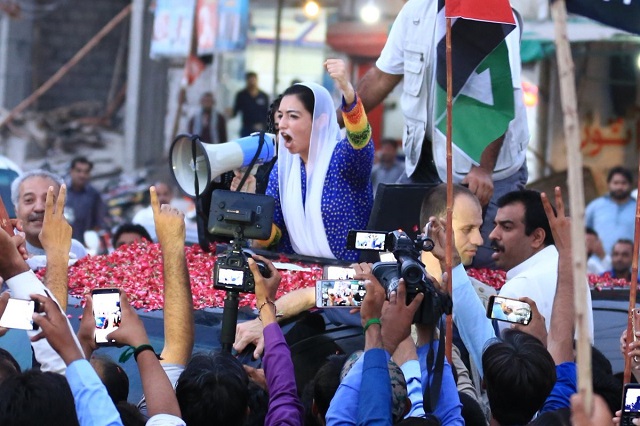 ---
MUZAFFARABAD:
Aseefa Bhutto Zardari said on Saturday that Pakistan Peoples Party (PPP) would rescue the people of Azad Jammu and Kashmir from the "oppressors".
The Bhutto scion, who is canvassing for the general elections in Azad Jammu and Kashmir (AJK) due on July 25, was addressing an election rally in the state's Muzaffarabad.
Aseefa reminded the participants of the gather that her party had made sacrifices for the sake of democracy and always stood firm in its pro-Kashmir position.
"Our relationship with Kashmir goes back to three generations. PPP was with Kashmir before and still is today."
She claimed her love and sympathies for Kashmir were inherited [from her political legacy]. "We are ready to offer up our lives to fight for the democratic rights of Kashmiris," she added, claiming her party spared no effort for the development of Kashmir.
She urged the people to vote for the "arrow" – PPP's electoral symbol – on July 25, "because the arrow symbolised the progress and Kashmir itself".
Read Caste, ethnic loyalties decide poll favourites in AJK
Aseefa promised that PPP's chairman Bilawal Bhutto Zardari would live up to the expectations of the Kashmiri people. She slammed Prime Minister Imran Khan for "allowing" India to revoke occupied Kashmir's special status.
The PPP leader said: "Some people came here today and made tall claims, but where were they when Narendra Modi attacked Kashmir?"
The PPP leader urged the people of Kashmir to support Bilawal just like they supported her mother, former prime minister Benazir Bhutto, and her grandfather, former prime minister Zulfikar Ali Bhutto.
"PPP had established the National Institute of Cardiovascular Diseases (NICVD) and Sindh Institute of Urology and Transplantation in Sindh."
Moreover, she claimed, the roads of the state were laid during PPP's tenure. "Benazir Bhutto had stated that our blood would fall where the sweat of Kashmiris falls."
She said PPP established six universities in the region, including medical colleges in Muzaffarabad, Mirpur, and Poonch and if the people of Kashmir give them another chance, they "would serve them again".
COMMENTS
Comments are moderated and generally will be posted if they are on-topic and not abusive.
For more information, please see our Comments FAQ