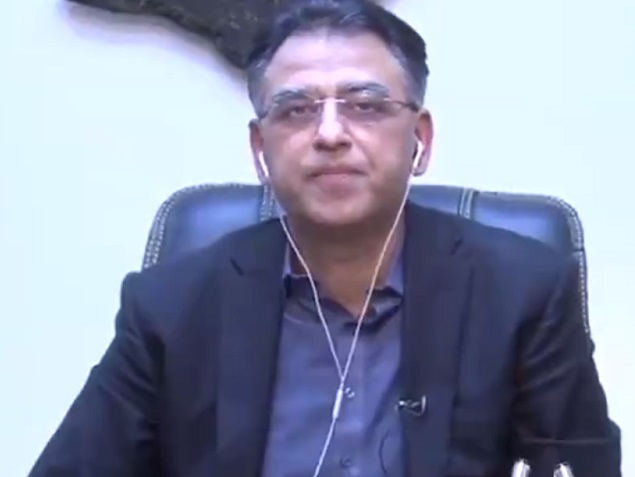 ---
Eid in controlled, limited environment: SAPM
Asad Umar warns of rapid build-up of covid patients
---
ISLAMABAD:
Federal authorities at the forefront of the battle against coronavirus were determined on Thursday to turn the page on the pandemic with extra precaution on Eidul Azha next week, as the single-day tally of new cases kept on rising this week, fuelled by the Indian-origin Delta variant.
A few weeks ago, there was less than 2% coronavirus positivity ratio across the country, indicating that the third wave of the disease, which surfaced in March, had subsided. But now there had been a streak of days with the positivity rate surpassing 4%, amid grim warning of a fourth wave.
Planning Minister Asad Umar, who heads the government's anti-Covid strategy and Dr Faisal Sultan, the de facto health minister, on Thursday presented grim data of the pandemic, with more than 5% positivity ratio, and warned of "rapid build-up" of Covid-19 patients in hospitals.
It was for the first time in two months that the single day tally of Covid cases topped 2,500 level, along with the death toll of less than 50. According to a tweet from Dr Sultan, the positivity ratio remained 5.2%, the first time since 5.21% recorded on May 24 this year.
The National Command and Operation Centre (NCOC), the nerve centre of the government's unified strategy against the pandemic, said in its daily update that the number of active Covid cases, which crossed the 40,000 mark a day earlier, reached 42,330, with 2,545 new cases during the last 24 hours.
Dr Sultan, the special assistant to the prime minister on health, warned that coronavirus cases were continuously increasing in the country. "The positive case rate in Karachi is 19%, in Peshawar 9.4%, in Islamabad 6.2% and in Lahore 3.8%," he said.
Read More: Flu jabs may protect against severe Covid effects, suggests study
"Rapid build up starting to take place in covid patients hospital inflow, as well as patients in critical care. This indian variant has caused devastation in countries in the region. Please follow sop's and get vaccinated as soon as possible. Do not risk your own & others lives," said Umar in a separate tweet.
Speaking in various TV channels, as well as briefing the Senate Standing Committee on National Health Services, Dr Faisal Sultan stressed the need for observing the Covid-induced SOPs (standard operating procedures) and vaccination.
Speaking an Express News programme, Dr Sultan said that the public transport would be closed on Eid-ul-Azha, falling on July 21, but added that "our focus is on the affected areas instead of inter-provincial transport". He said that more restrictions would be imposed on the affected areas.
"We have to walk with coronavirus. We need to be careful," he said. "Public transport will be closed on Eidul Azha. Only vaccinated persons will be allowed to enter the tourist spots," he added. He also urged the election campaigners in Azad Kashmir to use masks in their rallies.
In another interview with a private TV channel, Dr Sultan, while responding to a question whether Eidul Azha this year would be observed in a lockdown-type situation, said that that Eid would be celebrated in a "limited, closed" environment.
He said that mutations in each new virus made it easier to "jump from one person to another". Asked specifically about 'Delta', he replied that this variant was spreading at a pace of 50-60%. For precaution, he emphasised that the Covid-19 vaccines worked on all types of variants.
While briefing the Senate committee meeting, chaired by Dr Muhammad Humayun Mohmand, Dr Sultan said that a thorough testing procedure was adopted before the release of Covid-19 vaccine CanSino at the National Institute of Health (NIH).
"As many as 24 tests were conducted to check all aspects of the vaccine to make it safe for people," he said. "One trial of CanSino was also conducted in Pakistan and the people had participated in this trial with their own choice."
Dr Sultan made it clear that hospitals don't have any data of Covid-19 variants. He added that the Delta variant cases were reported in Islamabad and Karachi, while South African variant was also reported in Karachi. "The Delta variant is spreading locally, however, there were no exact numbers of this variant."
(WITH INPUT FROM APP)