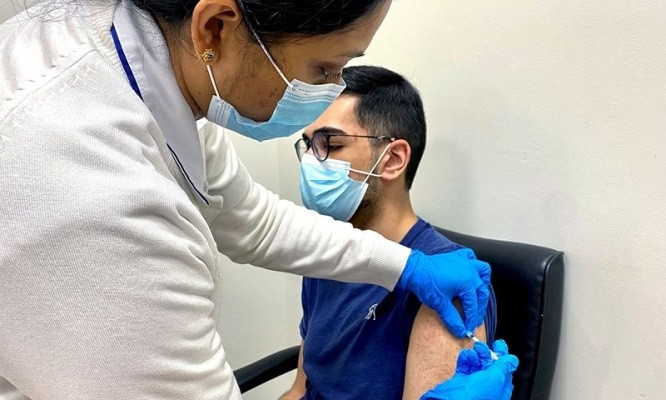 ---
16 cases of Delta variant reported in Balochistan
Officials fear the new mutation has reached Karachi
---
QUETTA:
Balochistan reported 16 cases of Indian Covid variant, commonly known as Delta, as coronavirus cases continue to rise, while officials fear that the variant has reached Karachi.
"Eleven cases of the virus are reported from Quetta, while five from Turbat," said Balochistan Health Secretary Aziz Jamali on Monday while addressing a press conference at the Quetta Press Club. He was accompanied by Dr Shereen Khan, Asfandyar Sherani and others. Jamali said people from the Middle East and Karachi regularly visited Makran Division which led to fears that the Delta variant had spread in the provincial capital of Sindh.
"We have to initiate decisions and strictly implement precautionary measures to prevent the spread of the virus further," he said, adding the testing procedure for Covid was being improved as people were infected rapidly in Makran Division of Balochistan. He added the Balochistan Health Department had sent 21 specimens for Covid testing to the National Institute of Health out of which 16 cases were diagnosed as Delta variant.
According to the figures presented by the provincial health secretary, the rate of positive cases of virus in the province was 8 per cent and the positivity ratio might increase, while so far 4 per cent population of Balochistan had been vaccinated against the coronavirus.
"The fourth wave of the virus is about to spread relatively fast," he said. Jamali advised people to get themselves vaccinated against Covid for protection so that they could save their lives as well as lives of people around them.
He added initially the authorities had difficulties delivering vaccines across the province as they had to cover vast areas. However, Jamali said, the people were being facilitated as the jabs were being delivered through district headquarters hospitals, basic health units and rural health centres.
"People are avoiding vaccination due to rumours. But the actual reason is lack of awareness and low literacy rate," said the health secretary. Talking about the Covid variant, Dr Shereen Khan said it spread more rapidly inside the body and affected lungs.
"People who contract the Delta virus suffer from high fever, body aches and lung infections," Khan said. Earlier, Balochistan government Spokesperson Liaquat Shahwani warned that the fourth wave of Covid would be more devastating than the previous ones.
According to the new restrictions related to the coronavirus in the province, the business centres remain closed till 10pm, while markets selling non-essential items will be closed on Fridays