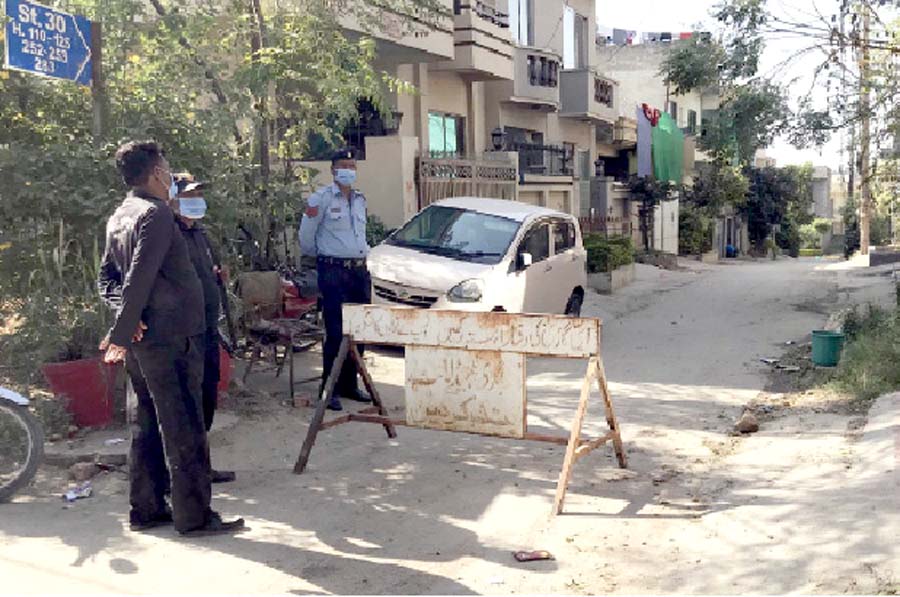 ---
10-day smart lockdown imposed in 11 Pindi areas
District surveillance officer says Delta variant spreads 10 times faster than other mutations
---
RAWALPINDI:
A 10-day smart lockdown has been imposed in 11 areas of Rawalpindi after 31 patients were detected with the Indian Delta variant of Covid-19 on Monday.
All 30 patients infected with the Delta variant have been quarantined at their homes and the district health teams are monitoring their treatment process, a spokesperson said.
The district health administration has directed citizens to observe all anti-Covid standard operating procedures (SOPs) and also get themselves vaccinated to stay safe during the fourth wave of coronavirus.
Owing to the threat of its rapid spread, 33 areas of Rawalpindi, including Adiala Road, Tasla Chowk, Airport Housing Society, Wah Cantt and Gulraiz Colony, have been put under smart lockdown.
The streets where the houses of the infected patients are situated have also been included in the sealed areas.
Further, the test to positivity ratio has risen to over four per cent in what is being deemed as the fourth wave.
Three patients are reported to have died in the last 24 hours in Rawalpindi while the figure of those under treatment in hospitals has reached 78. Among them, 75 patients are on oxygen support and three are on ventilators.
Read Vaccine lowers risk of Covid infection: Umar
The health officials said that 868,897 citizens have been inoculated to date at 30 vaccination centres across the district.
District Health Authority (DHA) Chief Executive Officer (CEO) Dr Faiza Kanwal expressed concern over the spike in the number of positive cases.
She emphasised the need for the implementation of SOPs in these alarming circumstances and urged people to get themselves vaccinated.
Meanwhile, the district administration has directed government employees to ensure they receive at least the first dose and submit a document of proof in this respect.
A list of employees who have not taken the first vaccination dose will be issued on Tuesday (today) and their salaries for the month will be retained.
District Surveillance Officer (DSO) Dr Waqar Ahmed said the Delta variant could affect the youngsters too.
He stressed that people should wear double masks after surfacing of the Indian variant and discard the mask after using it.
Citing Indian research, the DSO said that one mask could be used for a week. It can then be washed and put under sunlight so that the traces of the virus die from the sun's rays.
Dr Ahmed said the mortality rate of the new variant is similar to other variants but its impact is painful as it directly attacks the respiratory system.
He warned that the virus type spreads 10 times faster than other variants.