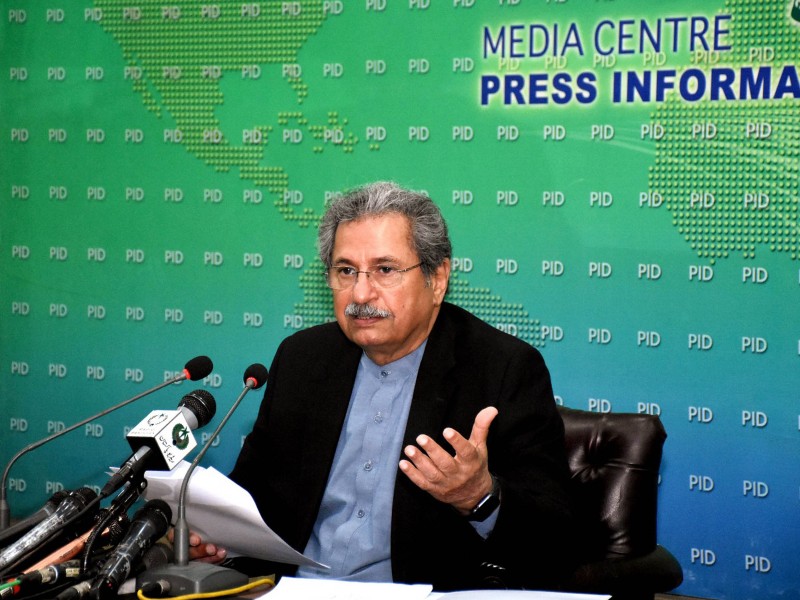 ---
Govt snubs demand to delay exams
Opposition lawmakers boycott NA proceedings in response
---
ISLAMABAD:
The government on Friday rejected the opposition's demand for postponing matriculation and entrance exams and promoting students.
In response, the opposition members staged a walkout from the National Assembly boycotting its proceedings.
As the session began under the chairmanship of NA Speaker Asad Qaiser, MNA Khawaja Saad Rafique of the PML-N raised the issue of matriculation and inter examinations and said so far the federal education minister or the government had not taken them into confidence on the matter.
Those students who say give more time can always appear in supplementary exams taken 2/3 months by all boards. Why should these exams be postponed and students who have been studying be penalised

— Shafqat Mahmood (@Shafqat_Mahmood) July 9, 2021
He added that the "state was like a mother" who protected its subjects. "But then why does the government want students to fail?"
Rafique said he had earlier requested to postpone the examinations to save the future of five million students.
"Why must the children fail without preparing for an exam?"
The opposition MNA pointed out that the lawmakers were told a day earlier that first there would be examinations, followed by supplementary examinations.
Also read: No cancellation in exams, confirms Shafqat
He added that time should be given so that expenses could be reduced and children promoted.
Parliamentary Education Secretary Wajiha Qamar in response said examinations had been held in Balochistan and were now being conducted in Sindh. "Now the examinations cannot be postponed," she added. "All provinces are independent in making their decisions."
The opposition lawmakers walked out of the House in protest against the government's clear response. Later, the lack of quorum forced the speaker to adjourn the proceedings till Monday.
Last month, the federal government in consultation with all provinces had announced to scale down the exams to only elective subjects for students of secondary and higher secondary classes, which would begin after July 10 across the country.
Earlier, the anti-domestic violence bill passed by the Senate was postponed till Monday due to concerns raised by a few members.
Adviser to PM on Parliamentary Affairs Dr Babar Awan on a call-attention notice said 45,000 houses were being constructed for the middle and poor classes at a low cost.
He added that a loan of Rs110 billion would be provided for the housing project. "A loan of Rs35.30 billion has already been approved."
He informed the House that 12 projects were kicked off in 12 tehsils. "Low cost public-private housing projects are being extended to villages." He maintained that a subsidy of Rs300,000 would be provided on the first 100,000 houses.
Aviation Minister Ghulam Sarwar Khan told the House that overseas Pakistanis were our assets, pointing out that Covid-19 pandemic had affected flight operations.
He demanded that 60% to 70% of flights be allowed to operate.
The minister told the House that so far 54,916 Pakistanis had been repatriated through 290 flights. "We will bring back all Pakistanis stuck abroad by July 20."