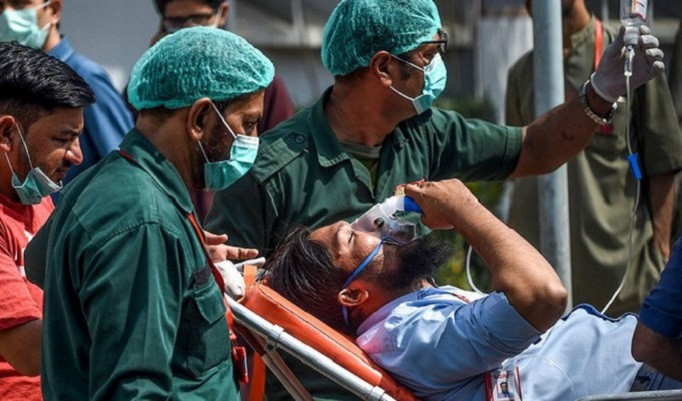 ---
Govt weighs fresh curbs to stem 4th Covid wave
Air travel ban on unvaccinated people from Aug 1; restrictions on tourism under consideration
---
ISLAMABAD:
The government is considering a slew of measures – including a possible air travel ban on unvaccinated people – in an effort to stem a steep rise in Covid-19 infections as officials confirmed the beginning of the fourth wave of the viral pandemic in the country.
The development came a day after Prime Minister Imran Khan called upon the nation to not lower their guard against the contagion, which causes the mysterious respiratory infection, because the more infectious Delta variant has sneaked its way into Pakistan.
The National Command and Operation Centre (NCOC), which leads the nation's Covid-containment strategy, said on Friday that the Delta variant is more dangerous than the Indian mutation of the novel coronavirus.
"Cases of Delta variant are surfacing in the country which could possibly trigger the fourth wave," the NCOC said in its daily update. It called upon the people to follow security protocols against the virus because "any laxity could have serious consequences".
Planning Minister Asad Umar, who also oversees the country's in-synch fight against Covid, blamed poor compliance for the impending fourth wave.
"Two weeks back, I had tweeted that our artificial intelligence models are showing possible emergence of 4th wave. Now there are clear early signs of 4th wave starting," Umar wrote on Twitter. "Poor SOP compliance, coupled with spread of variants of concern, Indian variant in particular, are the main causes," he added.
India has seen apocalyptic ravages of the Delta variant where it claimed hundreds of thousands of lives and left countless others gasping for oxygen due to acute shortages that came in its wake.
Read More: Delta variant could rear its head in Khyber-Pakhtunkhwa
Measures under study
The NCOC said it has cobbled up a comprehensive strategy to deal with the Delta variant and other mutations of the deadly microbe. The strategy envisages strict compliance of the existing SOPs between July 9 and 18 across the country.
The government will also expedite the vaccination campaign. More than 18 million doses of different vaccines have been administered thus far, according to the stats available on the NCOC web portal. "As many as 3,530,044 people have been fully inoculated, while 14,698,191 have received one dose."
According to Asad Umar, reports show complete disregard for vaccinations by those attending indoor weddings and going to indoor restaurants and gyms. "If the owners of these facilities do not show responsibility and ensure compliance, then there will be no choice but to shut them down," he warned.
The NCOC said it was considering a slew of recommendations to restrict unnecessary public movement during the upcoming festival of Eidul Azha. The final decision on these recommendations would be taken in the next few days based on the pandemic situation in the country.
No air travel will be allowed without a vaccination certificate from August 1 onwards, the NCOC said. A ban on tourism is also under consideration given the sharp increase in Covid infections.
Instructions have already been issued to ensure a ban on travel and hotel stay for everyone above 30 years of age and not vaccinated. And from August 1, this ban will also apply to people in the age bracket of 18 and 30 years.
The NCOC stressed that people working in the private sector, including corporate sector, small, medium and large industries, agriculture, media, lawyers, private companies, factories, markets, transportation, hotels, traders, gyms, mosques, wedding halls and workshops must be vaccinated before July 31.
Students above the age of 18 years are also required to get their Covid shot before the July 31 deadline.
Daily stats
According to the NCOC daily updates, 1,737 fresh Covid infections were confirmed nationwide during the last 24 hours. The contagion also claimed 25 lives during this time. Of them, 16 died on ventilators and most deaths occurred in Sindh.
The total active Covid cases have started inching up again as the figure stood at 35,573 on Friday.
A total of 969,476 infections have been detected nationwide thus far. Most cases were reported in Punjab (347553), followed by Sindh with 344,223 cases, K-P 139,008, Balochistan 27,781, AJK 20,811, ICT 83,400, and GB 6,700.
Of all the infections, 911,383 people have recovered, while 22,520 lost the battle to the deadly contagion. Most deaths, 10,805, were reported in Punjab, followed by Sindh, 5,566, K-P, 4,348, ICT, 782, AJK, 591, Balochistan, 317, and G-B, 111.