 ---
LONDON:
Kashmiris and Pakistanis in the United Kingdom staged protest demonstrations in London, Birmingham, Glasgow and various cities of the UK and Europe in connection with Kashmir Resistance Day on the call of the Tehreek-e-Kashmir (TeK).
Main protests were held outside Indian High Commission London and Indian Consulate in Birmingham. The demonstrators raised slogans against the illegal Indian occupation of Kashmir including: "Stop state terrorism in Kashmir, end Indian colonisation of Kashmir, We want freedom, Indian army out and release all political prisoners."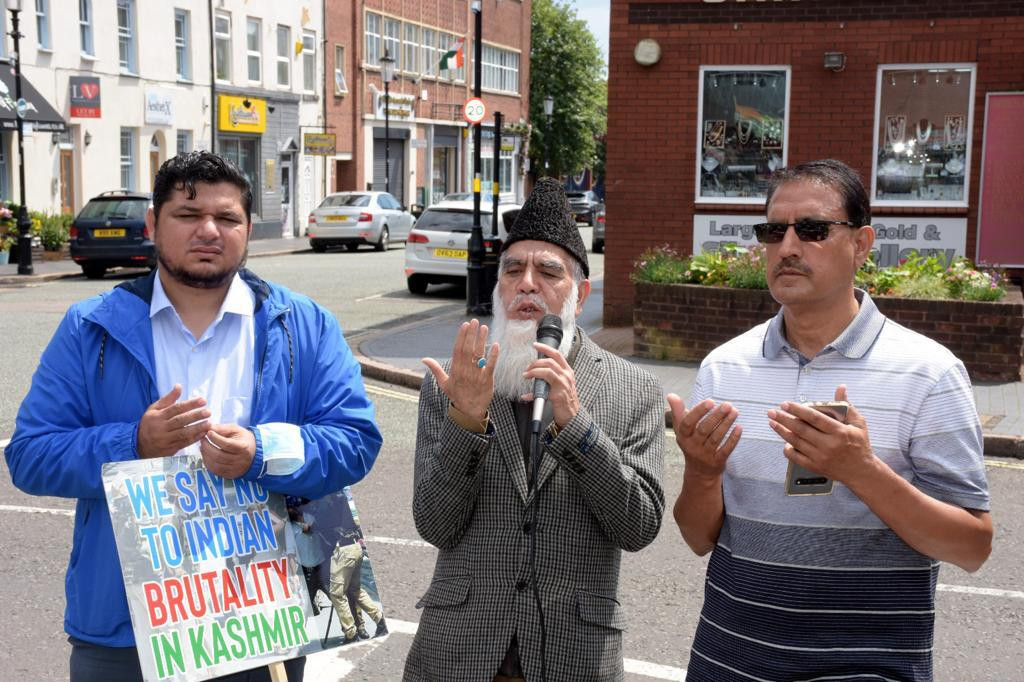 The representatives of All Parties Kashmir Coordination Committee, Overseas Pakistan Kashmir Welfare Council (OPKWC), Pakistan Patriotic Front, Global Pakistan Kashmir Supreme Council (GPKSC), World Kashmir Freedom Movement, Kashmir Campaign Global, Kashmir Information & Research Centre, Kashmir Patriotic Front and others participated in protests and paid tribute to Burhan Wani Shaheed who was martyred by Indian army on July 8, 2016.
Read more: FO pays tribute to slain Kashmiri freedom fighter Burhan Wani
The death of Burhan Wani triggered massive protests across the valley against the illegal Indian occupation of Kashmir and more than 36 people were killed and 2,000 people were injured by the Indian army during the pro-Burhan protests.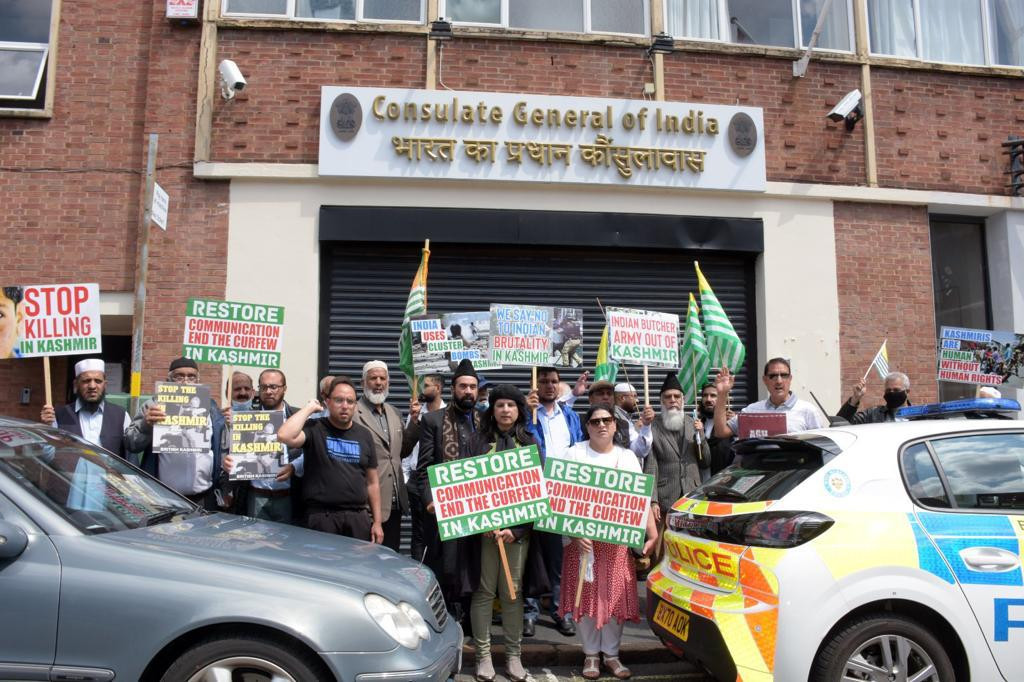 Wani's death brought the Kashmir issue on the international agenda and his sacrifice for the freedom of Kashmir was acknowledged by a former prime minister at the General Assembly of the United Nations.
All Pakistani and Kashmiri human rights groups said that they are standing in solidarity to commemorate the 5th martyrdom anniversary of Shaheed Burhan Wani who gave the supreme sacrifice of his life for the liberation of his motherland from the Indian manacles.
Also read: Time to end this human tragedy and resolve Kashmir issue: COAS
Lord Nazir Ahmed said a fact-finding mission should be sent to IIOJK by UN agencies and international observers to view the recent atrocities of Indian forces against the people of the occupied valley.
"Today we're here to take this cause one step further on an international level so the world can see the true face of India and occupation," Tehreek-e-Kashmir UK President Fahim Kayani said.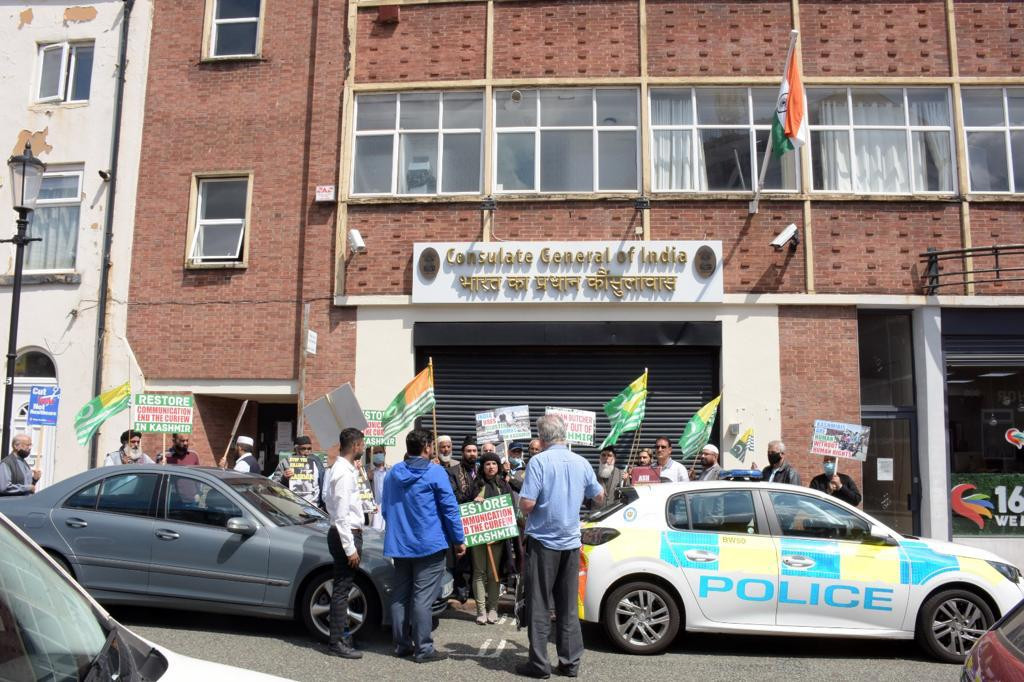 He said that the occupation is abuse to humanity which degrades humanity to commit war crimes to innocents who aren't in a war so have no weapons to defend but suffer in silence.
Kayani condemned today's killing of four Kashmiri youth by the Indian army and urged the UN to hold India for its war crimes. He further said that the Kashmiris want peaceful resolution of the dispute according to the resolution of the UN.
Muhammad Ghalib, TeK president Europe, said the world has turned a blind eye to atrocities committed by the Indian army which encourages India to commit human rights abuses in IIOJK.
Yahiya Akhtar, director Kashmir Information Cell TeK UK, Sardar Aftab Ahmed, vice president TeK UK and Yousuf Farooq Youth, leader TeK UK said: "The people of IIOJK must have their right to self-determination fulfilled. It is our duty to continue protesting and keeping the campaign going to stand up against Indian state oppression."
The Information Secretary of TeK UK, Rehana Ali, said that British Kashmiris and Pakistanis joined the protest with friends and family to highlight the suffering in IIOJK and to honour their brothers and sisters struggling for freedom.
Stop the War coalition Birmingham branch, Trade Union Council, Palestine Solidarity Campaign, Palestine Centre UK and other human rights organisations joined the protest and showed their solidarity with the people of IIOJK.
COMMENTS
Comments are moderated and generally will be posted if they are on-topic and not abusive.
For more information, please see our Comments FAQ