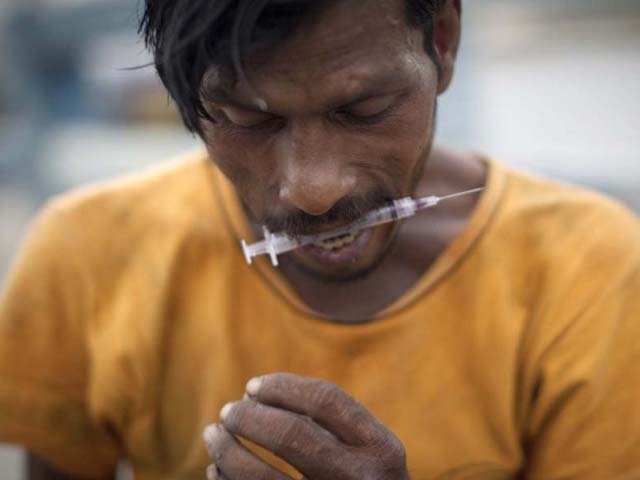 ---
RAWALPINDI:
The Rawalpindi police booked over 30 drug peddlers and recovered six kilogrammes of narcotics from their possession.
The police have formed special teams after the identification of drug pushers in over 2,000 narcotics selling points in posh localities of the city.
The authorities intend to make Rawalpindi a drug-free city and have directed the police to arrest drug addicts and also bust the several organised drug trafficking groups involved in the supply of narcotics.
Sources in the police told The Express Tribune that over 2,000 narcotics pickets have been identified in the jurisdiction of 30 police stations of Rawalpindi.
It added that following the process, the City Police Officer (CPO) issued instructions to all SHOs to immediately launch a crackdown.
The police of different jurisdictions conducted raids and held more than 30 suspects, and seized over six kgs of drugs from their possession.
Sources said that action would also be taken against sheesha centres and cafes in the posh areas of Rawalpindi. Colleges and universities are being strictly monitored by the police to identify drug suppliers.
Rawalpindi Police Spokesperson Sub-Inspector Sajjadul Hasan said that they have waged a constant war against the menace of drugs.
Read Lahore witnesses spike in drug abuse
He added the CPO had vowed to make Rawalpindi a drug-free city.
He urged the people to identify narcotics spots in the city as the police require their cooperation for eradication of the menace.
The spokesperson assured that the names and identities of informers would be kept secret.
Community help
Rawalpindi police have sought the help of the public to curb drug use. The vicinity of areas, including Pirwudhai, Bani, Sadiqabad, Cantt are said to be hotspots of supplying narcotics.
To curb the menace, the Anti-Narcotics Force (ANF) is taking action against drug smugglers and traffickers, while the Punjab excise, taxation, and narcotics control department are also cracking down against the involved elements.
To make the action more effective, Rawalpindi City Police Officer (CPO) has sought the community's help to destroy the scourge of drugs.
Using the micro blogging site Twitter, he urged citizens to help police curb this menace. The CPO asked citizens to report such crimes on the police helpline or mobile application.
Published in The Express Tribune, July 8th, 2021.
COMMENTS
Comments are moderated and generally will be posted if they are on-topic and not abusive.
For more information, please see our Comments FAQ