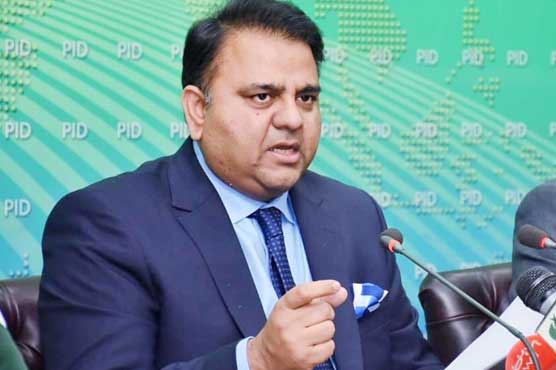 ---
Minister for Information and Broadcasting Fawad Chaudhary said on Tuesday that India's terrorist network in Balochistan had been significantly weakened.
"We (the government) will now set the agenda of dialogue with the nationalists," the minister said on Twitter.
The minister's statement comes a day after Prime Minister Imran Khan said that he is mulling to hold talks with angry Baloch so that hostile elements, including India, could not use them to spread chaos.
Fawad further said that Balochistan was very close to Prime Minister Imran Khan's heart and added that the federal government will complete 131 projects worth Rs731 billion in Balochistan.
"The development program of Balochistan government this year is Rs180 billion," the minister stated.
بلوچستان میں ہندوستان کا دہشت گردی کا نیٹ ورک کافی حد تک توڑ دیا ہے اب قوم پرستوں کے ساتھ بات چیت کا ایجنڈا طے کیا جائیگا،بلوچستان میں وفاقی حکومت 731 ارب کے 131 منصوبے مکمل کرے گی، صوبائ حکومت کا ترقیاتی پروگرام صرف اس سال 180 ارب کا ہے، بلوچستان @ImranKhanPTI کے دل کے قریب ہے https://t.co/6Vzc6W9fvX

— Ch Fawad Hussain (@fawadchaudhry) July 6, 2021
PM Imran had said on Monday that Pakistan's development was linked with Balochistan and Gwadar will be developed at all costs.
Read More: PM mulls holding talks with angry Baloch
The premier directed the authorities to ensure progress in Gwadar on a monthly basis, saying there shouldn't be any impediments in this regard.
He observed that Balochistan lacked connectivity and that hampered socio-economic development of the people, giving rise to subversive activities in the province.
"Those who like unrest attempt to take the local people on board to carry out their activities."
He stated that a one-window operation was being started to facilitate investors, especially the local investors, businesses and industries.
COMMENTS
Comments are moderated and generally will be posted if they are on-topic and not abusive.
For more information, please see our Comments FAQ