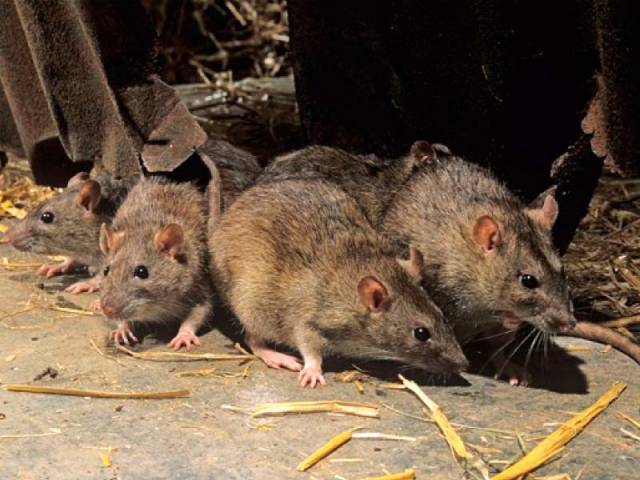 ---
RAWALPINDI:
The increasing number of rats in Rawalpindi has become a pestering affair for the common man and businessmen alike. In the last six months, several women and children had to visit hospitals to get vaccination after they were bitten by the rodents
Traders from different areas of the city said that as their shops remained closed during the coronavirus lockdown, mice had a field day, destroying edible and non-edible items worth millions of rupees.
The residents of densely populated areas such as Bani, Waris Khan, Dhok Khabba, Arya Mohalla, Madanpura, Shaheenpura, Raja Bazaar, Bara Market, Ganjmandi, Namak Mandi, Urdu Bazaar, Bhabra Bazaar, Bohar Bazaar and Moti Bazaar maintained that the well-fed rats were so big that even cats were scared of them.
They said that no house, shop or market had been spared by the cat-sized rats. The citizens complained that the district administration was showing no willingness to do away with the rodents.
Read Lahore café sealed after 'dead rat' shawarma video goes viral
Businessman Yasir Butt said that the number of rats has surged to a dangerous level in Rawalpindi and no department was forthcoming to deal with the issue.
Butt claimed that rodents incur a loss of millions of rupees to traders every year as they masticate clothes, footwear and other vast arrays of materials.
Moti Bazaar Traders' Union leader Tahir Taj Bhatti stated that rodents disturb their sleep at night and businesses in the day. He added that people use different pesticides to kill them, but their number was increasing.
Bhatti said that the sewerage system of the inner-city areas was the actual den of the pests. He demanded that the city administration should launch a campaign to cull them.
Meanwhile, health officials confirmed that the rat-biting cases were rising in the city and dozens of citizens have been vaccinated in hospitals after getting bitten by the rodents. The victims include children, adults, and women, they said.
The Express Tribune learnt that the city administration has no specific department to deal with the nuisance. District officials have advised citizens to maintain cleanliness, which would automatically reduce the number of cases.
Published in The Express Tribune, July 2nd, 2021.
COMMENTS
Comments are moderated and generally will be posted if they are on-topic and not abusive.
For more information, please see our Comments FAQ