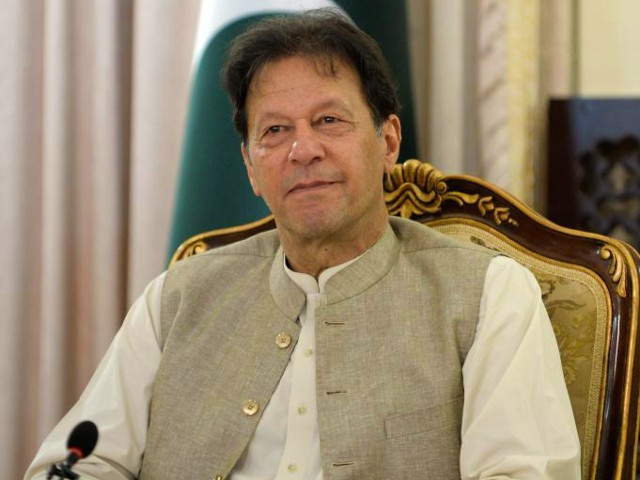 ---
ISLAMABAD:
Prime Minister Imran Khan on Thursday hailed the Communist Party of China (CPC) for its unique model of governance and an efficient system of sifting and grooming talent, which he described as an alternative model parallel to the electoral democratic system.
In an interview with the Chinese media, Imran felicitated China on the 100th anniversary of the CPC. He also appreciated the flexibility in the system of the CPC to adopt changes and mend its policies according to the needs, which led to the quick development of the most populous country in the world.
"The CPC is a unique and alternative model, parallel to the electoral democratic system," Imran said in response to a question. "The CPC introduced an efficient system of sifting talent and grooming it up which was more remarkable than the electoral democracy," he added.
"This is something unique for China. You don't see this in many other electoral democracies," Imran said, adding that he had gone through China's political process – from village to the national level – and found that both President Xi Jinping and Premier Li Keqiang were well aware of the people's problems.
"Until now, we had been told that the best way for societies to improve was through Western democracy. [But] the CCP has introduced an alternative model and they have beaten all Western democracies in the way they have highlighted merit in society," he added.
"In … Western democracies, it is difficult to bring change as you are bound by rules and regulations. Democracies of today plan only for the next five years. "The CCP achieved better without democracy. Their system for sifting through talent and bringing it up is better than the democratic system."
The prime minister said that Pakistan considered President Xi Jinping as one of the great statesmen of the modern world for his commitment to fighting corruption, establishing rule of law and steering around 700 million people out of poverty.
He also spoke highly of President Xi's environment-friendly initiatives, including development of an exclusive city with environment-friendly features. He said the way China dealt with coronavirus pandemic was unique. He thanked China for helping Pakistan fight the global pandemic.
Muslims in Xinjiang
While commenting on the situation of Muslims in China's Xinjiang, Imran said that through his interactions with Chinese officials, the government knew that what's happening in Xinjiang was completely different from the version given by the Western media and the Western governments.
Read more: PM Imran rules out China ties downgrade
Imran said that Pakistan had relations with China based on trust. Pakistan, he added, would accept the Chinese version on their programmes in Xinjiang. "So, because we have a very strong relationship with China and because we have a relationship based on trust, we actually accept Chinese version," he said.
"What they say about their programmes in Xinjiang, we accept it," the prime minister stated. "Secondly, we find it a little bit hypocritical. When there are much worse human rights issues in the world, which [should] get more attention, for instance, Kashmir is a huge human rights issue."
The prime minister told the Chinese journalists that the Western media hardly reported massive human rights violations in Indian Illegally-Occupied Jammu and Kashmir (IIOJK), where 9 million people had been put into an open prison.
IIOJK "had been turned into a police state with extrajudicial killings, imprisonments and ban on media "and yet there is hardly any adverse comment in [western] media… This is what Pakistan finds very hypocritical".
Won't take sides'
Imran said that the China-US rivalry was worrying for the world as it could divide the world just like the Cold War as well as during war against terrorism. He pointed out that there was fear of China's economic dominance.
"You see a strange great power rivalry in the region. The United States is wary of China and has formed a regional alliance," he said, referring to the so-called Quad – a group of four countries, comprising the US, Japan, Australia and India.
Imran warned that the idea of India going to counterbalance China was detrimental for India itself, because India could get far more trade benefits from China than from counterbalancing it. "The country which will lose, it will be India," he said.
Imran stressed that the relations between Pakistan and China had nothing to do with India. As for the Sino-Pak relations, he reiterated his earlier statement that Pakistan would not accept any pressure to either change or downgrade its relations with China, as it had always stood by it in every difficult time.
"If pressure is put on Pakistan to change its relations or downgrade its ties with China, it would not happen," Imran said categorically. "Whatever will happen … relationship between our two countries, no matter what pressure is put on us, is not going to change," he added.
"China always stood with Pakistan when the country was in trouble. Even now politically and on the international forums, the two countries stand together. We think it is unfair of the US and Western powers to expect countries like Pakistan to take sides. Pakistan will not downgrade its ties with China."
Afghan situation
When asked about the situation in Afghanistan, the prime minister said: "Unfortunately no one has the answer right now," adding: "Afghanistan has the history. They cannot be dictated from outside. They do not like to be controlled from outside, this is history."
He said the moment the Americans gave the date of exit, Taliban, considered it a victory. In that situation, he added, it was difficult to bring them back for a political settlement. He said in case a civil war broke out in Afghanistan, Pakistan would suffer the most, after Afghanistan.
Imran said that the US made the biggest mistake by trying to find out military solution to Afghanistan's situation. "They kept doing the same thing over and over and over again and thought they would get a different result."
CPEC
The prime minister said he also looked forward to his visit to China soon to strengthen the political and economic ties. Pakistan, he added, was committed to strengthening relations with China, the prime minister added.
"Pakistan has also resolved to strengthen economic relations with China" and under the second phase of the China-Pakistan Economic Corridor (CPEC), Pakistan would attract Chinese industry to the Special Economic Zones as well as Chinese agricultural technology.
He told the Chinese media that a committee had been formed to oversee the CPEC projects and ensure the removal of impediments. For that very purpose, he added, he was scheduled to visit Gwadar next week to oversee the projects.
CPC centenary
The interview came as the CPC is celebrating the 100th anniversary of its foundation. Earlier this week, Imran sent a message of felicitation to President Xi on the CPC's centenary, saying the all-weather friendship between Pakistan and China had become a valuable strategic asset.
The Chinese foreign minister said on Thursday that Beijing had received the congratulatory letter from Prime Minister Imran Khan. "Our friendship has grown from strong to stronger and it has become a valuable strategic asset," Foreign Ministry's Spokesperson Wang Wenbin told his regular briefing.
Wang thanked Prime Minister Imran and appreciated his message of support. "It is the CPC's firm proposition to develop friendly relations with Pakistan, and it is also the consistent position of the Chinese government," he said.
Wang also mentioned that this year marked the "70th anniversary of the diplomatic ties between our two countries… over the past seven decades, no matter how the international landscape changes, our two countries have always respected, trusted and supported each other".
"Going forward, the two countries will hold high the banner of peace, development and win-win cooperation in the new type of international relations… in this process, China will take Pakistan as a priority in its neighbourhood diplomacy."
(WITH INPUT FROM APP)
COMMENTS
Comments are moderated and generally will be posted if they are on-topic and not abusive.
For more information, please see our Comments FAQ