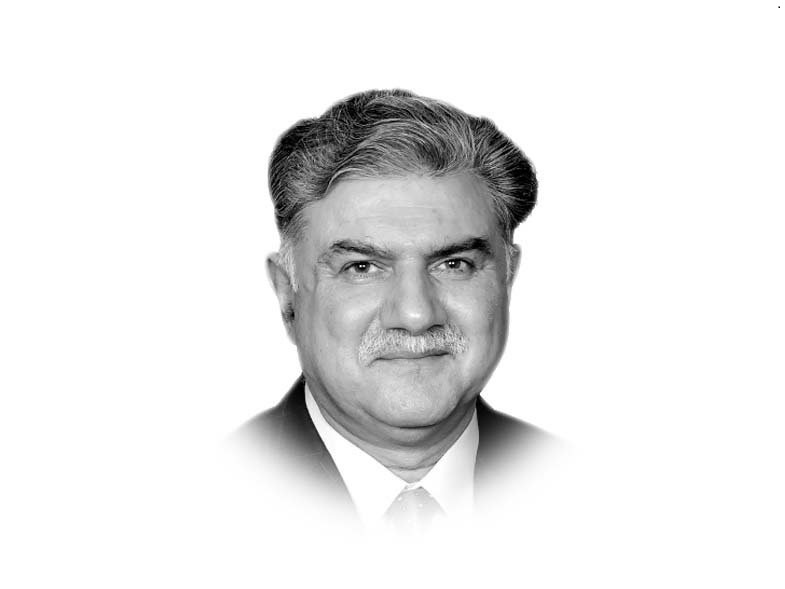 ---
It is interesting to see the flip-flops of our Afghan policy. Now, as per a senior Foreign Office official (The Express Tribune, June 28, 2021), the "the Taliban's rapid Afghan gains surprise Pakistan" and Pakistan is worried by "the lack of resistance or little resistance offered by the [300,000 strong] Afghan National Army (ANA)" and other security forces to the advancing Taliban.
Over 142 out of 421 Afghan districts have fallen to the Taliban, who are contesting control of another 170. They, following an astute operational strategy, "nibbled spaces" all over Afghanistan, dominated the night, ran shadow government and are now occupying rural districts surrounding urban centres. They are offering sharia-compliant surrender (tasleem) terms to ANA troops, through local media broadcasts or using local elders. And this has been going on for months.
On June 22, the Taliban captured the strategic Sher Khan Bandar, the main Afghan border crossing with Tajikistan, in the northern Kunduz province, approximately 56 kilometres northwest of Kunduz city. The Taliban forces are fighting for control of this besieged provincial capital that has changed hands twice in the recent past.
President Ashraf Ghani, meanwhile, has not been able to get any firm security commitments, except perhaps 'over the horizon' support as far as politically and operationally possible, from his recent meetings with President Joe Biden and other officials. All stakeholders including Pakistan support "a political dispensation acceptable to all sides".
Meanwhile there are ominous predictions of a looming civil war in Afghanistan if the stalled intra-Afghan dialogue in Doha cannot be restarted to emplace a political solution. All countries without exception oppose military take-over by the Taliban.
In our reckoning, the Afghan situation is misread as most commentaries are political in nature with little or no insight into the Taliban psycho-social outlook, and Afghan demography and anthropology. On September 24, 2020, my op-ed, "The Underlying Constants of Afghan Crisis", covered some basic undercurrents of the Afghan sociopolitical situation; namely the nature of Afghan monarchy, modern state formation and the futility of a strong central government. It discussed the mainly Sunni Islamic character of Afghan society and the interplay of Pakhtunwali — the operative code covering everyday life, riwaj (traditions) and the teachings of Islam. It underscored the fact that the Taliban worldview of Islam is essentially the rural Pakhtun worldview.
The Afghan demography is inherently and intensely 'democratic' and egalitarian in its own ways, where even the king was an equal among equals. They had the Loya Jirga (Lower House) and Masharano Jirga (Upper House) much earlier than other South Asian nations. And Afghans across the political divide long for an 'undivided' Afghanistan. That the traditional Afghan conflict resolution mechanism is battered due to prolonged conflict and instability, necessitating third-party arbitration for Afghans to reach dispute resolution. A hands-off approach will only feed instability and conflict.
The Afghans and the Taliban will say 'thank you to Pakistan' for hosting refugees and other favours, but will never remain perpetually indebted as this disturbs their social equilibrium that is unencumbered by complexes. So, over-expectations from the Taliban need to be kept in check.
Above broad societal conclusions distill into Taliban-specific suppositions. Power was lost by the mainly Pakhtun Taliban to the western-backed Northern Alliance. Consequently, the Taliban find it hard, if not impossible, to share power with the same sell-outs, who conspired with non-Muslim occupation forces. The Pashtun ruling class had traditionally accorded different status to the non-Pashtun population.
Badal or revenge plays an important part in the rural Taliban/Pashtun hinterland. Slights, humiliations at the hands of ANA and their Western backers are never forgotten or forgiven till avenged to re-establish societal equilibrium and Islamic justice. Localised violence and revenge killings in areas taken over by the Taliban are, therefore, possible. The only time badal was suspended, was during Afghan jihad against the Shoravi (Russians).
The Taliban chain of command is tested/tried and efficacious in combat. The Taliban movement, though not strictly disciplined like a conventional force, is yet highly sensitive to local command and control. It can effectively implement decisions of its various shuras (decision-making bodies).
The Pakhtun Taliban do not take kindly to betrayals and maintain an oral history of their friends and foes, that goes down in generations. The rural Taliban, though exposed to modern agents of change, like urban environment in Pakistan and elsewhere during migrations, education, media and its many forms especially the social media, are still conservative, backwards, riwaj-bound and Pakhtunwali-driven.
The war of liberation drew strength from the righteousness of the Taliban cause (national liberation), their willingness to sacrifice and fight outnumbered (especially in technology). This would continue to guide their future outlook towards an Islamic political dispensation under sharia. The Taliban leadership, however, does recognise US/Western clout enabling their international inclusivity and continued financial/political, intelligence and military assistance… specifically to fight Daesh. This would help moderate their marginal behaviour, if any.
The Taliban decision-making is rationale, environment-savvy and pragmatic. There are not medieval savages, as some in the western press paint them. They are shrewd enough the keep their wild highlander Afghan instincts in check, when needed. Respect for womenfolk/minorities (Sikhs run businesses) is ingrained in Afghan psyche.
Putting it all together, there is a dire need to develop a "Track-II Dialogue" with the Taliban, by Pakistan and other regional/international interlocutors, as soon as possible, using credible forums like Doha. As Istanbul is tainted by Dostum's Sheberghan crimes; Russia has a legacy; and China would be at odds with the US… therefore, an Arab Islamic forum like Doha remains the only choice. Moreover, the Taliban value affinity. The Taliban viewpoint needs to be understood and the world viewpoint made known to them. Only a practical and possible interface can break the deadlock.
Encouraging factionalism inside Afghanistan would serve nobody's enduring interest… whether it is supporting Ahmed Massoud in Shomali Plains/Panjshir Valley by western powers; or Ismail Khan and Kamran Alizai in Herat; or Hazara shia militia under Abdul Ghani Alipur in Wardak Province; or the Iran-trained Fatemiyoun Division deployed to Syria (2014-2017); or the brutal Rashid Dostum in his Uzbek stronghold in Jowzjan province by Turkey/Uzbekistan; or Ustad Atta Mohammad Noor in Balkh province; or the various Orbaki militias/Khost Protection Force by the US/West.
Because an unstable Afghanistan would not let the region in peace, if not the world.
Published in The Express Tribune, July 1st, 2021.
Like Opinion & Editorial on Facebook, follow @ETOpEd on Twitter to receive all updates on all our daily pieces.
COMMENTS (1)
Comments are moderated and generally will be posted if they are on-topic and not abusive.
For more information, please see our Comments FAQ