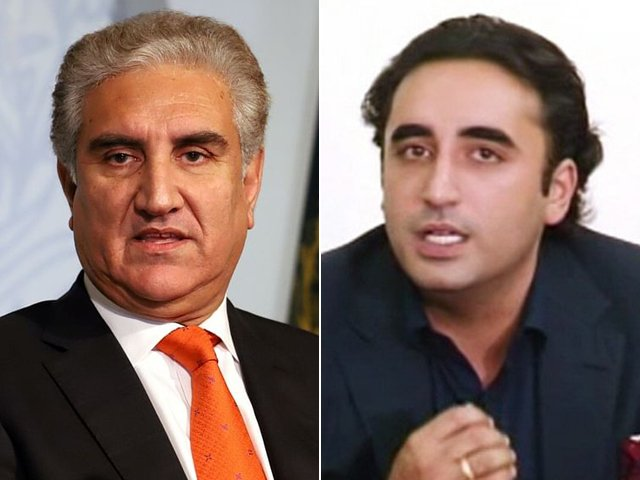 ---
ISLAMABAD:
PPP Chairperson Bilawal Bhutto Zardari and Foreign Minister Shah Mahmood Qureshi on Wednesday engaged in a fiery debate during the National Assembly session just before the premier's speech, straying away from the topic of budget.
Bilawal started his address by saying that Tuesday's vote on the federal budget was rigged and NA Speaker Asad Qaiser was obligated to count the votes when it was challenged by him.
Also read: PM Imran urges opposition to accept electoral reforms, EVMs
He added that if Qaiser had conducted a count, the PPP could have at least recorded its stance on record.
"I stood up at the time of the last vote and challenged your ruling, but you stood up and left," said Bilawal while addressing Qaiser.
A day earlier, the NA had passed the budget with a majority vote, giving effect to new revenue measures in an ambitious bid to achieve a tax target of Rs5.8 trillion and at the same time providing some relief to big businesses and wealthy individuals.
When the budget was put for approval through voice vote, almost all PML-N members left the house, leaving the PPP and JUI-F members behind.
After the clause by clause reading was completed, a voice vote was conducted by the NA speaker and the budget was passed.
Bilawal criticised Qureshi by saying that he was a minister during the PPP's tenure and would shout slogans in favour of party co-chairperson Asif Ali Zardari.
"You watch what he does with your prime minister," Bilawal told the speaker and accused the foreign minister of "making deals" on Kashmir.
"[PM] Imran Khan will not understand what he is but he will know very soon as such people are going to be a threat to the government," Bilawal claimed.
In response to Bilawal, the foreign minister said that he also knew the PPP leader since he was a child.
"When we used to talk, he used to stand at the window and watch. Today, this child is given written speeches to read," Qureshi said. "I also know him and his father and what sort of a people they are."
The foreign minister lashed out at the PPP chairman for levelling allegations of violating parliamentary tradition.
"What are you talking about? In Sindh, where you have the government, you did not allow the opposition leader to speak," he claimed.
He added that the speaker was the custodian of the House and his character had been "targeted" by the opposition.
"You can have reservations about the speaker's decision, but you take it up in his chamber. You don't confront them on the floor of the House."
In response to the minister, Bilawal again sarcastically said Qureshi's allies would soon come to know that the "minister of Multan" could resort to anything for his own sake.
"We expelled him from our party because he wanted us to make him the prime minister instead of Yousuf Raza Gilani," Bilawal claimed.
Getting irked by the PPP leader's remarks, Quershi said Bilawal was a child, who was afraid.
"You do not know the truth. Go and investigate why I left your party," Qureshi said. "It will take you time to learn. You made Yousaf Raza Gilani the opposition leader in the Senate through a deal."
COMMENTS (1)
Comments are moderated and generally will be posted if they are on-topic and not abusive.
For more information, please see our Comments FAQ