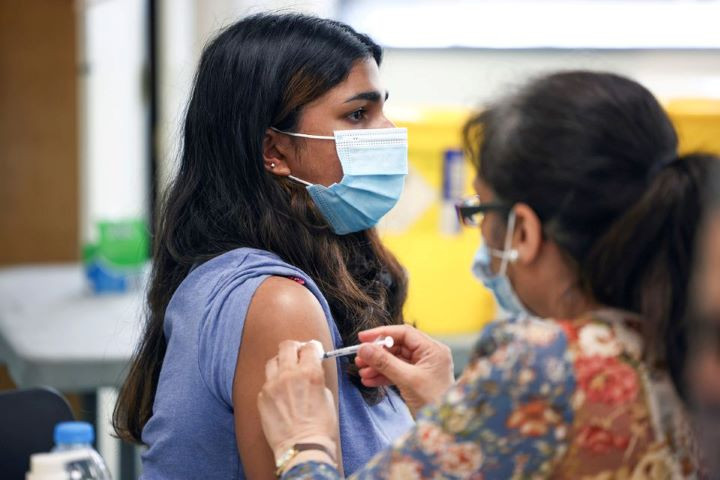 ---
Second Covid jab to be administered after six weeks
NCOC changes strategy to meet vaccine shortfall
---
ISLAMABAD:
The government changed its strategy for the nationwide Covid-19 vaccination drive, doubling the gap of three weeks between the first and the second dose to six weeks, as more jabs started arriving in the country to address the vaccine shortage in parts of the country.
The country, which has just subdued the third wave of the infectious disease, thanks to the strict precautionary measures taken by the National Command and Operation Centre (NCOC), is currently struggling with maintaining ample doses for a smooth vaccination drive.
To address the issue, the government last week placed vaccine purchase orders on an emergency basis, and an agreement was reached with China for supply of millions of doses. Simultaneously, with the imports, NCOC sources said, the duration of the second dose of the vaccine had also been extended.
Hitherto, the two-dose vaccine had been administered with a gap of three weeks. However, from now on, according to the sources, the gap had been extended to six weeks. Last week, Dr Faisal Sultan, the de facto health minister, had said that the gap of six to eight weeks made no difference.
Meanwhile, another special flight of the Pakistan International Airlines (PIA) airlifted 2 million doses of Sinovac vaccine from the Beijing airport to Islamabad. The flight was in addition to an earlier special flight which transported 1.55 million doses of the Sinovac vaccine to Pakistan on Sunday.
The signs of improvement of the vaccination campaign come as the single-day data of new cases, fatalities and the positivity rate dropped to record low, according to the NCOC – the nerve centre of the government's unified effort against the pandemic.
On Tuesday, the NCOC said in its daily update that the active Covid-19 cases came down to 33,452, as 663 people tested positive for the virus, while 1,204 people recovered from the disease during the last 24 hours. The national Covid positivity rate during the past 24 hours was 1.69%, it added.
The forum stated that 27 patients, of whom 25 were in hospitals, including 17 on ventilators, died during the past 24 hours, raising the nationwide death toll to 22,034. It added that most of the deaths, 17, occurred in Punjab, followed by 5 in Khyber-Pakhtunkhwa.
As of Tuesday, the national caseload of the disease rose to 949,838, including 894,352 people making full recovery from the disease. At present, the NCOC said, 2,432 patients were admitted to 639 hospitals across the country.
(WITH INPUT FROM APP)