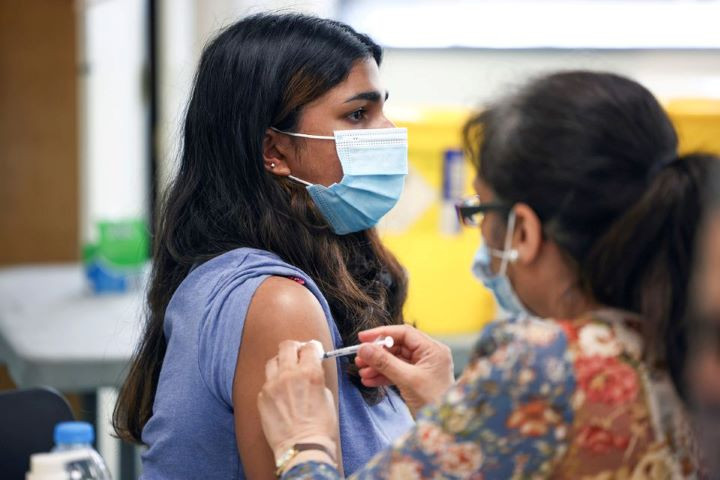 ---
'400k people' to be vaccinated daily
1.5 million doses of Sinovac to be delivered to vaccination centres soon
---
ISLAMABAD:
Parliamentary Secretary Dr Nosheen Hamid on Monday said that around three million doses of anti-Covid vaccines would be imported next week.
Talking to a private news channel, she said 1.5 million doses of Sinovac have been purchased from China and would be delivered to all vaccination centres soon.
Dr Nosheen said the target of the government was to vaccinate over 70 million people by the end of this year, adding, it has also been decided that Covid vaccines would be produced locally on a large scale.
To a question, she said the incumbent government was taking various steps to make vaccination process easy and accessible for the general public, adding that 400,000 people would be vaccinated daily from next week.
Meanwhile, the Ministry of National Health Services has received the second shipment of emergency medical equipment donated by the United States government through the United States Agency for International Development (USAID) Pakistan as 30 more coronavirus patients succumbed to the disease.
This shipment includes personal protective equipment (PPE) usable for more than 13,500 frontline healthcare workers, and 600 intensive care unit (ICU) and operation theater staff.
These items will be distributed in close coordination with the provincial and regional governments and the medical equipment will be supplied to designated secondary and tertiary care hospitals starting from next week.
The ministry, in a statement, thanked USAID and the US government's support in its Covid-19 effort. "This highlights the importance of global cooperation during this pandemic," it added.
According to the daily data issued by the National Command and Operation Centre (NCOC), 30 more coronavirus patients died in the last 24 hours. Most of the deaths occurred in Sindh followed by Punjab. Fourteen of the people who died in the last 24 hours were on ventilators.
Some 907 people also tested positive on 20 June. So far, 22,007 people have died of the coronavirus in the country. Total number of active cases in Pakistan on Monday was 34,020.
Most of the deaths [10,642] have occurred in Punjab, followed by 5,341 in Sindh; 4,269 in Khyber-Pakhtunkhwa (K-P); 775 in Islamabad Capital Territory (ICT); 301 in Balochistan; 108 in Gilgit-Baltistan (G-B) and 571 deaths in Azad Jammu and Kashmir (AJK).
Some 14,148,424 tests have so far been conducted across the country. There are 639 hospitals with Covid related facilities and 2,497 patients are currently admitted to these hospitals. Some 283 of the patients are on ventilators.
Around 893,148 people have so far recovered from the disease making it a significant count.
According to the NCOC, 34% of the ventilators are occupied in Multan; 26% in Bahawalpur, 21% in Islamabad and 21% in Lahore. Some 45% oxygen beds in the G-B are currently occupied by the Covid-19 patients followed by 26% beds in Muzaffarabad; 23% beds in Abbottabad and 23% beds in Karachi.