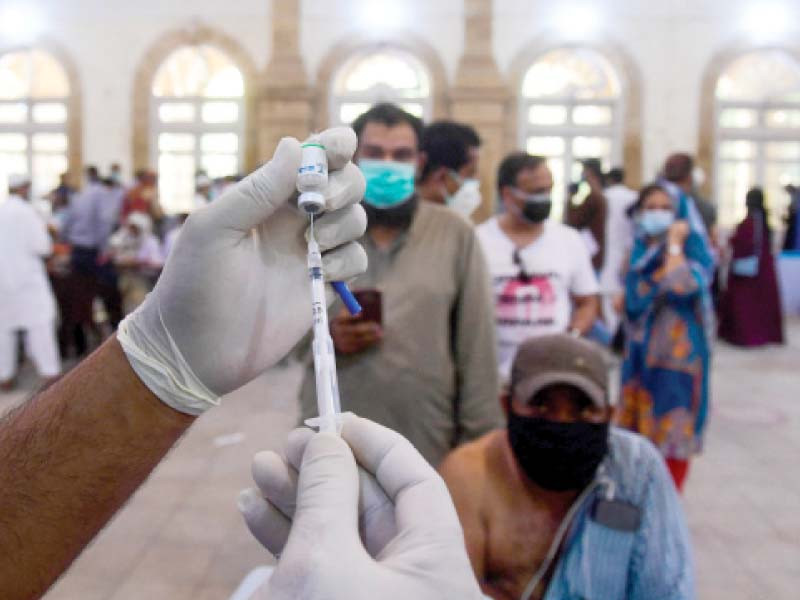 ---
Intending international travellers protest for jabs
Demos held against Covid vaccine shortage in several cities
---
LAHORE:
People seeking vaccination against coronavirus protested again at the Expo Centre in Lahore and in several other cities of Punjab on Monday against non-availability of the vaccines.
The protesters chanted slogans against the health department, claiming that they had been assured earlier that they would be vaccinated after the weekend but the officials had told them once again that they had not received the vaccines yet.
Besides Lahore, protests over the issue also took place in Faisalabad, Multan, Chakwal, Narowal and other cities, while the vaccination service remained suspended at centres set up for the purpose across the province.
However, the Punjab health department spokesperson claimed that the vaccines had been delivered to the centres.
Despite the claim, the vaccination could not resume at the centres and hospitals in Lahore and other big cities.
People protested in front of the vaccination facility at the Expo Centre in Johar Town before the police and local administration officials pacified them with a promise that the vaccines would be made available soon.
Read Citizens perplexed as gap between first, second Covid jabs increases
"Most of the protesters were those who wanted to go abroad and they were demanding the AstraZeneca vaccination," an official at the Expo Centre told The Express Tribune.
The official said the protesters had been gathering daily at the centre for the past week. He said their demand for the vaccination was justified but it was a fact that the vaccines were not available.
He revealed that supply of the vaccine for those intending to travel abroad was unlikely for the next five days and it was becoming difficult for the authorities to deal with the protesters.
People protesting against the shortage of vaccines had barged into the Expo Centre on Saturday and damaged parts of the building. The administration promised that the vaccination would be arranged within a few days but a crowd again gathered at the facility on Monday and staged a protest.
"No one at The Expo Centre is informing us about the status of the vaccination, while we are hearing rumours causing uncertainty among us. The health minister had claimed at different forums that the vaccines were available and more would be supplied but the vaccination has stopped here at the main centre," said Sarfraz Ahmad, one of the protesters.
Meanwhile, the vaccines' supply to several districts remained suspended. Fresh supplies of the vaccines were also not made to some facilities where the vaccination resumed.
On the other hand, the provincial health ministry continued insisting that there were sufficient vaccine doses available.
"Enough stock of vaccines was sent to the districts and the Punjab health minister has issued instructions for speedy vaccination," provincial health department spokesperson Sayed Hamad Raza said.
He expressed confidence that the department would soon achieve its daily vaccination target for the province.
Published in The Express Tribune, June 22nd, 2021.