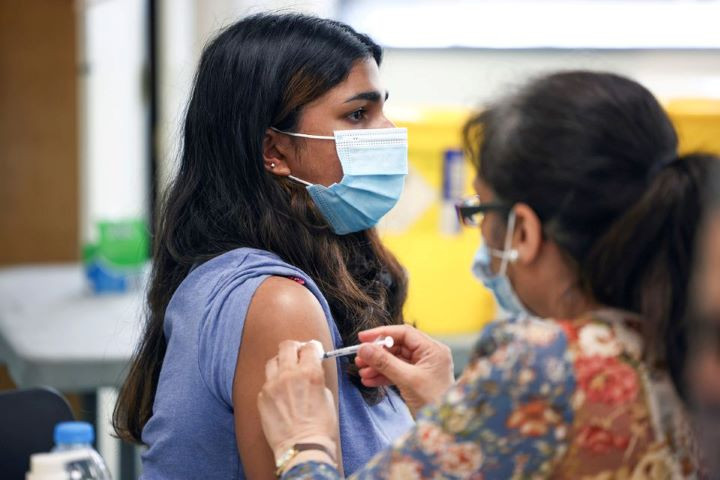 ---
Anti-Covid jabs now available in Pindi
Vaccination resumes after three-day hiatus
---
RAWALPINDI:
Vaccination against coronavirus resumed in Rawalpindi on Monday after a brief hiatus caused by a countrywide shortage of jabs. After the resumption of inoculation, a large number of citizens showed up at all 30 vaccination centres, including seven in the city and cantonment areas.
Initially, the District Health Authority (DHA) had limited the vaccination against Covid-19 before completely halting it last Friday at all centres.
The inoculation resumed in Rawalpindi after provincial health authorities received jabs from the National Command and Operation Centre following the arrival of 1.5 million coronavirus vaccines from China.
Chinese Sinopharm and Sinovac vaccines are being administered to the people at all centres while the Red Crescent Centre has been dedicated to administering AstraZeneca vaccines for people going abroad. The inoculation has also been resumed at 23 other vaccination centres across the district.
DHA Chief Executive Dr Faiza Kanwal said that Sinopharm vaccines are limited at these centres owing to the low number of available doses. She assured that soon it will be made available at all centres, adding that vaccination will be accelerated after the resumption of the drive.
The official further stated that 590,347 people in the Rawalpindi district had been vaccinated so far. She maintained the ratio of Covid-19 positive patients has plummeted to 1.49 per cent in the district while the number of patients in government hospitals has also dropped significantly.
On Sunday, a special consignment of 1.55 million doses of anti-Covid vaccine Sinovac arrived at the Islamabad airport through a special PIA flight – part of the emergency orders the federal government had placed to overcome a countrywide shortage of jabs.
"China as a time-tested friend of Pakistan has taken special measures to ensure uninterrupted supply of vaccines to Pakistan," the National Command and Operation Centre informed in a statement after the arrival of the vaccines.
The principal body governing the policies and implementation of the national Covid-19 efforts in the country had said that another consignment of two to three million doses of Chinese vaccine would reach the country this week. "Measures are in place to transport these vaccines to all federating units according to their requirement," the NCOC statement read.
Amid the shortage, vaccination centres in major cities suspended vaccination while the National Institute of Health that produced the PakVac vaccine under the supervision of Chinese experts failed to provide the promised three million doses in June.
Published in The Express Tribune, June 22nd, 2021.