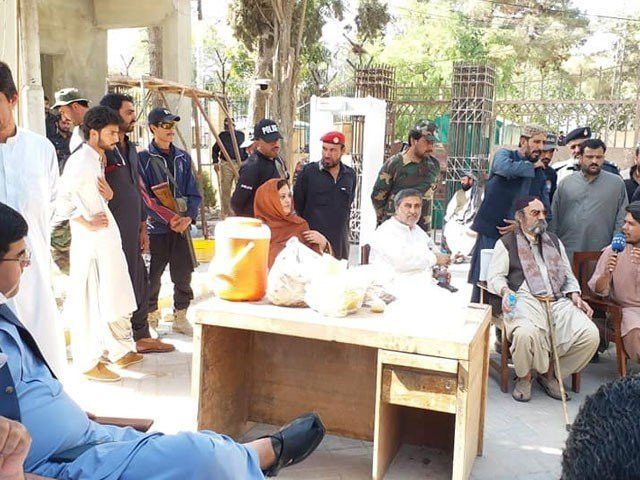 ---
Balochistan Assembly Leader of Opposition Malik Sikander Khan along with 15 other opposition party lawmakers on Monday surrendered to the police after an FIR was registered against them for attacking police personnel and issuing threats to them.
The development came after the opposition lawmakers held consultation a day before after they were booked under Sections 324،337D ،337F ،504 ،188 ،147 ،506B ،147 ،149 ،353 ،186 ،341 ،34, 269M ،270 ،268 and 427 of the Pakistan Penal Code (PPC).
At least three protesting MPAs were injured in clashes with police on Friday as opposition lawmakers staged a sit-in outside the provincial assembly to stop the government from presenting the budget.
Read: Balochistan MPAs injured in clash with police
The opposition parties had blocked national highways passing through many cities and towns of Balochistan, including Quetta, Chagai, Washuk, Kharan and Nushki in protest against the government a day earlier.
They had announced that they would not allow the government to present the budget until their suggested development schemes were made part of the provincial Public Sector Development Programme (PSDP) for the next financial year.
The budget session was delayed by at least two hours because of the protest as the opposition lawmakers had locked the assembly gates from inside to prevent the treasury members from entering the building.
The police had to break open the gate of the MPAs Hostel using an armoured vehicle to let the treasury lawmakers enter the assembly.
Three opposition members of the assembly reportedly suffered injuries when they tried to impede the police vehicle from breaking open the gate. They were later identified as Ahmed Nawaz Baloch, Babu Rahim and Abdul Wahid Siddiqui.
Later, the police clashed with the protesters outside the assembly as they refused to clear the premises. The police used batons and fired tear gas to disperse the crowd.
A few unidentified activists of the opposition parties vandalised the assembly building and attacked the chief minister and some of his cabinet colleagues. The adviser and parliamentary secretary on information suffered slight injuries.
Several hundred policemen had been deployed in and around the assembly and all roads leading to it were closed by parking heavy trucks and fences, causing massive traffic logjam in the provincial capital.