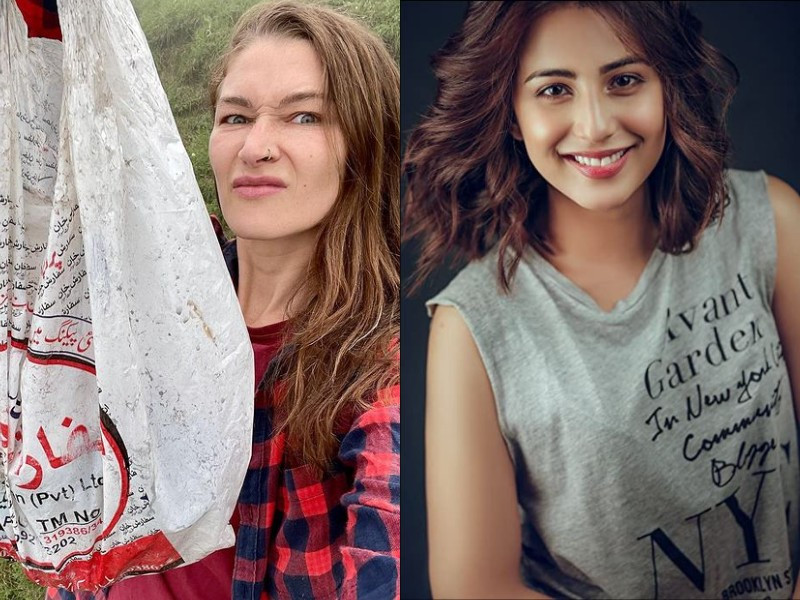 ---
A couple of days ago, Canadian vlogger Rosie Gabrielle took to social media and shed light on the plight of Hunza locals. The traveller took to Instagram and shared pictures from her trip to Hunza and the North, calling out "local tourists" for "littering and destroying Hunza's culture with drugs and partying."
Sharing what seemed like screenshots of the complaints from Hunza residents about recklessness and untidiness, she went on to express how it "hurts" her to see Hunza in the current state. But while many lauded Gabrielle for raising concerns about the environment of Hunza and sharing its locals' reservations, many, including actor Ushna Shah, criticised her for "projecting white privelege" and behaving like a "white saviour".
The Cheekh star took to Instagram and shared the vlogger's aforementioned post writing, "You know what we don't appreciate? Judgmental, condescending, 'white saviour' wanna-be's. We don't need YOU to 'fix us'." The Balaa star added, "Government of Pakistan needs to stop handing out YouTube visas."
Needless to say, Gabrielle's supporters lashed out at Shah for failing to "hold Pakistanis accountable for the mistakes they make while visiting tourist attractions in their own country." In response, the actor has penned an elaborate note which should explain everything.
In a Facebook post titled, "My viral life and I," Shah went on to elucidate, "It's been a while since a controversy related to me went viral. My topsy-turvy thoughts piled up in anger and their misinterpretations… followed by spicy click bait headlines… accusations of shamelessness, name calling and embarrassing Google searches. Some really busy people sitting behind their keyboards taking time out from their hectic schedules to troll me."
Shah interpolated that she has in fact received death and rape threats in the garb of trolls but all that has become a part of her life now. "I feel incomplete without them. As our favorite Atif Aslam would say 'ab to aadat see hai mujhko'," quipped the actor. She went on to address her haters as her "comrades" whom she schooled saying, "hate me but find a truthful reason to do it."
The Bashar Momin star asserted, "When you hate me for prejudiced iniquitous reasons, you embarrass yourselves. Do some research? Environment, trash and cleanliness, animal welfare and civic responsibility are the subjects I have been vocal about for many years."
Reality check
Shah reinstated that she has also been to Hunza some years ago and loves their history and culture. She has also taken selfies in front of Rakaposhi and picked up her trash, "however, I forgot to take photos of myself picking up the litter. I forgot to show poverty to get more likes and followers. I apologize, I will be careful next time," added the celebrity sardonically.
It is pertinent to mention here that Gabrielle's hometown, Canada, is among the Western countries having a longstanding legacy of dumping tens of millions of tons of trash in Southeast Asian countries for more than 25 years, according to Business Insider. Moreover, Canada's estimated total waste generation - which stands at an annual waste per capita of 36.1 metric tons - is the largest in the entire world, while only 9% of the world's plastic ends up being recycled.
"Jokes aside, I did not invent the term 'White Saviour'," clarified the actor. "The whole world including Africa and Latin America uses this term for the passive-aggressive white people who, on the face of it, don't show their superiority complex but do not hesitate from making others think that the world revolves around them," she added. Shah feels that we Pakistanis love the white saviours, "and I am using the word 'we' Pakistanis not 'you' Pakistanis," she emphasised.
Speaking facts, Shah assured that a video featuring a Pakistani vlogger eating daal chawal at Liberty market may be viewed by a couple of hundred people, but the same video by a white vlogger can go viral. "The funny bit is that these particular 'white saviours' are fully aware of our weakness and take full advantage of it with stunts like putting old unrelated photos making them look like new, deliberately," claimed Shah.
She went on to clarify that by no means is she calling out all foreigners and praised the likes of Shaneira Akram and George Fulton. Shah claimed that it is because Akram uses her privilege and status in a dignified manner, which is reflected by her Clean Karachi campaign, that she is deemed the 'Bhabhi' of Pakistan. "Nothing that she posted or said reeked of arrogance or superiority. She does not say 'You guys need to clean your city', she says 'Let's clean our city together'," shared Shah and we agree, while "George Fulton has highlighted the issue of our colonial mindset of aggrandizing English speaking ability in a funny and respectable way."
The 'other side'
Unfortunately, the "other side" of it, according to the celebrity, includes the likes of foreign white vloggers "who come to Pakistan for photo ops, likes and followers." Reiterating how everything these vloggers do, ranging from taking photos of "poverty, trash, lack of hygiene and disasters," along with highlighting the beauty of Pakistan, "is done in a way to make them look like the last hope for a despondent country."
Shah believes that the social media posts of these vloggers are meant to teach "us how to live our lives. They want to show us how they are the best things to happen to our country since Quaid-e-Azam," asserted the Bewafa actor. She then asked her followers to compare the posts of Akram and Fulton's to those of "these white saviours." Shah assured that if someone wants to live with us and improve our quality of life, "we will more than welcome them." But she will not appreciate foreigners dictating locals on how to live their lives.
For those who had been suggesting that Shah herself is Canadian, the actor clarified that while it is true she grew up in Canada, her identity is Pakistani. "But it does make a difference to me. Environmental pollution in our country bothers me. Animal cruelty bothers me. Social injustice bothers me and above all people who show our country as an inferior place bothers me," she concluded.
Have something to add to the story? Share it in the comments below.