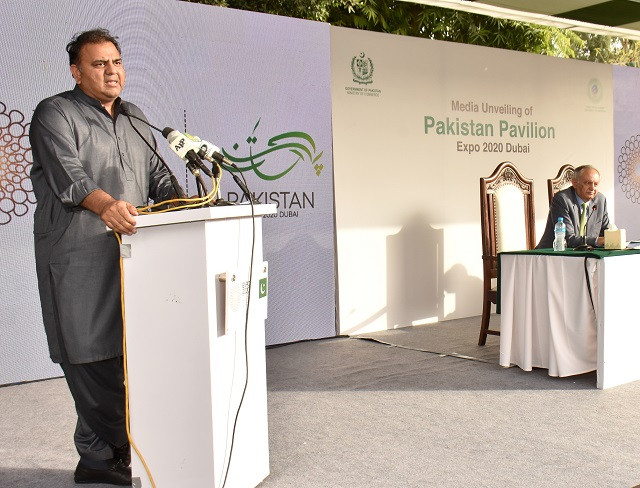 ---
KARACHI:
Minister for Information and Broadcasting on Sunday launched Pakistan's pavilion and logo for Expo 2020 Dubai held under the theme of "The Hidden Treasure".
Briefing the media in Karachi on the curtain-raiser event for the country's pavilion in Dubai Expo, the federal minister said that the initiative was the mega thematic exposition and held great opportunity for Pakistan to display to the world its immense potential and discover the "hidden treasure".
He announced that the information ministry will contribute to ensure the pavilion is a success, adding the team deserved felicitations for creating a remarkable design for the pavilion.
"The future of Pakistan is linked with the ideas presented at the Expo Dubai," the minister said.
"Gone are the days when Pakistan was considered notorious for exporting terrorism and extremism" he said, adding that now Pakistan was known for its IT and agricultural exports.
"We are happy it's happening in the UAE this time, he said. UAE is like our second home".
A total of 192 countries are participating in the event and will share their potential with the world. A huge influx of around 25 million visitors from around the world is expected to visit.Adviser to Prime Minister on Commerce and Investment Abdul Razzak Dawood said that the Pakistan Pavilion will attract investors and tourists to Pakistan.
"Every province and region of Pakistan will participate to project opportunities in investment and trade, culture and tourism potential," Dawood said, announcing that coordination with all the stakeholders is underway to make it an all-inclusive event that represents every region and culture of Pakistan.
The theme of the pavilion, titled "The Hidden Treasure," aims to showcase country's vast opportunities in tourism and business, and protrude its magnificent economic potential to the global audience, the press release of the event stated.
"The brilliant and appealing facade of the pavilion displays the colors and diversity of our country and its people," it added.
The inner journey of the pavilion will be shown in eight spaces where visitors will experience it through multi-sensory audio-videos.
Visitors will be taken "on a voyage through time, from the world's first recorded civilizations to today's fast-paced millennium," the release said.
It includes virtual experiences of breathtaking landscapes, cultural and religious diversity, rich artisan traditions, and strong economic potentials presented in the world of today, it added.
Throughout the 6 months of Dubai Expo 2020, cultural events and business seminars will be held in corporate lounges and a variety of activities will be held in multi-purpose rooms.
COMMENTS
Comments are moderated and generally will be posted if they are on-topic and not abusive.
For more information, please see our Comments FAQ