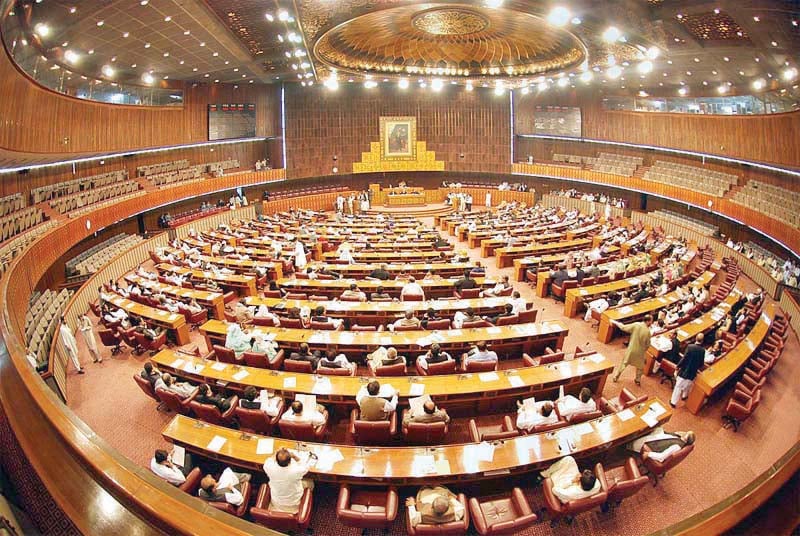 ---
KARACHI:
Sindh Assembly's session saw the exchange of verbal barbs on Saturday when an opposition member demanded an ambulance for a government hospital in his constituency.
The discussion on the budget turned into a heated argument when Arif Mustafa Jatoi of the Grand Democratic Alliance (GDA) in his speech, criticised the provincial government for its utter failure to deal with health, education and other issues.
Despite the tall claims made by Pakistan Peoples Party (PPP) ministers, there is no any ambulance in any basic health unit or hospitals that fall in my constituency.
In case of emergency poor people have no other option that leads to loss of many lives, he said, adding that billions of rupees have been allocated in health sector, which seems busy only in publicity rather ground work.
Protesting at his seat, Jatoi said that he has requested the concerned authorities a number of times to provide an ambulance, but all in vain.
"I will not sit down until the government assures me of providing an ambulance for my constituency," he remarked.
Minister for parliamentary affairs Mukesh Kumar Chawla, instead of giving a proper response to what Jatoi had said, started taunting him.
"Madam, he has been suffering from a problem. We can now call an ambulance to take him somewhere," said Chawla while addressing Deputy Speaker Rehana Leghari.
At this comment, Jatoi became emotional and said that he didn't have any issue, but he had raised a genuine demand for his constituency.
Deputy Speaker Leghari, who was chairing the session, said that since there was no health minister in the house, no assurance could be given at the moment.
Let the health minister come and take up this matter, she said while directing assembly staff to switch off Jatoi's microphone as he continued the protest from his seat.
Earlier, as the session started with speaker Agha Siraj Durrani in chair, the members from opposition parties criticized the government for anti-people budget. However, the ruling PPP MPAs lauded Sindh Chief Minister Murad Ali Shah for what they called it a balanced budget.
Rabia Azfar Nizami of Pakistan Tehreek e Insaf (PTI) in her speech focused on education and said that Sindh has been lagging behind in quality education with each passing day.
"Even the literacy rate of Balochistan is better than Sindh," she claimed, adding that more than 100,000 children are involved in beggary in Sindh. These children are victim of drug and sexual abuse, she said. According to an NGO Sahil, at least 980 children were victim of sexual abuse last year, and these are the incidents reported in police stations. A large majority of children, the future of Sindh is stunted, underweight, wasted and victim of HIV and AIDs.
The PTI MPA drew the house's attention towards the dilapidated conditions of school buildings and furniture and said that no one has procured the furniture for government schools for last eight years. She added that around four million children are out of the school and no one from the government functionaries takes notice of it.
"The situation of educational boards is getting from bad to worse because of financial constraints. The boards chairpersons have written to the CM, but no one bothered to respond to them in the last two years," Nizami lamented.
She took up the issue of poverty and lack of basic amenities in Thar area of Sindh and claimed that around 150 people have committed suicide during the last few years because of poor socio economic condition in Thar.
Ghazala Siyal of PPP said while countering the arguments of opposition members that it was Sindh which had set precedent in health sector by establishing state of art hospitals in its various districts, which the people from other province benefit from.
In this budget, Sindh government has earmarked around Rs172 in health sector, which must be appreciated, she added.
Jam Shabir of PPP criticized the PTI's federal government for inflation in the country and said the days of Imran Khan led government are numbered.
Later, the speaker adjourned the session till Monday.
Published in The Express Tribune, June 20h, 2021.
COMMENTS
Comments are moderated and generally will be posted if they are on-topic and not abusive.
For more information, please see our Comments FAQ