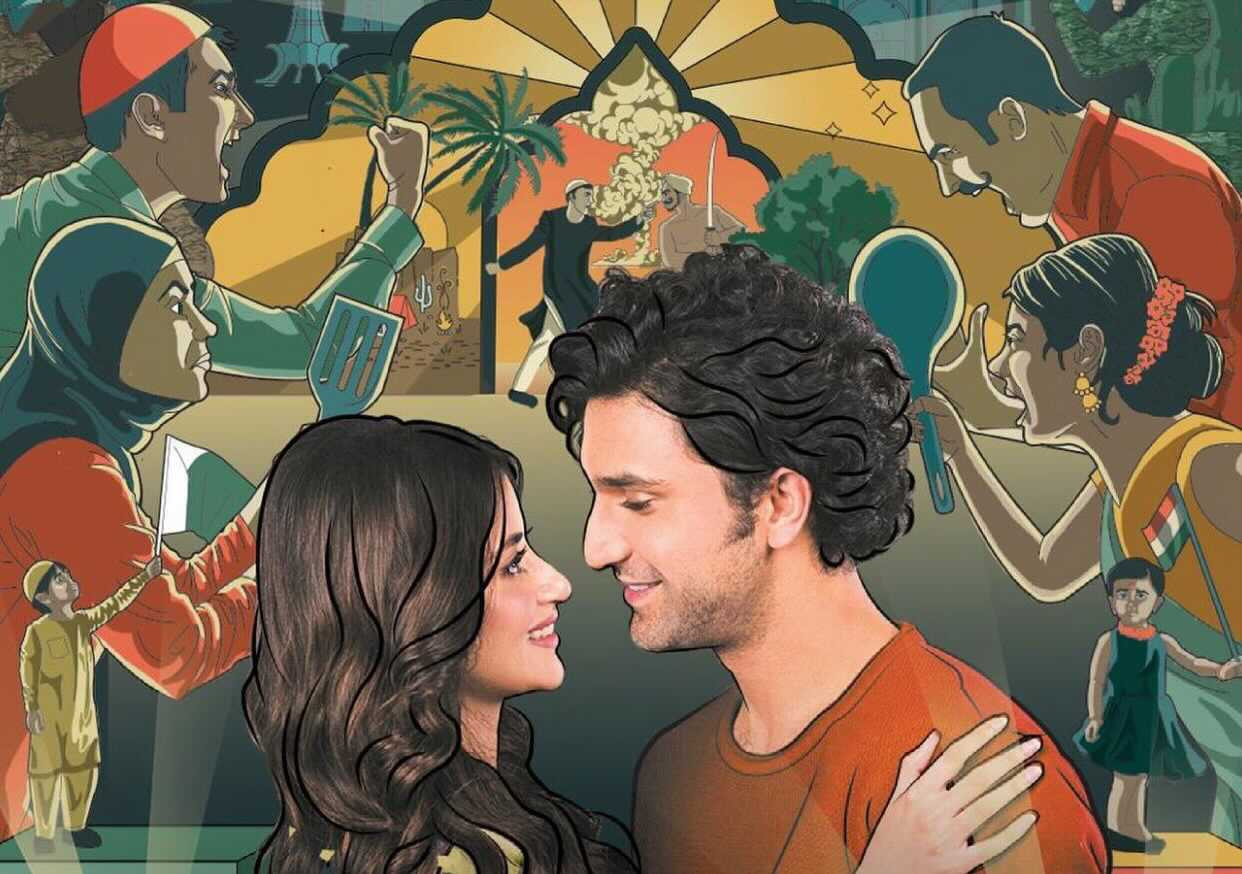 ---
The trailer of Ahad Raza Mir and Sajal Aly's Dhoop Ki Deewar released on June 15. The web series, directed by Haseeb Hasan and written by Umera Ahmed, sees the real-life couple as two youngsters divided by the Indo-Pak border but united by the grief of losing their fathers in the ongoing conflicts over IIOJK.
Following the release, Twitter saw a large public outcry against the series, with several tweeting that the show was disrespectful to Kashmiris and that peace with India is not an option. #BanDhoopKiDeewar quickly became a top trend in the country, with people being particularly incensed over the fact that the series follows a Muslim girl (played by Sajal) being romanced by a Hindu boy (portrayed by Ahad).
A user tweeted, "We never had and never will be together, India and Pakistan are two different nationalities. #Kashmir #Kashmirilivesmatter #BanDhoopKiDeewar."
Another user wrote that there is no room for peace between the two nations. "Aman ka tamasha failed the first time and it will fail the second time too. But it will run long enough for many to make a quick buck off of it. You can not build peace on blood, occupation and ethnic cleansing. #DhoopKiDeewar"

Some tweeted the merits of war over peace in times such as these, writing, "It wasn't romanticism and emotions which brought peace. History itself reveals that emotions and love are the different invisible sides of the war. It is war that brings peace, as revealed by history. #Ban DhoopKiDeewar"

"Kashmir is bleeding and what we are doing? Making these filthy dramas for the sake of PR. One needs to ask @fawadchaudhry is the blood of Kashmiris that cheap? This has happened many times that Muslim girl is falling for Hindu and we are enjoying it. Poor. #BanDhoopKiDeewar," tweeted another user.

The portrayal of Pakistanis in Indian films was an issue of concern for many too. One tweeted, "Pakistanis should avoid humanising occupier India in films. While India preaches hate towards Kashmiris and Pakistanis in their movies (Fanaa, Gaddar, Sarfarosh etc.) some liberal Pakistanis are living in la la land and advocate for love with fascist India. #BanDhoopKiDeewar"

Some users tweeted in favour of the series, writing about how the message of peace and love is more important than hateful rhetoric. "In recent decades, people of both sides are fueled with hate by politicians, conflicts and wars. These types of dramas will help to de-escalate hatred among Pakistanis and Indians. There is nothing wrong in the trailer that contradicts the two-nation theory. #BanDhoopKiDeewar," said a user.

Another tweeted, "I really liked the unbiased storyline of DKD. They haven't shown any country in bad light. India and Pakistan are both suffering at the hands of politics, media lies/biased reports and third party interventions. I hope people learn something from this series! #DhoopKiDeewar"
Ahmed took to social media to clarify her stance on the matter, posting a lengthy note on Instagram. She clarified that as a writer, she had no say in which platform the series landed on and the fact that it will release through Zee5 was not her decision. With reference to the love story, the writer called it more of a "social tragedy," highlighting the effects of war on individual lives. She explained that the story, after it was first written, had been sent to ISPR for approval so that question of her being a traitor becomes void. Finally, she asked why advocating for peace was being deemed sinful, going on to state that it is in fact actively encouraged in Islam.