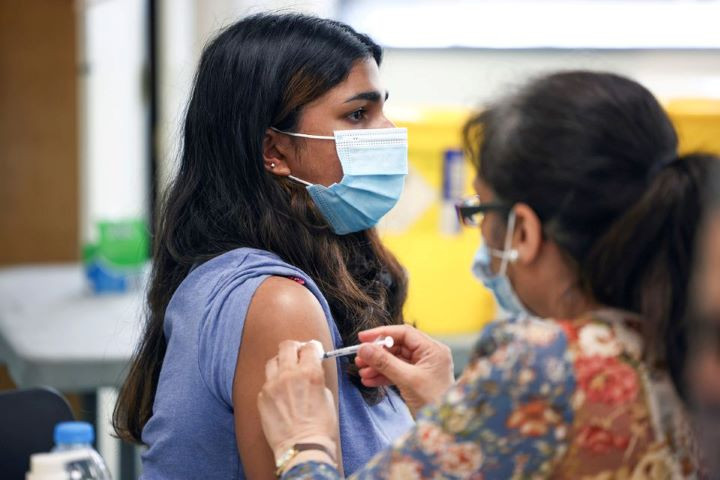 ---
Conspiracies still hold sway in city
In certain neighborhoods communal chatter continues to override coronavirus awareness campaigns
---
KARACHI:
The government, in the past few months, appears to have made significant headway in its immunisation efforts in the megacity.
Targeted infomercials broadcasted on television and radio, in addition to text message updates about inoculation dates, have all helped increase vaccine receptivity among the public.
However, in certain parts of the megacity, where the government's vaccine awareness campaign remains ineffective, false claims and scare stories continue to taint public opinion; often villianising the life-saving drug.
According to Imran ul Haq, a social worker, vaccine hesitancy is largely centered in neighbourhoods of lower socioeconomic classes, where communal chatter overrides anything the government puts out.
"This has been observed in areas like Malir, Khuda Ki Basti, Surjani Town, Kitti Pahari, Orangi Town, Site, Banaras, Sher Shah, Sohrab Goth, Kemari, Machar Colony, Mujahid Colony and Musa Colony.
The people here appear to be more willing to believe what their neighbours have to say regarding the vaccines, rather than whatever directives health experts push out. More often than not, it is middle-aged and elderly who seem to be the opinion leaders here, responsible for creating and circulating conspiracy theories which deter the masses around them from getting vaccinated," he opined.
Haji Awal Khan, a Pashtun elder from Orangi Town area, is one such individual, who thoroughly believes that the coronavirus vaccine being administered by the government is designed to induce death within two years of getting the shot.
"I have heard it from people," he claimed with confidence, when asked to share his sources. His voice, triumphant like he'd just outwit the system and unmasked a grand scheme.
"Life and death might be in god's hands, but I have heard that the vaccine is not good for women. It gives us diseases of all kinds and some even make women barren," asserted Hanifa Bibi, a 62-year old resident of Keamari, while justifying her decision to remain unvaccinated.
"There is a neighbour of mine, she got the vaccine recently, and has been ill ever since. The drug has done something to her," she added. On the other hand, 57-years old Shehnaz Asif, a resident of Keamari where vaccine receptiveness seems to below, is among the few women in her neighbourhood who have been to break through the mist of dubious claims and conspiracy theories circulating in the area, and get vaccinated.
"I'll admit; I was a little scared when I got a light fever right after getting the vaccine but I learned that it was just a regular reaction and went away the same day," she said referring to the reactogenicity, she experienced.
"But there is still a lot of misinformation about the vaccines here. It's mostly elder women who are most averse to the idea of vaccination. The government would have to launch a comprehensive awareness campaign on vaccination. Women should be provided the facility at the level of Union Council or door to door to be vaccinated and the government should run a full publicity campaign on the advantages and disadvantages of vaccines," she suggested.
Where people in certain areas of the city have been in two minds about inoculation, public and private companies however have been rather unforgiving with their immunisation policies; issuing strict ultimatums demanding proof of vaccination from all employees.
According to Muhammad Naeem Khan, a local media person, there have been reports of people in various localities, allegedly trying to forge vaccination certificates in a bid to trick their employers. "But this is of no use, as the original vaccination certificate is inscribed with a scan-able barcode. Whereas barcodes on fake certificates cannot be scanned. So it's not as easy as people think it is to trick the government. They should rather just get vaccinated," advised Khan.
On the other hand, speaking in this regard, Pakistan Medical Association (PMA) Secretary-General Dr Qaiser Sajjad acknowledged that it is the government's responsibility to stop the spread of false narratives and conspiracy theories about vaccines. "In addition to that, I suggest an increase in vaccination facilities, including mobile vaccination centres in target areas, such as problematic suburbs and neighbourhoods."
Adding to Dr Sajjad's advice, Haji Hanif Tayyab, a community leader, suggested that the government should also consider seeking the help of religious scholars, who hold great sway in said areas.
"People here have a lot of confidence in religious scholars. There should be awareness campaigns for vaccinations in every neighbourhood, so that more and more people are conveyed the truth through reliable sources, instead of the lies that are being spread by chatter," he told The Express Tribune.