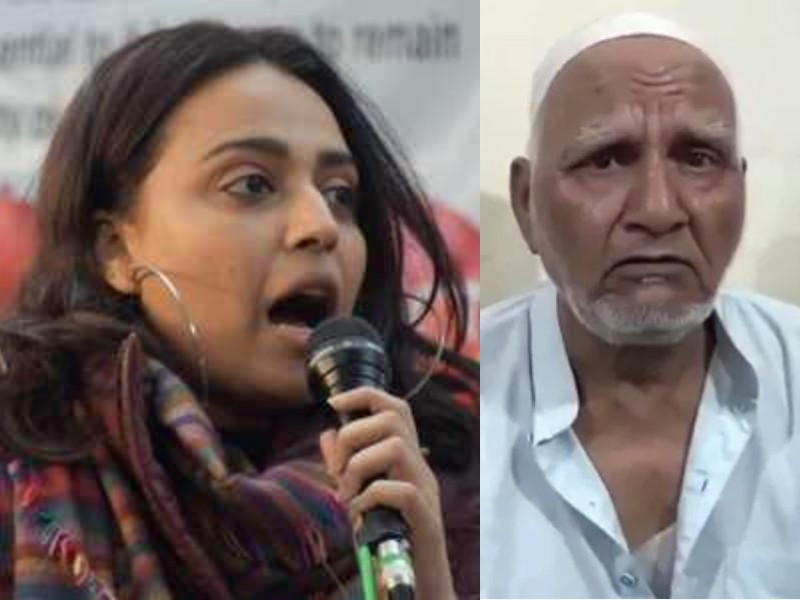 ---
A police complaint has been lodged against Swara Bhaskar, Arfa Khanum Sherwani and Asif Khan of Twitter India, as well as Twitter India's head Manish Maheshwari over the Ghaziabad assault video.
The video sees a 72-year-old Muslim man named Sufi Abdul Samad being attacked by a group of Hindu extremists in the Indian city of Ghaziabad. The extremists, who kidnapped the old man in a rickshaw as he was going to the mosque, cut off his beard with a pair of scissors, beat him with sticks and call him a "Pakistani spy". The two-minute heart wrenching video went viral on social media over the weekend.
The complaint was lodged at Delhi's Tilak Marg police station by advocate Amit Acharya, according to Times of India. However, an FIR is yet to be lodged as the Delhi Police initiates a probe.
Earlier, an FIR had named Twitter Inc, Twitter Communications India, news website The Wire, journalists Mohammed Zubair, Rana Ayyub, Congress leaders Shama Mohamed, Salman Nizami, Maskoor Usmani and writer Saba Naqvi in the same case. The mentioned users and Twitter have been booked for circulating the video which sees the elderly Muslim man complain about how he was thrashed and forced to chant "Jai Shri Ram".
The police, albeit, has denied the communal angle and said the accused were unhappy about an amulet he sold to them. "The police is wrong in saying my father sold amulets. No one in our family does this business. We are carpenters. The police are not saying the right thing – let them investigate and prove it," Abdul's son Babloo Saifi was quoted by NDTV as saying.
Ghaziabad (Rural) Superintendent of Police Iras Raja said on Wednesday that three people – Kalloo Gurjar, Parvesh Gurjar and Adil – have been arrested for assaulting Saifi. "These people did not verify the truth of the matter and shared it online with a communal angle with an intention to disrupt public peace and create a divide between religious groups," the FIR reads. This FIR was lodged at the Loni Border police station in Ghaziabad around 11:30 PM on Tuesday on the basis of a complaint lodged by a local policeman.
The Press Club of India (PCI) has demanded that the FIR be quashed because it represents a "vendetta" by the Ghaziabad police to create a "sense of terror" in the media and society at large. "The PCI appeals to the government of UP to intervene in the matter at the earliest to ensure that journalists are not made easy targets of police high handedness by filing FIR against them," it said in a statement shared by TOI.
Have something to add to the story? Share it in the comments below.
COMMENTS
Comments are moderated and generally will be posted if they are on-topic and not abusive.
For more information, please see our Comments FAQ