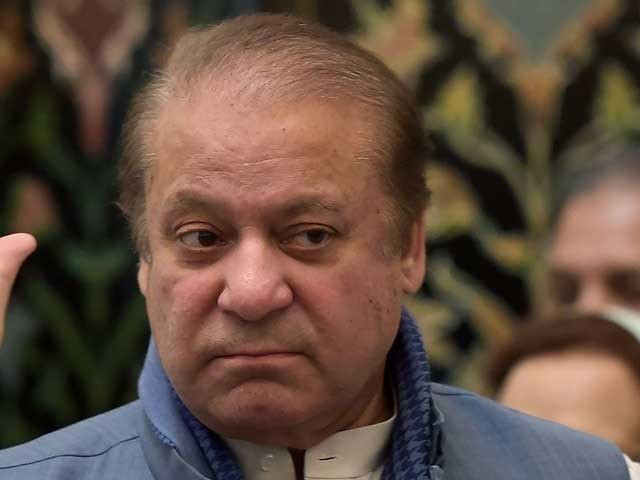 ---
ISLAMABAD:
The Islamabad High Court (IHC) on Thursday rejected the pleas to halt the auction of former premier Nawaz Sharif's properties in Toshakhana (gift depository) reference and dismissed them as unmaintainable.
On April 22, an accountability court (AC) ordered the auction of the PML-N supremo's assets since he is absconding in the case. Later, three petitioners Aslam Uzair, Iqbal Barkat and Muhammad Arshad Malik challenged the AC's decision.
On Thursday, a division bench of the IHC led by chief justice Athar Minallah and Justice Aamir Farooq Kayani heard the pleas.
Petitioners' counsel Qazi Misbahul Hasan adopted the stance that AC had ordered the auction of Sharif's properties in Sheikhupura, Upper Mall Lahore and Canal Road but they had been purchased by his clients. He said the possession of the properties was still with Sharif.
Chief Justice Minallah inquired the applicants about their interest in the properties and remarked that the petitioners considered them as their own but had given no proof in this regard.
"You do not have the power of attorney. The agreement which has been agreed upon does bear the signature," the judge said.
Read Can't 'bulldoze' everything in Nawaz's absence, observes IHC
The applicants' lawyer said that the case fell within the ambit of a civil court as the accountability court had no power to order the auction of a property.
Justice Farooq asked the counsel to argue on the court's order instead of the court's limits.
The IHC in its three-page order stated that the petitioners had challenged the June 9 verdict of the AC in the high court.
It observed that the AC had attached the properties on October 1, 2020 as Sharif was a proclaimed offender and ordered their auction on April 22, 2021.
The court order said that according to the petitioners they had purchased Sharif's properties and filed a petition in the AC which was later rejected.
It said that the person who had executed the agreement to sell the properties had no power of attorney as no such document was placed on record.
"It is noted that the petitioners were not able to establish their locus standi in the context of having an interest in the properties ordered to be sold by the learned Accountability Court. The question of jurisdiction, therefore, becomes inconsequential," the IHC order read.
The court rejected the applications and terming them unmaintainable.
According to the Toshakhana reference, former president Asif Ali Zardari had obtained luxury vehicles by paying only 15% of the price of the vehicles. Of three vehicles, he gifted a 1991 model Mercedes to Sharif.
NAB alleged that former premier Yousuf Raza Gilani had facilitated the allotment of the vehicles to Zardari and Sharif by dishonestly and illegally relaxing the procedure for acceptance and disposal of gifts vide a Cabinet Division memorandum of 2007.
COMMENTS
Comments are moderated and generally will be posted if they are on-topic and not abusive.
For more information, please see our Comments FAQ