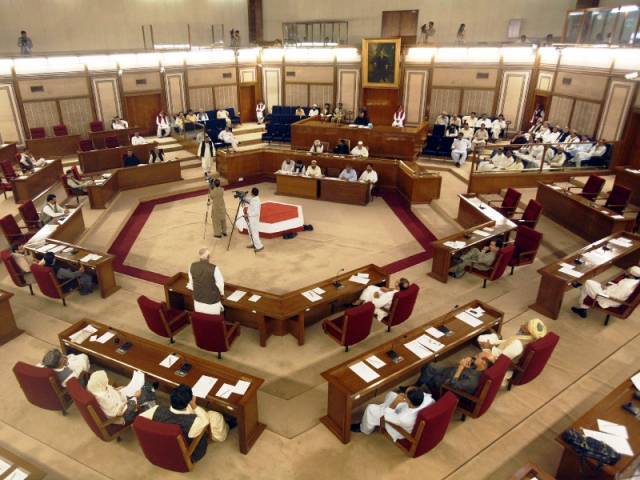 ---
QUETTA:
Workers of Jamiat Ulema-e-Islam, Balochistan National Party and Pashtunkhwa Milli Awami Party in Balochistan blocked on Thursday nearly all highways in a protest against "the neglect of opposition constituencies in the provincial budget".
The workers of the parties staged sit-ins at all national highways, including highway in Chaman, Quetta-Karachi International Highway, Zhob-DI Khan, Gwadar coastal highway.
Meanwhile, a sit-in staged by the members of the United Opposition in front of the Balochistan Assembly against the "disregard for opposition constituencies and release of funds to unelected persons" entered its third day.
The closure of national highways caused severe hardships to the people, especially women and children. The highways remained closed from 7:00 am to 2:00 pm, as was decided in the announcement of the protest a day earlier.
The closure of highways caused serious troubles for opeople as the access to important routes remained shut, leaving people, including women and children, stranded.
According to reports, the decision to block highways was met with strong public obloquy with people asking the opposition leaders to avoid protests that disrupt the smooth running of public life and hinder the mobility of common man.
Patients requiring immediate medical attentions were stranded due to the closure of the highway. Social media footages showed that patients struggled to reach hospitals and had to wait endlessly.
Addressing a press conference at the protest camp set up outside the assembly by the opposition parties, Opposition leader in the Balochistan Assembly Malik Sikandar Khan said that the "anti-people budget will not be accepted under any circumstances".
He alleged that government distributed funds through "unelected representatives in opposition constituencies".
"We will besiege the assembly and will not allow any government member to enter the house. The people of Balochistan and the transporters have paid their dues against the attitude of the government," Sikandar Khan said while asserting his position.
The opposition protest was also attended by Balochistan National Party parliamentary leader Naseer Shahwani, Pashtunkhwa Milli Awami Party leader Nasrullah Zairay, Haji Nawaz Kakar and Mir Zabid Reiki.
"Our workers and people immediately answered the call for protest and successfully blocked the highways," Sikandar said, adding, "People are grateful to the transporters for their role in making our protest successful".
He said that the people of the province and government employees had rejected the provincial budget. The budget meeting is being held in the province today and the budget will not be allowed to be presented, he added.