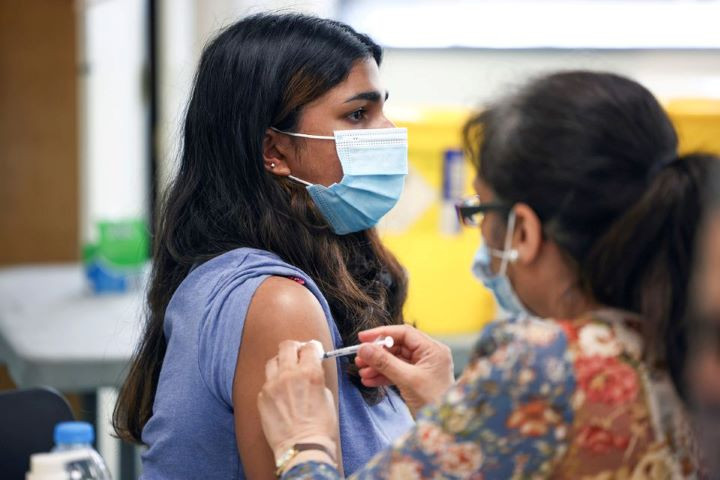 ---
Covid vaccine shortage hits major cities
Health officials assure more doses to arrive today
---
KARACHI:
Thousands of citizens thronged to coronavirus vaccination centres across Sindh after the provincial government made it mandatory for everyone, especially government employees, to receive the anti-Covid jabs, earlier this month. Not long after, reports surfaced of vaccination shortage in numerous centres in different cities. Some centres were also temporarily shut down. Officials of the Sindh health department told The Express Tribune, however, that a major consignment of anti-Covid jabs is to arrive today (Friday) morning.
Supply disturbed
"There was a shortage for a few hours at Expo Centre," a senior government health official, confirmed, speaking on the condition of anonymity. This happened on Tuesday and the situation is manageable, he added.
Health officials also told that there was rush at all the major vaccination centres in Karachi. At Expo Centre alone, roughly 30,000 to 35,000 persons are inoculated daily, they claimed.
Meanwhile, in Hyderabad, the health authorities have temporarily closed 80 per cent of the 20 adult vaccination centres in the city.
Only four centres at Government Qasimabad Hospital, Government Bhitai Hospital, Lady Duffrin Hospital and Trauma Centre are operational. The official sources there said that they expect to receive more doses by June 20.
'Situation manageable'
"We have not closed any Covid-19 vaccination center as yet," said Sindh Health Director Dr Irshad Ahmed Memon, denying reports of closures. "The supply is disturbed and that's not a big issue," he added.
According to Dr Memon, it is not unusual for the supply of vaccines - any kind - to be disrupted. "This vaccine is being supplied and used across the globe," he explained. "Delay in supply chain is a not a big issue."
Dr Memon told The Express Tribune that the consignments for different vaccines, including the coronavirus vaccines, will reach Karachi on this [Friday] morning.
"The supplying vehicles are ready to transport the vaccines to divisional headquarters," added Dr Memon, expressing hope that the complaints of vaccine shortage would be assuaged within hours.
Meanwhile, other top officials of the health department confirmed the centres where a shortage was reported were being provided doses from other centres where there were enough jabs.
According to the health departments data, the province has 168,330 doses of the Sinopharm vaccine, 37,768 doses of Cansino, 91,816 doses of Sinovac, 62,487 doses of AstraZenica and 15,830 doses of PakVac.
with additional input by Z Ali
Published in The Express Tribune, June 18h, 2021.