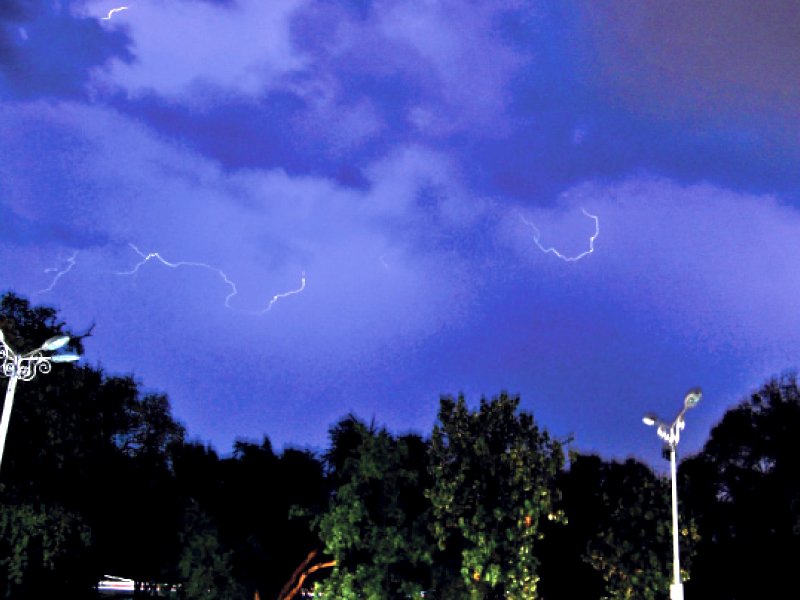 ---
KARACHI:
Dust and thunderstorms and light rain are likely to occur at scattered places in Sindh from June 16 to 19, under the influence of first pre-monsoon rain-spell expected to commence in the province from Wednesday.
According to a warning issued by the Pakistan Meteorological Department's (PMD) Karachi Regional Centre, urban flooding may hit Badin, Thatta, Hyderabad, Umarkot, Dadu, Sukkur and Larkana districts.
Assistant Meteorologist Zafar Mahmood said that hot spell in central and upper Sindh would subside due to the pre-monsoon showers. Mahmood said in the advisory that thatched huts, roofs made of tin and asbestos sheets and billboards could suffer damage due to strong gales of winds.
Monsoon season, known across South Asia as Sawan, traditionally starts from July 15, however, climate change impact and global warming has changed the eons old rain cycle which now starts a month earlier.
Meanwhile for the port city of Karachi, the meteorological department gave forecast of partly cloudy weather with chances of drizzle in the next 24 hours. The minimum and maximum temperatures are expected to remain from 29 to 37 degree centigrade with 70 to 80 per cent humidity in Karachi over the next 24 hours.
Emergency declared
Meanwhile, power utility supplying electricity to southern districts of Sindh has declared a rain emergency in view of expected monsoon rains and thunderstorms.
Hyderabad Electric Supply Company (HESCO) CEO Rehan Hameed on Tuesday declared rain emergency and cancelled leaves of all employees to cope with any untoward situation during the rains.
According to HESCO spokesperson, a control room headed by Chief Technical Officer Zahid Parvez Mughal has been set up at HESCO headquarter to receive and resolve complaints of the consumers during an emergency.
HESCO CEO Rehan Hameed has directed the staff of all subdivisions to remain alert round the clock to face any situation during rains.
With additional input by APP
Published in The Express Tribune, June 16h, 2021.