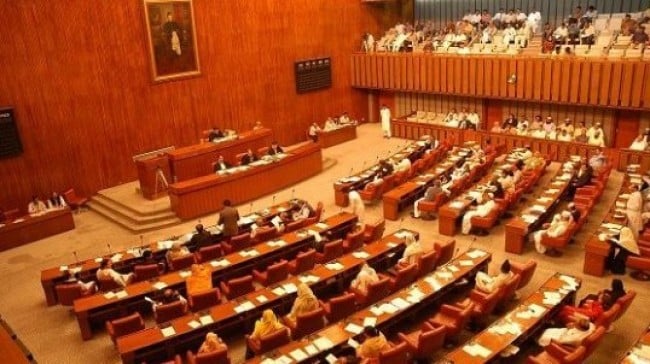 ---
ISLAMABAD:
A Senate panel on Tuesday unanimously rejected budget proposals to arrest taxpayers on suspicion of concealment of income without warrants and to charge 17% sales tax at retail stage that, if accepted, can increase sugar prices by Rs7 per kilogram.
The Standing Committee on Finance also rejected a proposal to impose 17% General Sales Tax on online platforms.
The government wants to charge 17% sales tax on online platforms that will hurt 92% unregistered persons who use platforms like Daraz and Foodpanda to sell their products. The imposition would wipe out these people from the market at a time when the government wants people to prefer online shopping.
Read: Retail sector calls for extending business hours
In its maiden session to scrutinise the Finance Bill 2021 - the Senate Standing Committee on Finance termed the clause 203-A as "mini-NAB" and "draconian". Senate's recommendations are non-binding in case of Finance Bill.
"An officer of the Inland Revenue not below the rank of an assistant commissioner… who on the basis of material evidence has reason to believe that any person has committed offence of concealment of income or any offence warranting prosecution under the Ordinance, may cause arrest of such person," according to section 203-A. The committee unanimously rejects section 203-A, ruled Senator Talha Mehmood, chairman of the committee.
Pakistan Muslim League-Nawaz (PML-N) Senator Sadia Abbasi took an exception to media advertisement about putting taxpayers behind bars.
Senator Sherry Rehman of the Pakistan Peoples Party (PPP) argued that on one hand we are being told that FBR powers are being curtailed and on the other, it is being made into a mini-NAB through this provision. The provision is a mini martial law by stealth, she added.
Section 203-A is draconian and instead the FBR should use technological means to broaden the base, said Senator Faisal Subzwari of MQM-Pakistan. Reaction to section 203-A is very natural but in order to address the concerns we have reduced the discretionary powers of the taxmen, said FBR Chairman Asim Ahmed, while defending the clause.
The FBR's mindset is the biggest hurdle in broadening of the tax base, as it believes more in harassing people than facilitating them, said Senator Kamil Ali Agha.
The FBR has also introduced a proposal of "mystery shopping" by the informers to check whether the retailers were declaring their sales through point of sales. But Agha said that that the concept of informer or surveillance was contrary to the finance minister's speech that talked about facilitation and self-assessment.
The committee members also registered token walkout over the absence of Finance Minister Shaukat Tarin and Finance Secretary Yousaf Khan. The committee members also urged the FBR to accept its majority recommendations, saying without giving senate due weight there was no use of scrutinising the Finance Bill.
"Today is the first meeting of this committee and both, minister of finance and the secretary are not present. Notice must be taken of this," said Senator Rehman.
Read more: Flight ban caused Rs7.9b loss, Senate told
The standing committee also rejected tax proposal to impose 17% sales tax on online market place. The online market place included an electronic interface such as a market place, e-commerce platform, portal or similar means which facilitate sale of goods, including third party sale.
The committee also unanimously rejected the proposal to tax the sugar at retail stage as against charging 17% sales tax at ex-factory price. Changing tax collection stage would push the sugar price up by Rs7 per kilogram, said Senator Saleem Mandviwalla of the PPP. The retailers and dealers are not coming in the tax net, which has created enforcement problems for the FBR and we have no option but to charge tax at the retail stage, said FBR Inland Revenue Policy Member Tariq Chaudhry.
Published in The Express Tribune, June 16h, 2021.
Like Business on Facebook, follow @TribuneBiz on Twitter to stay informed and join in the conversation.
COMMENTS
Comments are moderated and generally will be posted if they are on-topic and not abusive.
For more information, please see our Comments FAQ