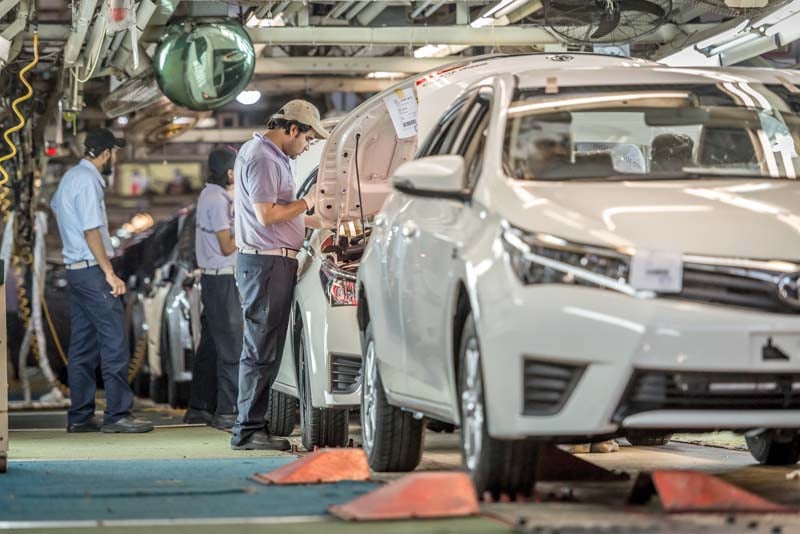 ---
KARACHI:
Car sales in Pakistan showed a steep growth of 247% in May 2021 compared to the same period of last year primarily due to lockdown in the country in May 2020.
According to data released by the Pakistan Automotive Manufacturers Association (PAMA) on Tuesday, the automakers sold 15,696 units in May 2021 against 4,527 units in May 2020.
Speaking to The Express Tribune, Taurus Securities analyst Mustajab Ali Kazmi said, "The triple-digit growth in sales can be attributed to low sales amid a countrywide lockdown imposed by the government last year in May to contain the spread of Covid-19, which restricted economic activity."
On a month-on-month basis, auto sales dropped 9% due to the impact of double-digit inflation rate. A report of JS Global stated that Pak Suzuki Motor Company (PSMC) enjoyed a robust sales growth of 131% year-on-year, recording total sales of 8,307 units in May 2021. "Alto contributed 41% to the company's unit sales," it said.
"Sales of Indus Motor Company jumped by 755% year-on-year to 4,676 units as all variants posted a strong recovery during the month," the report added.
"Similarly, Honda Atlas Cars (HCAR) experienced a sixfold increase in volumes (2,001 units) during the month under review."
The report mentioned that other categories of the auto sector such as tractors, HCVs, bikes and three-wheelers also experienced a surge in volumes.
JS Global analyst Ahmed Lakhani said, "In the federal budget for fiscal year 2021-22, the federal excise duty was removed and sales tax was reduced from 17% to 12.5% on all cars up to 850cc."
He added that it would mainly benefit Suzuki Alto among the listed players. "Provided the company passes on the tax relief to customers by way of reduced prices, we expect the small car segment to spearhead growth in auto volumes in FY22," the analyst predicted.
Tractor sales in May 2021 were up by 127% year-on-year and declined by 6% month-on-month.
11-month figures
Car sales in the first 11 months (July-May) of the outgoing fiscal year registered a rise of 62%. Automobile sales during the 11-month period came in at 167,647 units against 103,209 units in the corresponding period of last year.
Hyundai managed to outperform during the July-May period of fiscal year 2020-21 with a 1,772% growth in sales. The company sold 5,186 units in the 11-month period compared to 277 units in the same period of last year.
It was followed by Indus Motor Company with a 104% growth in sales at 52,701 units.
Published in The Express Tribune, June 16h, 2021.
Like Business on Facebook, follow @TribuneBiz on Twitter to stay informed and join in the conversation.
COMMENTS
Comments are moderated and generally will be posted if they are on-topic and not abusive.
For more information, please see our Comments FAQ