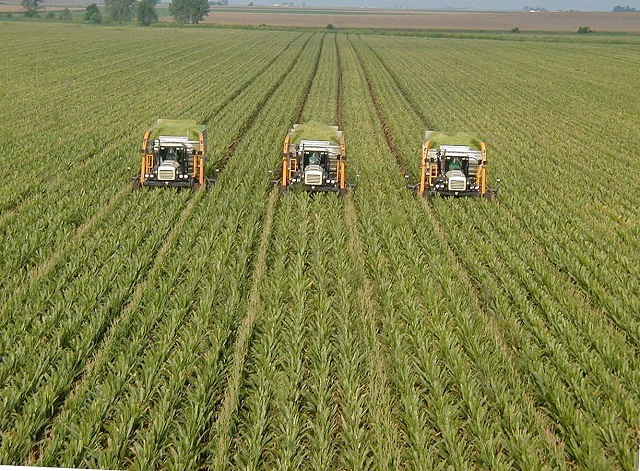 ---
KARACHI:
The government of Sindh has proposed an increase in the overall budget allocation for the agriculture sector from Rs14.8 billion this fiscal year to Rs15.26 billion next year.
In the Annual Development Plan (ADP) for fiscal year 2020-21, the provincial government had allocated Rs2.28 billion for agriculture whereas for FY22, Rs5 billion has been earmarked, said Sindh Chief Minister Syed Murad Ali Shah while presenting the Sindh budget on Tuesday.
"Budget estimates for current revenue expenditure of the irrigation department stand at Rs21.23 billion for 2021-22," he said. He announced that the current ADP consisted of 182 schemes with allocation of Rs11.96 billion. Out of these, development work on 164 projects was underway while an additional 18 schemes were initiated during the current fiscal year, Shah said. Moreover, Rs17 billion has been allocated for irrigation in fiscal year 2021-22. The chief minister pointed out that canal lining and stretching across 2,261 kilometres has been done and 4,000 watercourses had been developed by the irrigation and agricultural departments.
Read: PTI govt earmarks Rs12b to prop up agriculture
"High efficiency irrigation system, called drip irrigation, will be installed on 175 farms occupying 2,450 acres of land," he said. Around 2,082 kitchen gardens will be established and 50% subsidy on agricultural implements will be offered to growers. The chief minister announced that solar-powered tube wells would be installed at a subsidised cost and 300 boreholes would be drilled through power drilling rig machines to irrigate 6,073 hectares of land. Production of compost or bio-fertiliser would be promoted to assist small growers, Shah said.
"We will establish GIS and Remote Sensing Centre for monitoring of natural resources," he said. "The provincial government will also establish Centre of Excellence in Seed Science and Technology at Sindh Agriculture University, Tandojam."
The chief minister said that 52 schemes were going on in the current fiscal year, which would be completed by June 2021.
Of these, seven schemes pertain to the lining of water channels, smooth supply of irrigation water to tail-enders and improvement of irrigation and drainage system in the province.
"Moreover, 36 schemes related to the lining of canals will line 680 miles of canals funded by the Asian Development Bank," he said. "The government has planned to conserve irrigation water by lining of canals and distributaries."
Under the World Bank-assisted Sindh Irrigated Agriculture Productivity Enhancement Project, 709 watercourses were improved during 2020-21 and 778 more watercourses were currently undergoing improvement, the chief minister revealed.
Sindh Abadgar Board Senior Vice President Mehmood Nawaz Shah, however, lamented that even after all the improvement work undertaken for irrigation by the government of Sindh, the quantity of water at tail-end of the system was quite low.
Talking to The Express Tribune, he appreciated the introduction of remote sensing techniques for crop production by the government and stressed that it would revolutionise the agriculture sector if implemented appropriately.
"It is important to utilise technology to regulate the irrigation system," he said.
Read more: Agri stakeholders seek larger share
Nawaz regretted that Pakistan was facing the cotton crop crisis and no measure was announced in the budget to enhance the output of this vital crop. Oilseed production in Sindh had also declined and no initiatives were announced to revive it, he pointed out.
"Sindh faces drought and floods, but no measure was announced to tackle the problem and the issue of ever-increasing drainage water from other provinces, which impacts most of the freshwater lakes," Nawaz said.
Agriculture Republic Co-Founder Aamer Hayat Bhandara said that bio-fertilisers and pesticides were the need of the hour and underlined the need for controlling prices of chemical fertilisers and pesticides to minimise the production cost for a common farmer.
He was unsure whether small farmers would benefit from the high efficiency irrigation system or solar pumps because even with the subsidy, the collateral cost was paid by the farmers. "It is strange that cotton crop strategy is missing in the Sindh budget just like federal and Punjab budgets," remarked Bhandara.
Published in The Express Tribune, June 16h, 2021.
Like Business on Facebook, follow @TribuneBiz on Twitter to stay informed and join in the conversation.
COMMENTS
Comments are moderated and generally will be posted if they are on-topic and not abusive.
For more information, please see our Comments FAQ