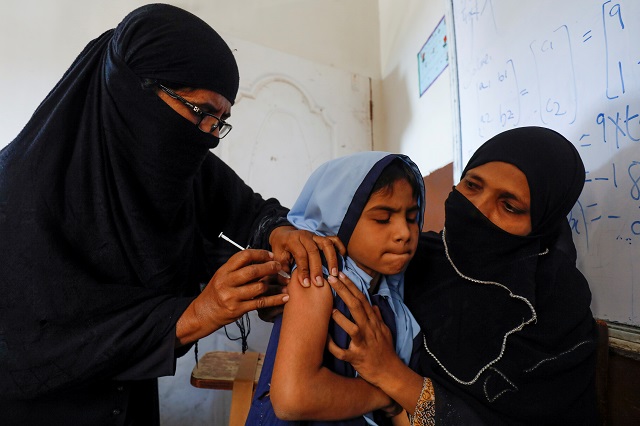 ---
PESHAWAR:
A conjugate anti-typhoid vaccine is being included in the Expanded Programme on Immunization (EPI) schedule in Khyber-Pakhtunkhwa (K-P) from next year. A formal approval has already been given in this regard. Children from nine months age group to 15 years will get a single dose of the vaccine in order to immunize them against typhoid.
Talking to The Express Tribune an official of the Health Department claimed that Pakistan is the first country in the world where this anti-typhoid vaccine has been made a part of the EPI.
"In the first phase this conjugate vaccine was introduced in Karachi and Hayderabad in Sindh in the year 2019 and 2020 for the first time. The decision was taken after more and more drug resistant variants of typhoid were encountered in Sindh province. From June 14 this year this vaccine has been adopted in Punjab too where it will be introduced in large cities of the province. So it has also been decided in K-P to make it a part of EPI," he said, adding that the new vaccine will help control typhoid among the children.
"In K-P and Balochistan this vaccine will be made part of regular EPI schedule from 2022. In K-P all warehouses are being inspected across the province on district level. Storage facilities are being checked," said the official, adding that in K-P it will also be introduced first in large cities like Peshawar in the initial phase.
"Peshawar has been on the top of the list as far as typhoid cases are concerned in the province. EPI technicians will be especially trained for the new vaccine. And Balochistan and K-P provinces have already been directed to make comprehensive plans for the training of their EPI staff," said the official.
On the other hand, meeting of the Provincial Task Force on Covid-19 Vaccination was held in Peshawar. It was chaired by Secertery Health. The meeting was informed that till May 25th there were 295 vaccination centers in the province and another 235 had been also established. Around 240 new centers will also be established in order to increase the pace of vaccination in the province.
Published in The Express Tribune, June 15h, 2021.
COMMENTS
Comments are moderated and generally will be posted if they are on-topic and not abusive.
For more information, please see our Comments FAQ