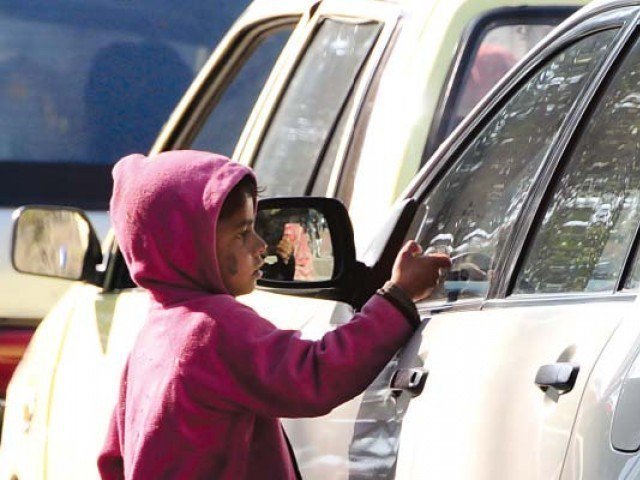 ---
PESHAWAR:
It was a balmy summer evening when nine-year old Osama was on his usual stroll with his friends from the village — a small settlement called Khazana, on the outskirts of the metropolitan city of Peshawar. The nine-year old had spotted a candy shop on his haunt, and had elatedly run back home to fetch some loose change to buy sweets. That was the last anybody recalled seeing Osama, before the child supposedly vanished into thin air.
However, unbeknownst to many, Osama had made a new friend a few weeks ago. A middle-aged rickshaw driver, who had been accompanying the boy on his routine haunts. Ever-present and silently lurking in the distant shadows, yet masked from public sight.
The child's family had organised a search party, leaving no stone unturned in quest of their missing boy. After two days, with all resources exhausted and no positive news, they'd almost given up hope when the child randomly frolicked home, one evening.
It was later revealed that Osama's new friend, who'd often pass loose change to the minor, was a facilitator for a beggar mafia, responsible for recruiting unsuspecting children from impoverished villages.
"I go the city to beg," Osama told his family, when asked about his routine the past few days. "There are many children there just like me, who work as beggars. Some people drop us off on street corners to work, and then pick us up by sundown," he added.
The nine-year old's family, who lived in a dilapidated rented house and had been living hand-to-mouth for a while, was relieved to have their child back. However, the prospect of a routine income that Osama was now bringing home, also wasn't something they could say no to.
Soon the youth had fallen inescapably into the clutches of the ever-expanding beggar mafia. Osama was now working fulltime on the highways of Peshawar. When worn out by day-end, he would fall asleep under the open sky on concrete footpaths, prone to all vices of the world. Out of his daily income, the mafia would keep a lion's share of the labour and dispose crumbs to the child, which he had little choice but to accept.
Where Osama's story is harrowing, it is not an isolated incident but a fate that resonates with hundreds of children who've fallen prey to Peshawar's beggar mafia. A few days ago, a video of a group of minor panhandlers sleeping on the streets of Peshawar's Soekarno Chowk had gone viral on the internet.
Following which, the chief minister took notice and directed Minister for Social Welfare Hisham Inamullah Khan to take immediate action on the case.
In response, a team of Social Welfare Department had then shifted the panhandlers to Peshawar's Street Children Zamong Kor Centre, which accommodates 1,000 children and provides them with mental and physical training as well as education under one roof.
Their initial counseling brought some surprising facts to light, per which seven out of nine children between the ages of nine and thirteen in the group, were addicted to potent drugs like heroin, ice and marijuana.
A child during interrogation also revealed graphic details about how the mafia would torture the children, for fear of which they would often not return home for many days on end.
Updating The Express Tribune about the children's rehabilitation process, Inamullah Khan said that they are currently undergoing mental and physical treatment, a part of which also hopes to treat their addiction issues.
"As children have become addicted to drugs at an early age, while their treatment is a top priority, the government has also decided to set up a special committee on the matter. The committee will include officials from the intelligence, police and social welfare department and will submit its report regarding the mafia to the Chief Minister soon," Khan informed this correspondent.
"However, the question is who the drug suppliers were to these nine children? Ice and heroin have become so common that even children can easily procure them, it seems. What are other agencies doing, including the police and the anti-narcotics force?" he questioned.
According to Ijaz Khan, Khyber-Pakhtunkhwa Child Protection and Welfare Commission's Deputy Chief, over the past two months, anti-begging squads in Peshawar have conducted raids and caught more than 400 beggars.
Per sources, K-P Police Department has yet not identified the mafia involved in the crime.
"No data has been collected regarding these groups and no special desks or support centers have been set up for children," the source commented on condition of anonymity.
In this regard, action is also being taken under the Child Protection Act, against the mafia involved in begging and other crimes against children. "The provincial government is going to do a project with UNICEF in which data of homeless, beggars street children, drug addicts will be collected. A comprehensive plan will be drawn up for their better life and they will be shifted to rehabilitation centres," shared Khan.
COMMENTS
Comments are moderated and generally will be posted if they are on-topic and not abusive.
For more information, please see our Comments FAQ