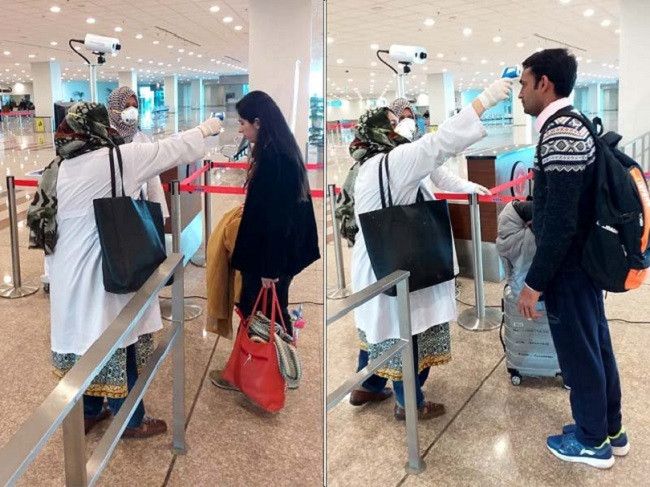 ---
CAA keeps ban on passengers from India, BD
Allows travellers from 12 more countries to come to Pakistan
---
KARACHI:
The Civil Aviation Authority (CAA) lifted a ban on passengers coming to Pakistan from 12 more countries, as the third wave of coronavirus continued its declining trend in the country, according to a notification issued here on Saturday.
A new CAA travel guideline for passengers and chartered flights said that the Pakistanis have been allowed to travel back to the country during June subject to a Pakistani coronavirus test and quarantine condition, as per specified by the National Command and Operation Centre (NCOC).
According to the notification, the CAA amended the category-C list, which comprises the countries, from where the passengers are not allowed to enter the country without prior permission from the NCOC.
The list of Category-C countries had now been reduced from 38 to 26 countries. The list includes India, Argentina, Bangladesh, Bhutan, Bolivia, Brazil and Chile, Colombia, Costa Rica, Indonesia, Iran, Iraq, Mexico, South Africa and Sri Lanka.
Read Covid tests: Passengers find new tricks to dodge airport authorities
Category-C list was last updated in May when 15 countries were added, including Bangladesh, Iran, Iraq. India, Brazil, South Africa, Portugal, Nepal were already placed in the list, because of the spread of the Third wave of the disease.
The updated CAA advisory comes as the third wave of Covid-19 continued its declining trend. As of Saturday, according to the NCOC, the number of active Covid cases dropped to 42,717, as 1,194 more people tested positive for the virus while 2,038 people recovered from the disease during the last 24 hours.
According to the NCOC, the national positivity rate was 3.34%. Among the active cases, it added, 2,990 patients were still hospitalised, with 2,760 patients were critical care at various Covid-dedicated healthcare facilities, including 325 on ventilators.
The forum said in its daily update that 57 patients, of them 53 in hospitals, including 28 on ventilators, died during the past 24 hours. It added that most of the deaths, 24 occurred in Sindh followed by 22 in Punjab. The nationwide death toll rose to 21,633, the NCOC said.
So far, 939,931 cases had been detected, the NCOC said, adding that 875,581 had made full recovery. Since the pandemic outbreak, a total of 13,781,668 corona tests have been conducted across the country.
(WITH INPUT FROM APP)