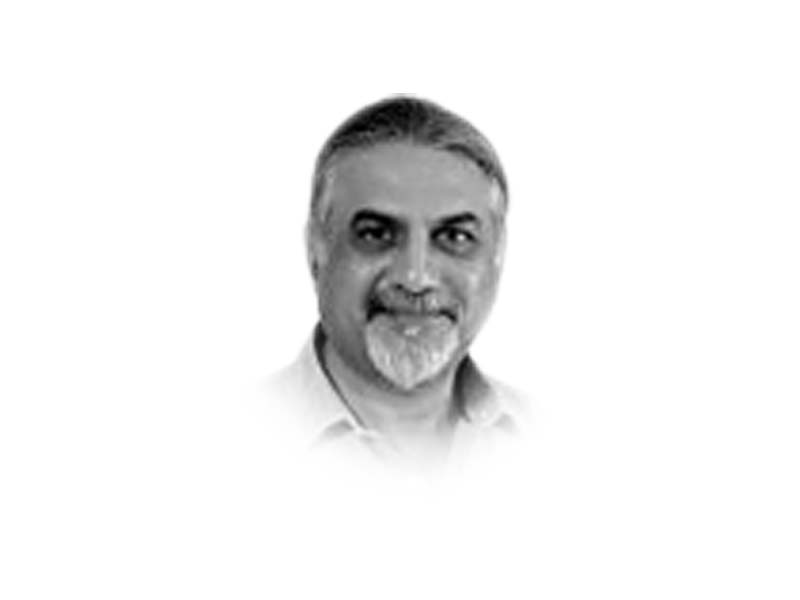 ---
The civil society in this country has watched with concern, as over the years the civilian leadership has sea-sawed in maintaining a relationship with the military. The nature and character of this relationship has evolved depending on who ruled this country and with what purpose? But first my father-in-law and his most favorite story.
He is a retired colonel from the military and loves to narrate the story of how when General Zia took over, he visited Bhutto who was removed from power and was being kept at a Guest House in Murree and tried to assure him how free and fair elections would be held in the given timeframe and how Bhutto was most likely to sweep and win these elections. He says Bhutto was very angry and replied by saying that once back in power he would cut Zia's moustaches and made laces out of them to be used in his shoes. He sums up the story by saying that when Gen Zia shared Bhutto's response with the military leadership he was told by Gen Chishti that "there are two people and only one grave" and "it is up to you to see who lives and who dies".
I am not sure if the story is true but whatever little I have read about Bhutto, despite his good manners, he seemed to be very proud, stubborn and arrogant so one can expect him to say anything to a general that he considered didn't match his political stature as well as his cognitive and intellectual abilities. Let me catch up with this later. First something about our great desire to let the outside world know how we are no more chained but free as individuals and as a society.
In the last few days three incidents caught my eyes — a famous anchor using very foul language against the military; angry protesters attacking a housing society on Karachi outskirts; and the Special Assistant to Punjab CM on Information slapping a PPP MNA during a live TV talk show. All three were acts of insanity. I thank these people for being insane because if they had not acted the way they did, I would never have sat down to think and write about them.
What does it mean to be free? This whole concept of being and feeling free gained momentum during the information age (period of 90s) when globalisation and internet browsing created opportunities for everyone to see how a free life driven by rights could be lived in constitutional democracies in the developed world. A world which is run by independent institutions, a bureaucracy that is outside the fold of political influences, and people that pride themselves with 100 per cent literacy rate. We embraced technology and got our mobiles but we got them while we remained uneducated and uncivilised. We were caught unprepared and while technology has moved forward with rocketing speed, our reforms that were to make us the good end users of it moved at a snail's pace. So as a society what we have today is a great free spirit to live our lives in a free world but not the matching abilities to understand that we are still not prepared to be free.
Is it then a surprise that despite being a functional state our law enforcers did little or nothing while a private property of the people was being ransacked, burnt and destroyed? Is it a surprise that an experienced anchor could not gather from his mental archive the appropriate words to speak about the military at a public gathering? And is it still a surprise that politicians slap and abuse each other on live TV and, instead of regretting, further lecture us by saying that this indignity will not be buried but will be further dragged to the courts so that there are more headlines and reminders of this uncivilised behaviour which represents our collective shame as a society. Humility and forgiveness are the two most outstanding characteristics of any leader — but will they even understand this? We cannot change public attitudes overnight. But if we fail to address the sources of the social tensions we will continue to remain 'a stay behind country' and will continue to witness such shameful events with greater frequency.
A Promised Land — a 751-page memoir by former US President Barak Obama that hit the bookstands last year — mentions the rift between White House and Pentagon. Reading how the President managed this rift is why I quoted the story of Bhutto and Zia. Only if our political-military conflicts were managed as gracefully as Obama did I think we wouldn't have much of this uncivility that we experience as a nation today.
Early in his tenure, President Obama was confronted with the choice of making a decision on troops surge in a losing Afghan war. To do that, he called a series of NSC meetings to settle on the best way forward. But generals spoke in the public, gave interviews dismissing any narrower strategy as insufficient for achievement of their objectives in Afghanistan. So, considering this as Pentagon's orchestrated public campaign to box in the president, Obama called a meeting of Defense Secretary Robert Gates and Chairman of Joint Chiefs of Staff Mike Mullen and told them "I'd sure like to stop having my military advisors telling me what I have to do on the front page of the morning paper. Is it fair?" Not this but what he said to them on why the military leaders chose to short-circuit the process is more interesting. He said, "Is it because they figure they know better and don't want to be bothered answering my questions? Is it because I am young and didn't serve in the military? Is it because they don't like my politics?"
Obama considered that "public rightly saw the military as more competent and trustworthy than the civilians who were supposed to make policy". The perception is no different in Pakistan but what is different is how an American President handled a situation as against how our civilian leadership chooses to do the same. Obama held nine intensive NSC meetings to review Afghan policy and managed not only to defuse the differences with the generals but also sanction a timed troops surge in Afghanistan with a definite exit strategy.
In how President Obama handled the situation I take three takeaways for Pakistan and they are: one, we cannot have substandard occupants of our highest civilian offices. Two, military should find no harm in accepting its mistakes. Despite being big names, the Americans still discredit their generals for mistakes they committed. Three, we need to clearly establish what it takes to become Bob Woodwards and Fareed Zakarias of this world? And have our Hamid Mirs, Saleem Safis and Asma Jahangirs go through and climb a similar ladder of journalistic ascendance.
The problem with Pakistan is not in the idea of the state or its vision. The problem is with implementation of the vision. Only professional competence creates the willingness to sit in one room and debate policy matters. In that room, glory and tragedy and courage and stupidity are easily exposed so the lesser competent leaders find all the faults with the structure of the system and opposing the creation of an important institution like NSC in Pakistan. We all need to get out of our rabbit holes.
Published in The Express Tribune, June 13h, 2021.
Like Opinion & Editorial on Facebook, follow @ETOpEd on Twitter to receive all updates on all our daily pieces.