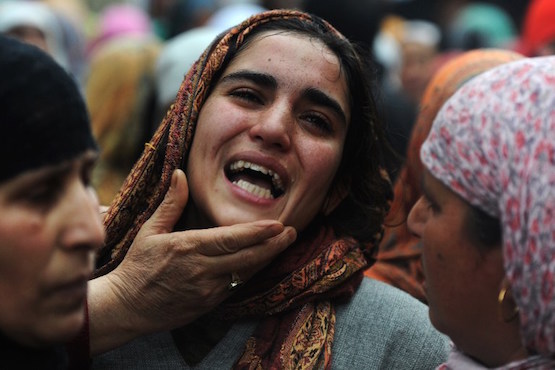 ---
Pakistan on Friday urged the international community to hold India accountable for its grave human rights violations in Indian Illegally Occupied Jammu and Kashmir (IIOJK) as it marked the 30th anniversary of martyrs of Chotta Bazaar, Srinagar.
On June 11, 1991, local residents say an Indian paramilitary force company (Central Reserve Police Force-CRPF) barged out of a camp located near the General Medical College (GMC), near the Chotta Bazaar locality, and opened indiscriminate fire on shops and passersby.
These were the early days of the launch of an armed struggle in IIOJK against symbols of Indian presence, and Indian military forces in the disputed region were in a panic, leading to several violent incidents in 1990, 1991, and 1992, where it is suspected that Indian soldiers resorted to use of excessive force with impunity.
Read more: India's rogue behaviour on Kashmir
Indian authorities are yet to conclude a probe into the case 30 years later.
"Today marks 30 years since the Chotta Bazaar massacre in Srinagar in IIOJK. On 11 June 1991, the Indian occupation forces opened indiscriminate fire and killed 32 innocent Kashmiris including women and children. Despite repeated demands of judicial inquiry, the victims and their families are still awaiting justice," Foreign Office Spokesperson Zahid Hafeez Chaudhri said.
He added that India continues to brutalise the defenceless Kashmiris in IIOJK through extra-judicial killings in fake "encounters" and staged "cordon-and-search" operations, custodial torture and imposition of collective punishment.
Also read: 'Over 3m fake domiciles issued to non-Kashmiris to change IIOJK demography'
"These atrocities cannot break the will of the Kashmiri people in their just struggle for the inalienable right to self-determination as enshrined in the relevant United Nations Security Council (UNSC) Resolutions."
The statement further said that Pakistan urges the international community to hold India accountable for its grave human rights violations in the disputed valley, which warrant investigations under international scrutiny to bring the perpetrators of these serious crimes to justice.
"The Office of the High Commissioner for Human Rights (OHCHR) has also in its reports of 2018 and 2019 recommended the establishment of Commission of Inquiry (COI) to investigate gross and systematic human rights violations in IIOJK," it also said.