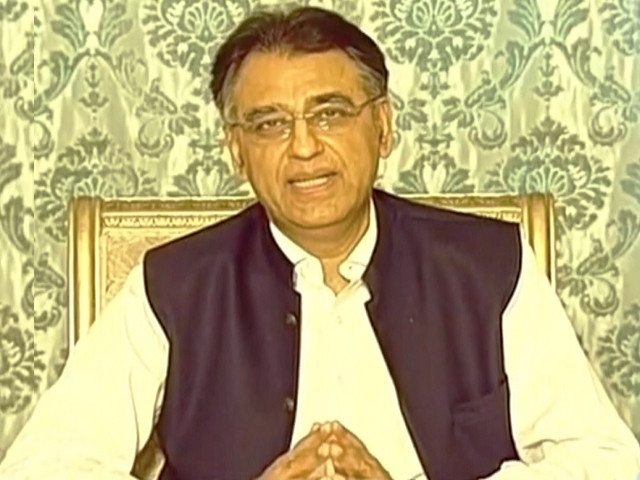 ---
NCOC to step up vaccination drives in AJK, Gilgit-Baltistan
Umar says imperative to speed up vaccinations in the two regions owing to upcoming elections and tourism season
---
ISLAMABAD:
The National Command and Operations Centre (NCOC) chief Asad Umar said on Friday that the federal government will be setting up large vaccination centres in the Gilgit-Baltistan (G-B) and Azad Jammu & Kashmir regions in order to step up the vaccination process.
Umar stated that the federal government would set up large vaccination centres and form mobile vaccination teams to ensure population-wide coverage.
The federal minister added that it was imperative to speed up the vaccination drives in G-B owing to the upcoming tourism season and in AJK due to elections.
آج NCOC اجلاس میں فیصلہ کیا کے آزاد کشمیر اور گلگت بلتستان میں ویکسینیشن کے کو مزید تیز کرنے کے لئے، وفاقی حکومت بڑے ویکسینیشن سینٹر اور موبائل ویکسینیشن ٹیمیں بنائے گی. آزاد کشمیر میں الیکشن کی وجہ سے اور گلگت بلتستان میں سیاحت کے سیزن کی وجہ سے ویکسینیشن تیز کرنا ضروری ہے

— Asad Umar (@Asad_Umar) June 11, 2021
On June 9, Pakistan administered its milestone 10 millionth anti-Covid vaccine at a ceremony held at the NCOC.
Addressing a media briefing, Umar stated that the country had come a long way in its anti-Covid efforts, but there was still a long way to go.
Read Punjab to block SIM cards of unvaccinated
"Our target is to vaccinate 70 million people by the end of this year," he asserted.
The NCOC chief urged people to actively take part in the country's Covid-19 vaccination drive.
"The quicker the people are vaccinated, the quicker the restrictions will ease," he added.
The NCOC has also decided to slightly relax restrictions, put in place to curb the spread of Covid-19 during the third wave of the virus in the country, from June 15 onwards.