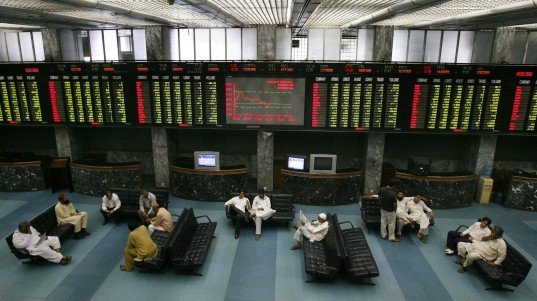 ---
KARACHI:
Uncertainty gripped the stock market on Wednesday as the benchmark KSE-100 index dived over 400 points in intra-day trading ahead of the release of Economic Survey 2020-21 and announcement of federal budget.
The government will release the survey report on June 10 and unveil the budget for fiscal year 2021-22 on June 11.
It will be the third budget of the Pakistan Tehreek-e-Insaf (PTI) government, in which it is expected to levy new taxes and increase the existing ones.
Discussions with the International Monetary Fund (IMF) on budget proposals prevented investors from taking fresh positions, therefore, the KSE-100 index failed to sustain the 48,000-point mark. Investors remained wary of pouring fresh investment during the day.
In the morning, trading began on a positive note, however, the optimism was overshadowed by gloomy news flow and as a result the index oscillated between green and red zones throughout the day.
At close, the benchmark KSE-100 index recorded a decrease of 370.36 points, or 0.77%, to settle at 47,777.62.
Arif Habib Limited, in its report, stated that the market remained under pressure with a total loss of 422 points.
"Kot Addu Power Company proved to be a disappointment for investors, where dividend declaration of Rs5 per share after release of circular debt-related funds failed to motivate investors," the report added.
Resultantly, the stock came down from the intra-day high to trade below previous day's closing price for most part of the session.
Selling pressure was observed in exploration and production, steel, cement, oil and gas marketing, refinery and technology sectors.
Sectors contributing to the performance included banks (-95 points), exploration and production (-68 points), technology (-55 points), cement (-42 points) and power (-33 points).
Stocks that contributed significantly to the volumes included WorldCall Telecom, Hum Network, K-Electric, Kapco and Pakistan Telecommunication Company, which accounted for 69% of the volumes.
Individually, stocks that contributed positively to the index were Indus Motor (+19 points), Engro Fertilisers (+8 points), Pakistan Telecommunication Company (+7 points), Unity Foods (+6 points) and PSX (+5 points).
Stocks that contributed negatively were TRG Pakistan (-48 points), Oil and Gas Development Company (-36 points), Pakistan Petroleum (-23 points), HBL (-23 points) and Kot Addu Power Company (-20 points).
JS Global analyst Maaz Mulla said that another volatile session was witnessed at the PSX, where the KSE-100 index closed with a loss of 370 points at 47,777.
WolrdCall Telecom remained the volume leader on the back of material information released on Tuesday that it had entered into a business collaboration agreement with Tufa Telecommunication targeting fibre-to-the-home service rollout across Pakistan, he said.
Selling pressure was mainly noted in banks and cement companies, among which Cherat Cement (-2.7%), Kohat Cement (-1.3%), Pioneer Cement (-1.1%), HBL (-1%), ABL (-0.9%) and Bank AL Habib (-1%) closed in the negative zone.
In the exploration and production sector, Oil and Gas Development Company (-2.5%), Pakistan Petroleum (-1.6%), and Pakistan Oilfields (-0.2%) were in the red.
However, the auto sector closed on a positive note where Ghandhara Nissan (+2.9%), Hinopak Motors (+3.1%) and Indus Motor (+4.7%) moved higher.
"Going forward, with volatility expected in coming days, we recommend investors to view any downside as a buying opportunity in construction and export-oriented sectors," the analyst said.
Overall trading volumes surged to 1.35 billion shares compared with Tuesday's tally of 1.04 billion. The value of shares traded during the day was Rs23.2 billion.
Shares of 416 companies were traded. At the end of the day, 130 stocks closed higher, 274 declined and 12 remained unchanged.
WorldCall Telecom was the volume leader with 716.8 million shares, gaining Rs0.58 to close at Rs4.22. It was followed by Hum Network with 75.9 million shares, gaining Rs0.27 to close at Rs8.69 and K-Electric with 59.6 million shares, gaining Rs0.07 to close at Rs4.22.
Foreign institutional investors were net sellers of Rs51.9 million worth of shares during the trading session, according to data compiled by the National Clearing Company of Pakistan.