 ---
Yasir Nawaz requests govt to replace Covid-19 caller tune with Surah Ar-Rahman
Director feels doing so would relieve the public of 'depression'
---
After throwing shade at Alizeh Shah in Time Out With Ahsan Khan, Yasir Nawaz has a request for the Prime Minister Imran Khan.
The director, producer and screenwriter, in a note addressing the premier, has asked the government to replace the 'Corona tune' with a recitation of Surah Ar-Rahman "taakay awaam depression se nikal kar thora sukoon hasil karsakay (so that it may relieve the public of depression)."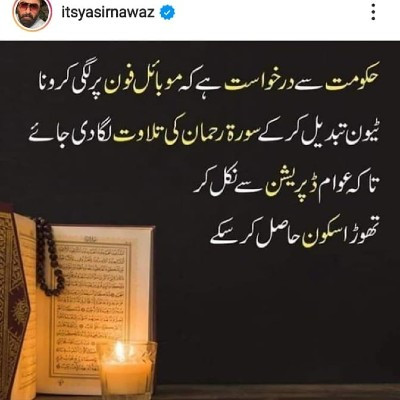 It is pertinent to mention here that the 'corona tune' being referred to, is an automated public service awareness message, meant to remind people of the virus which is still rampant and lethal. It is also meant to remind the public to maintain SOPs and take all precautionary measures until the majority is vaccinated.
Moreover, Nawaz's request seems to have trivialized depression but that is a matter for another day.
For now, neither Khan nor PTI's official page has acknowledged the request made by Nawaz and chances are, neither will, provided the attention several other, pressing issues demand at the moment. But who knows, maybe the future caller tune can be collectively deliberated upon.
Have something to add to the story? Share it in the comments below.