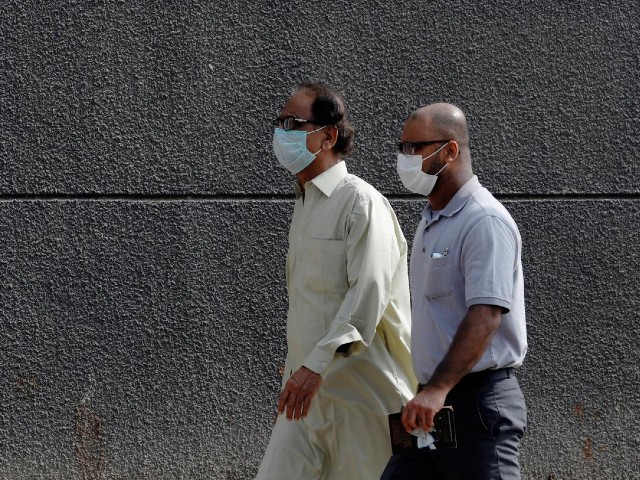 ---
ISLAMABAD:
Pakistan on Tuesday continued to report a decline in the coronavirus cases with the positivity rate falling below 3% for the first time in almost four months.
According to the National Command and Operation Centre (NCOC), the nerve centre of the government's strategy to fight the coronavirus pandemic, the positivity rate currently stood at 2.94% across the country. Last time the country reported a positivity rate below 3% was on February 14 when it had been recorded at 2.61%.
The NCOC meeting was chaired by Minister for Planning, Development and Special Initiatives Asad Umar and co-chaired by National Coordinator Lt Gen Hamooduz Zaman Khan. SAPM on Health Dr Faisal Sultan was also in attendance.
The participants of the meeting expressed general satisfaction on the overall Covid situation in the country.
The NCOC issued directives to take steps to ensure timely vaccination of employees in ministries and institutions.
The forum was informed that 450,000 teachers out of a total of two million had been vaccinated.
It was told that airports in the country attained the capacity of carrying out 6,000 Rapid Antigen Tests (RAT) on a daily basis as 27 flights per day at an average with more than 4,500 passengers (approximately 172 persons per flight) were arriving.
A comprehensive mechanism is deployed on the airports which effectively assisted in detecting 388 Covid positive patients upon landing in Pakistan and an adequate system of Track, Trace and Quarantine is functioning to avoid any slip cases.
It was told that 22,924 Individuals crossed the border from Afghanistan to enter Pakistan on foot, of them 58 were detected Covid positive and quarantined in government-provided facilities.
"Genome testing was carried out on 421 Individuals, of which 28 cases emerged with various mutants and were quarantined.
"About 600 NADRA centres across the country have started issuing vaccination certificates from June 5, 2021. Around 5,000 plus e-sahulat branches will also start issuing from next week."
The meeting was told that Khyber-Pakhtunkhwa started Safe Tourism Training Workshops in order to reopen the tourism sector. "Participants of the workshops include people from different associated industries of tourism. Once completed with the K-P regions, the same model will be replicated in G-B and AJK."
Special Assistant to the Prime Minister on Health Dr Faisal Sultan said only people with weak immune systems will be inoculated with Pfizer's Covid-19 vaccine.
Read more: WHO official says can't force China to give more information on Covid-19 origins
The top health official shared that the Centre has started the distribution of the Pfizer vaccine, which arrived last month in Pakistan, to provinces and federal units for vaccination.
He said the Ministry of Health will soon release more details about the immunocompromised on the official portal.
The premier's aide said the federal government was distributing 51,000 doses of the vaccine, adding that it had received 106,000 doses of the vaccine via COVAX.
According to the daily data released by the NCOC, 53 coronavirus patients died during the last 24 hours, 44 of whom were under treatment in hospitals and nine out of hospitals in their respective quarantines or homes.
A total of 46,190 active Covid-19 cases were recorded as 1,383 more people tested positive for the deadly virus and 2,516 people recovered from the disease during the last 24 hours.
During the last 24 hours, most of the deaths occurred in the Punjab followed by Sindh. Of the total 53 deaths occurred in the last 24 hours, 18 of them had died who were under treatment on ventilators.
There were 3,196 Covid-infected patients under treatment in critical care in various Covid-dedicated healthcare facilities in the last 24 hours.
The National Covid positivity ratio during the last 24 hours was recorded 2.94 per cent.
It may be mentioned here that the Covid positivity ratio was the percentage of actual positive cases appearing in every 100 tests performed to identify infected individuals.
The maximum ventilators were occupied in four major areas – Peshawar 23 per cent, Lahore 29 per cent, Bahawalpur 38 per cent and Multan 57 per cent. The maximum oxygen beds (alternate oxygen providing facility other than ventilator administered as per medical requirement of Covid patient) was also occupied in four major areas – Abbottabad 32 per cent, Peshawar 29 per cent, Karachi 32 per cent and Gujranwala 29 per cent.
Around 402 ventilators were occupied elsewhere in the country while no Covid-affected person was on ventilator in Balochistan, AJK and G-B. Some 46,882 tests were conducted across the country on Monday, including 15,115 in Sindh, 18,948 in Punjab, 7,824 in K-P, 3,033 in Islamabad Capital Territory (ICT), 1,210 in Balochistan, 333 in G-B, and 419 in AJK.
Around 867,447 people have recovered from the disease so far across Pakistan making it a significant count with over 90 per cent recovery ratio of the affected patients.
Since the pandemic outbreak, a total of 935,013 cases were detected that also included the perished, recovered and under-treatment Covid-19 patients so far, including AJK 19,538, Balochistan 25,893, G-B 5,655, ICT 81,806, K-P 134,781, Punjab 342,805 and Sindh 324,535.
About 21,376 deaths were recorded in the country since the eruption of the contagion.
(With input from app)