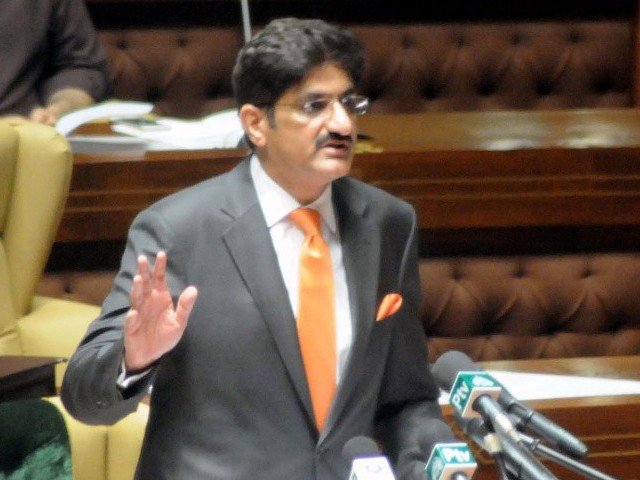 ---
ISLAMABAD:
Sindh Chief Minister Murad Ali Shah has strongly protested over not being consulted in the distribution of funds by the Federation at the National Economic Council meeting, saying that he will write a dissenting note in the National Finance Commission meeting.
"Provincial schemes should be initiated in consultation with the provinces," Sindh Chief Minister Murad Ali Shah said while addressing a news conference on Monday.
"There is severe injustice with Sindh as only Rs15 billion has been set aside for our National Highway Authority," Murad said.
"Lesser housing sector schemes were given without the consultation of the provinces."
Murad said the decisions were made while sitting in the federation.
He said that Sindh had submitted its protest and the prime minister had promised to resolve the issues but did nothing to deliver on it.
He accused the Federation of withholding funds on the pretext of corruption.
"They (the Federation) didn't do us any favour by giving funds," he said. "Thieves are accusing Sindh of being dacoits."
He said that his dispute was with the Federation. "In the water we received, we got 27 million acres less water."
He demanded of the Federation to provide Sindh its due share.
Murad said that he had informed the prime minister that Sindh was given minor schemes as compared to other provinces.
"As the chief executive of the province, I will continue to raise my voice in the favour of Sindh.
"Sindh collects 70% of Pakistan's revenue. The citizens of Sindh are as much Pakistanis as the people of other provinces."
Murad said that as the chief executive, "I condemn the biased attitude towards Sindh. I will also write a dissenting note in the NFC meeting."
Separately, PPP Parliamentary Leader in the Senate Senator Sherry Rehman in a statement raised the issue of the census 2017 being approved without consulting Sindh.
Sherry said, "Despite Sindh's grievances over the 2017 census that its population was undercounted, the Council of Common Interests approved it and the cabinet committee unilaterally finalised the report which was then approved by the federal government."
"The Sindh government was not even called for consultation. How can such a major decision be taken without addressing Sindh's concerns?" she questioned.
Rehman said, "The Sindh CM has written to the PM, Senate chairman and NA speaker calling for a joint session of parliament to discuss the issue. Why is it being delayed? Is it not a matter of national importance? Our Constitution guarantees us this right under Article 154 (7)."