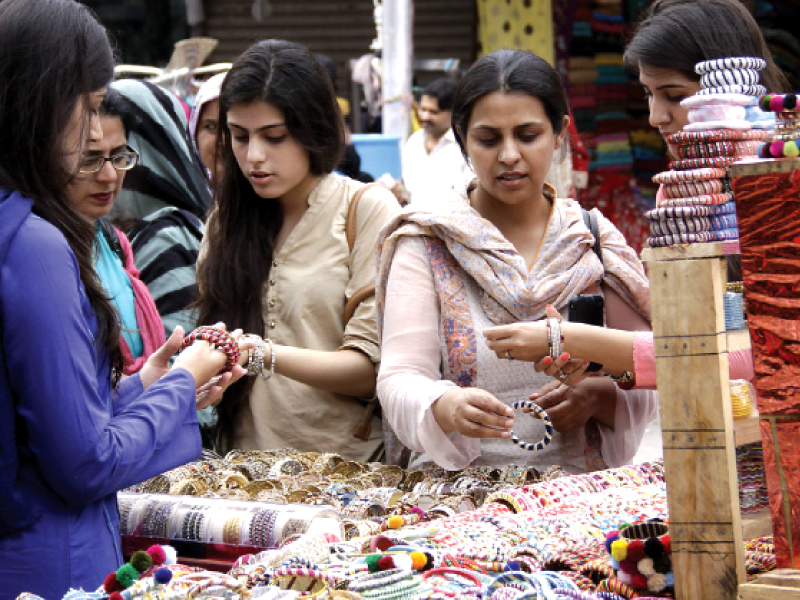 ---
Paying the price of estranged cross-border relations
Importing Indian goods via Dubai amid direct-trade bans has meant higher overheads and plunging business
---
LAHORE:
For long, Indian goods like fabric, skin care and jewelry have flowed through Pakistani markets without much impediment; soon amassing a local audience of their own. The recent tension between the two neighboring countries however, has entirely snuffled direct cross-border trade; leaving the gap left behind to be filled by Indian products coming in from, Afghanistan, China and Dubai.
Sardar Bishan Singh and his son have been associated with the textile industry for several years, with their business centered in the heart of Gulberg— an upscale locality in central Lahore— where they have long enjoyed a clientele enthusiastic about Indian saaris and legengas. "The trend however, appears to have died down in the last year and a half. We still have a lot of articles leftover, but there just aren't enough buyers anymore," the trader complained.
According to Singh, much of the downfall in his business has come after the escalation of the Kashmir issue, which irrecoverably ruined the trade relations between India and Pakistan. Following which, the pandemic's advent has only made the situation worse, extinguishing whatever hope was left lingering of a possible, diplomatic truce.
"Before things went south, Indian fabric would to come to Pakistan through Chakoti and Rawalko. While the Samjhauta Express and the Dosti Bus, that ran between the two countries, would also help traders transport goods from Delhi to Lahore.
"At the time, a bundle of cloth imported from India was charged at the rate of Rs150 to 200 per kilogramme. But when the train service was suspended, the only alternative we had was to import through Dubai, which would cost as much as Rs2,500 to 3,000 per kilogramme. So of course, the price of fabric also had to be increased on our end to justify the higher import costs. Then the pandemic happened and soon many people could no longer afford to buy expensive fabric owing to which, our own sales also frizzled out," Singh shared lamentingly.
Read Pakistan defers decision to resume trade with India
In response to skyrocketing prices of imported fabric, Pakistan has seen a sudden growth in replica stores in the last year-and-a-half. These stores, which mimic Indian finery, have been offering strikingly similar iterations of designs which have long been associated with Indian garments as a fraction of the cost. "If trade relations continue to remain suspended, these replica stores will soon take over the entire market and all Indian designs will start being locally produced, killing the entire audience for authentic Indian-wear," Singh expressed.
A small-scale trader who also deals in Indian clothes said that he used to keep in touch with various vendors in New Delhi. Similarly, many of his friends also used to frequently travel between the two countries and would happily move a few packages with them across the border. "I'd order 10 to 15 suits through my friends, but now we can't even travel between India and Pakistan, which has come as the final nail in small business' coffin," he told.
Abdul Rehman, a cosmetic wholesaler in Lahore's Shah Alam Market had a similar story to tell about how the deteriorating relations between the neighboring countries has impacted his business. "Cosmetics and toiletries including toothpaste, painkillers, soaps, creams, lotions, herbs, herbal remedies and other items were delivered to Lahore via Wagah and Afghanistan at the cheapest rates. But now, only a few items are imported from India and that too via Dubai, at a much higher cost. Surprisingly, some of these products aren't even authentic and just Chinese replicas stamped with Indian certifications.
Per Fasahat Fatima, who has been sourcing and purchasing Indian goods like fabric, jewelry and cosmetic, the quality offered by the neighboring country remains unmatched by the local market. "I have an Indian lehenga that is six years old, but the adornments on it still glimmer like brand new. The color of synthetic jewelry does not go bad and Pakistan has a huge market for Ayurvedic products, which are still used in many households to treat anything from hair fall to stomach ache," she told The Express Tribune.