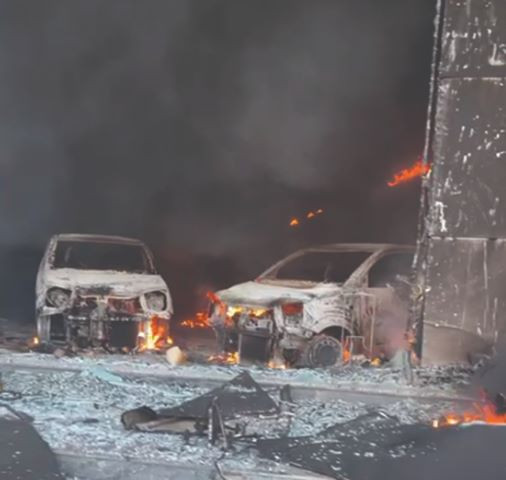 ---
KARACHI:
A protest outside an upscale neighbourhood on the edge of the city turned violent on Sunday, when some miscreants set fire to vehicles and damaged commercial and residential properties within the gated community.
Protesters had gathered at Bahria Town Karachi (BTK) gates on M9 Motorway Sunday morning, responding to the call of the nationalist parties and civil society groups.
Videos circulating on social media showed protesters waving flags and chanting slogans. However, the situation turned haywire in the evening, when vandalism and rioting broke out.
Miscreants barged through the gates of the BTK and set fire to several vehicles and shops inside, according to police and residents.
Speaking to The Express Tribune, residents decried the damage to property and called for compensation.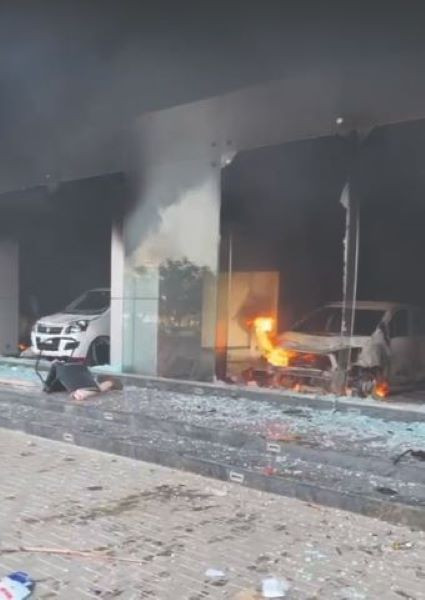 They complained that the police were unprepared and no law enforcers could be seen when the protest turned violent.
"When the call for protest was announced in advance, why were the police not prepared," asked one resident, claiming that they incurred losses worth millions of rupees when the situation escalated.
However, Malir SSP Irfan Bahadur said the police were present throughout and responded swiftly when the situation turned ugly. The perpetrators were dispersed and the fire department was immediately alerted, he said.
The SSP added that police officers, including an SHO, were also injured during the clash between the miscreants and the LEAs. The police initiated action and detained several suspects, said Bahadur.
Meanwhile, reports also surfaced on social media alleging that the police had resorted to tear gas shelling to disperse the protesters. Representatives of the Sindh Action Committee and civil society groups distanced themselves from the vandalism and maintained that their protest was peaceful and that they left the site as soon as the situation turned violent.
The protesters allege that the BTK management is trying to occupy lands in the nearby Noor Muhammad Gabol Goth, Usman Allahrakhiyo Goth, Hadi Bakhsh Gabol Goth and Abdullah Gabol Goth besides other lands in the vicinity.